'Mudbound' Director Dee Rees Teams With Anne Hathaway For 'The Last Thing He Wanted'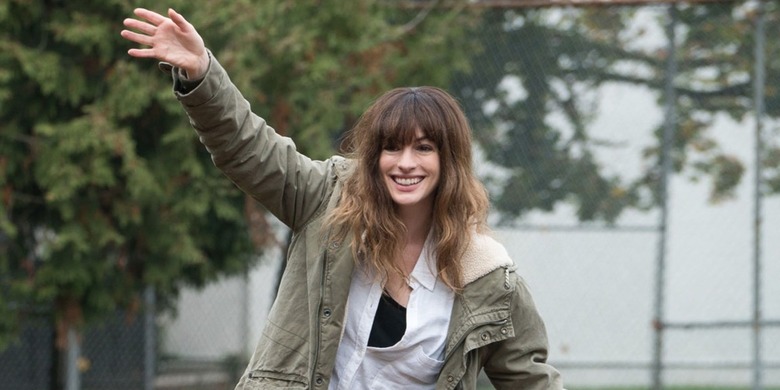 While all of the attention has gone to socially conscious Oscar front-runners like Three Billboards Outside Ebbing, Missouri and Get Out, Anne Hathaway and Dee Rees both quietly delivered two of the most powerful movies of 2017. Hathaway starred in the clever Colossal, whose themes of domestic violence elevated its quirky sci-fi underpinnings, while Rees directed the racially-charged period drama Mudbound. Now, the two of them will be teaming up for their next project.
Hathaway will be starring in The Last Thing He Wanted, an adaptation of a Joan Didion political thriller directed by Rees.
Hathaway is in negotiations to play the lead role of a "hardscrabble journalist Elena McMahon," who becomes entangled in the arms race around the Iran-Contra Affair, according to Variety.
It's probably not a role that Hathaway is unfamiliar with, having played an admittedly less hardscrabble journalist in The Devil Wears Prada. But it sounds like a promising action movie lead for the actress, who has has an intriguing career bouncing between rom-coms, superhero blockbusters, award-winning roles in musicals, and offbeat indie performances.
The Last Thing He Wanted is based on the romantic thriller novel by Didion published in 1996. The story centers around a Washington Post journalist who quits her job to look after her ailing father, but in a turn of events, finds herself recruited to be an arms dealer for the U.S. Government in Central America.
The screenplay for the film adaptation, penned by Marco Villalobos, appears to transport that story to the Middle East. Elevated's Cassian Elwes optioned the book from Didion to develop it with Rees, after collaborating with her on the Oscar-nominated Mudbound. The film will be "a thrilling story of one woman, alone and unrelenting in a race against time," according to a statement.
The Last Thing He Wanted will be Rees' highly anticipated feature-film follow-up to Mudbound, which scored four Academy Award nominations, including one for Rees' screenplay. Rees has proved to be one of the most exciting female directors working today. Even so, Oscar nominations don't always herald career success for female directors — more often than not, acclaimed female directors end up working in television or not getting work at all. Thankfully, that doesn't seem to be the case with Rees. And with the movie industry steadily opening up to more positions for women behind and in front of the camera, this will hopefully be a sign of better things to come for female directors.