Sequel Bits: '28 Months Later', 'Glass' 'Angel Has Fallen', 'John Wick Chapter 3', 'Halloween' And More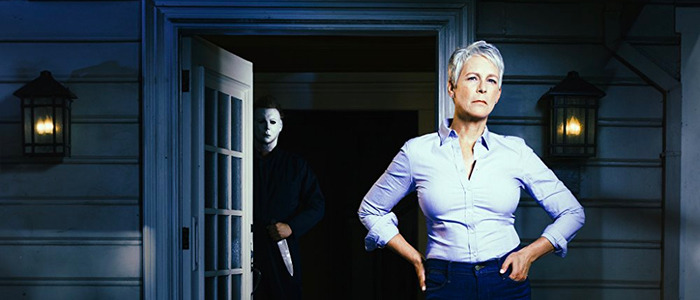 In this edition of Sequel Bits:
Alex Garland says not to expect another 28 Days Later sequel
M. Night Shyamalan? provides an update on Glass
Piper Perabo joins the third Olympus Has Fallen film
A new Pacific Rim Uprising video
Sci-fi miniseries V is being rebooted as a movie
Mile 22 already has a sequel in the works
John Wick Chapter 3 begins filming soon
J.J. Abrams says Cloverfield 4 is a "crazy movie"
Zach Galligan really wants Gremlins 3
Henry Rollins' cannibal flick He Never Died is getting a sequel
Jamie Lee Curtis appears to have wrapped on the new Halloween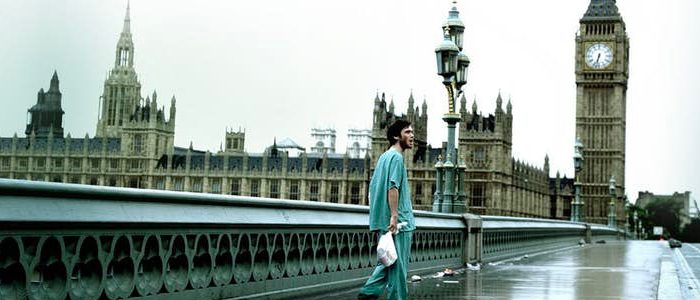 First there was 28 Days Later, then 28 Weeks Later. If you were expecting 28 Months Later to hit theaters some day, it's time to give up on that dream. During a Reddit AMA to promote his new film Annihilation, 28 Days Later writer Alex Garland was asked if there were any plans to film another 28 Days... sequel. Garland's reply: "Kind of, but doubt it will ever happen." That's fine. The first two movies are good enough to stand on their own, and it feels as if too much time has passed for a third. Let's all move on, shall we?
Editing #Glass almost 2/3 done 1st pass. It takes about 10-11 weeks for me to do a 1st pass. That's 6-8 hours a day in editing. #noshortcuts

— M. Night Shyamalan (@MNightShyamalan) February 10, 2018
Can Glass come out today? I'd very much like to see M. Night Shyamalan's new film which serves a sequel to both Unbreakable and Split. Right now. But I guess I'll have to wait, because Shyamalan isn't done editing it yet. The director took to twitter to offer a quick update on the process so far. Pick up the pace, M. Night! We want to see this thing! Glass opens January 18, 2019.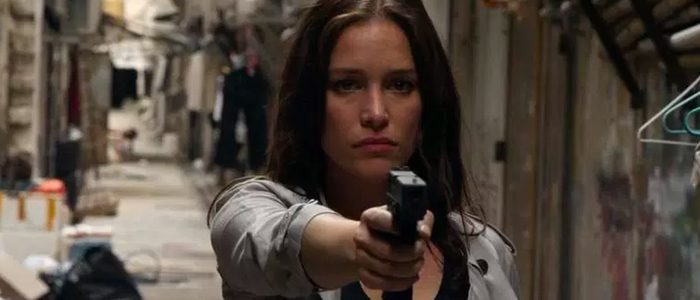 The trashy-yet-fun action series launched by Olympus Has Fallen keeps chugging along. After Olympus came London Has Fallen. Next up is Angel Has Fallen, which will see Gerard Butler's Secret Service Agent Mike Banning trying to stop terrorists on board Air Force One (which kind of makes this sound like a remake of Air Force One, but let's ignore that). Deadline reports Piper Perabo has joined the cast; no word on who she's playing. Morgan Freeman also stars. Angel Has Fallen is due out some time this year.
The heart of the world's greatest hero lives on. Gipsy Avenger reporting for duty! #PacificRimUprising pic.twitter.com/hGam0KoLhe

— Pacific Rim (@PacificRim) February 13, 2018
There's a new Pacific Rim Uprising video that highlights one of the film's Jaegers, Gipsy Avenger. Jaegers, you may remember, are big-ass robots that operate via mind control, and also fight giant monsters. John Boyega stars in the sci-fi sequel from director Steven S. DeKnight. Look for Pacific Rim Uprising in theaters March 23, 2018.
Remember the classic sci-fi mini-series V? I don't, but I'm sure someone out there does, because they're making a new movie. Deadline reports Kenneth Johnson, creator of the original V, will reboot the series as a new movie: V the Movie. Catchy title! The synopsis for the original mini-series can be seen below. I would wager that the new film will adopt the same premise, in addition to updating things for modern times.
A race of aliens arrives on Earth appearing as human but requiring special glasses to protect their eyes; a few suspicious humans discover their true intentions and prepare to resist.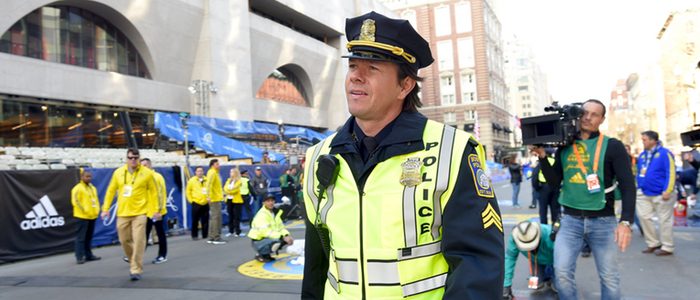 Mile 22, the latest team-up between Mark Wahlberg and Peter Berg, hasn't even hit theaters and there's already a sequel in the works. Per Deadline, in addition to the film's July 20 release date, "a sequel, scripted TV series and VR component already in development." In Mile 22, Wahlberg plays "an elite American intelligence officer, aided by a top-secret tactical command unit," who "tries to smuggle a mysterious police officer with sensitive information out of the country." How will they stretch this premise into a sequel, a TV show and a "VR component"? Who knows!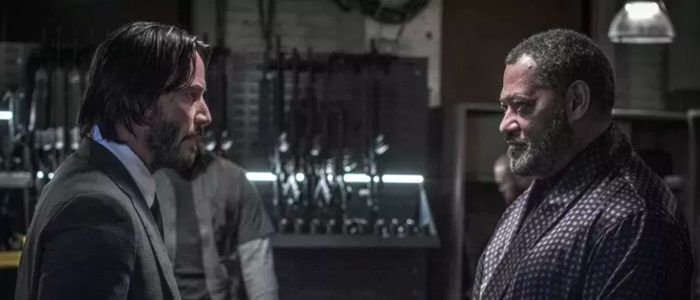 Exciting news: John Wick Chapter 3 is going to begin filming earlier than expected. Omega Underground confirms the  Chad Stahelski-directed sequel starring Keanu Reeves as everyone's favorite hitman will start shooting April 26. In addition to this news, TheHashtagShow claims that Japanese action star Hiroyuki Sanada (Westworld) will play the film's villain. Ian McShane, Common, Laurence Fishburne, Ruby Rose and John Wick's dog Dog Wick are all set to return for the film.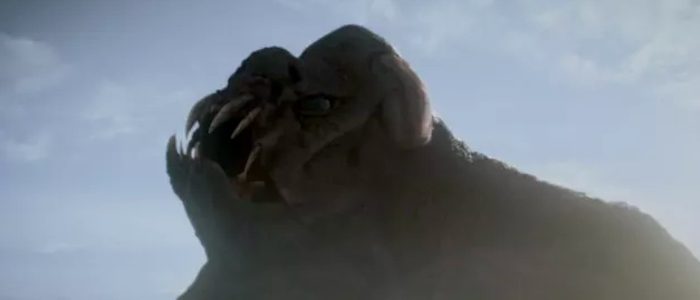 The Cloverfield Paradox was a disappointment, but the Clover-franchise marches on. Next up: Overlord, aka Cloverfield 4. Producer J.J. Abrams spoke with Digital Spy and dropped some knowledge of the upcoming film. ""Overlord... first of all, it's something that I can't wait for you to see 'cause the director, Julius Avery, has done an amazing job on it," Abrams said. "But the specifics, you know, we should wait and see. But that's really a crazy movie." Whoa, now, Abrams. A crazy movie, you say? I don't know if I'm ready for that! Overlord is expected out October 26, 2018.
Gizmo: "Dad, I wanna do another movie."

Me: "OK, on one condition. YOU'LL have to do it. No CGI, OK ?"

Gizmo: "Neat!"#MogwaiMonday #Gizmo #80s #gremlins ...3 ? pic.twitter.com/w74q5b86SR

— Zach Galligan (@zwgman) February 13, 2018
Please, someone let Zach Galligan star in Gremlins 3. Rumblings of a third Gremlins film have persisted ever since Gremlins 2: The New Batch hit theaters in 1990, but momentum has stalled. Galligan, who starred in the first two films, took to his twitter account to insist that not only does he want a Gremlins 3, he wants it to be done with practical effects and no CGI, which is wise, since a CGI Gizmo would look weird.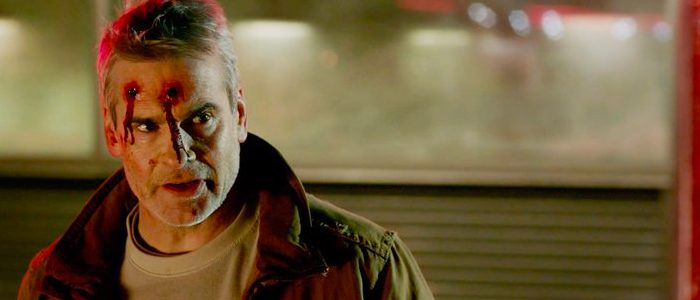 The indie-horror film He Never Died, starring Henry Rollins, was pretty good. I don't know if it warrants a sequel, but it's getting one nonetheless. The Hollywood Reporter confirms a He Never Died sequel, which will once again star Rollins as an immortal cannibal, is moving forward with original director Jason Krawczyk. The sequel will have Rollins' character living as "a vagabond attempting to keep his supernatural compulsion in check." He'll also be facing off against "depraved sadists." Sounds about right.
Three generations of strong, striped Strode women. Wrapping up this astonishingly scary revisit to Haddonfield. @andimatichak @missjudygreer #acorn #sapling #oak @halloweenmovie #HalloweenMovie @Marinelayer pic.twitter.com/5o78p4lE9Q

— Jamie Lee Curtis (@jamieleecurtis) February 16, 2018
Here's a curious update from the new Halloween: Jamie Lee Curtis has apparently wrapped filming. Curtis confirmed as much both on twitter (see above) and on Instagram. What makes this slightly strange is the fact that the David Gordon Green sequel/reboot has only been filming for a few weeks. This hints that Curtis' part in the film might be rather small, which is a bit disappointing. Of course, it could also indicate they front-loaded the shooting schedule to get all of Curtis' scenes out of the way first to accommodate her scheduling. We shall see when the film hits theaters October 19, 2018.