'Kung Fury' Movie Adds Arnold Schwarzenegger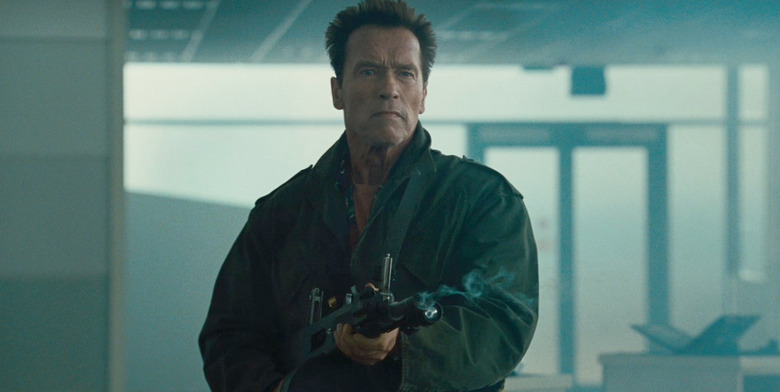 Update: Contrary to early reports, Arnold Schwarzenegger's specific role in the film has not been confirmed. We have modified the original article.
Well, if you're going to make an outrageous and over-the-top tribute to schlocky '80s cinema, this is how you do it. Kung Fury, the big screen follow-up to the viral short film of the same name, has added action icon Arnold Schwarzenegger to its increasingly bizarre cast.
But who will the Austrian Oak play? Early reports claimed the he would be playing the President of the United States. Of course. We shall see.
The news of Schwarzenegger's casting comes out of the European Film Market in Berlin. While the film doesn't have a director yet, production company Bloom is busy wooing potential buyers for the international distribution rights. Considering that the original short was a viral sensation with 40 million views worldwide, it's looking like a hot project.
Set in an alternate 1985 dominated by the tropes and cliches of that decade's best and worst genre movies, Kung Fury follows a kick-ass Miami cop who sets out to kill Hitler. It's weird. It's wild. It's funny. It wears out its welcome despite its 30-minute running time. I'm not sure how this will function as a feature, but it's certainly shaping up to be a movie that we won't be able to ignore.
Schwarzengger (!) joins a cast that already includes Michael Fassbender (!!) and David Hasselhoff (!!!). Original Kung Fury director and star David Sandberg will once again lead the movie (and act as a producer), but it doesn't look like he's directing. Fassbender, David Katzenberg, Seth Grahame-Smith and Aaron Schmidt are also producers on the film.
Here's the original short, just in case you missed it. Or want a revisit.
While this big screen version is being touted as a sequel to the original short, the official synopsis really does make it sound like a remake:
It's 1985, the best year ever. Miami is kept safe under the watchful eye of Kung Fury, the greatest damn cop of all time. Kung Fury's Thundercops are the ultimate police force assembled from across history to defeat the villainous Kung Fuhrer, Adolf Hitler. After the tragic death of a Thundercop causes the group to disband, a mysterious villain emerges from the shadows to aid in the Fuhrer's quest to attain the ultimate weapon. Kung Fury must travel space and time itself to save his friends, defend the prestigious Miami Kung Fu Academy, and defeat evil once and for all.
Arnold Schwarzenegger in 2018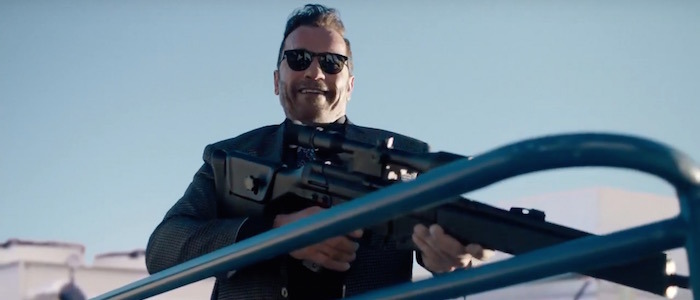 This casting demands we ask a question: what does Arnold Schwarzenegger mean to audiences in 2018? His days of superstardom are long behind him and he hasn't led a major blockbuster to success since...2003's Terminator 3: Rise of the Machines? Maybe? All attempts to regain relevance have been dead ends. Sometimes, the movies are just plain bad (Terminator Genisys). Sometimes, the movies are pretty good but no one goes to see them (The Last Stand). He's usually cast as a stunt. A joke. An excuse for all of us to say "Hey! Look! It's Arnold Schwarzenegger!" This applies to entertaining-enough junkfood like The Expendables and its sequels and to actual, unwatchable garbage like Killing Gunther.
Honestly, Schwarzenegger joining Kung Fury sounds like another piece of stunt casting.
And while Schwarzenegger will undoubtedly be fun to watch here (he remains a committed and spirited performer), I can't help but feel...well, a little bummed out. Schwarzenegger has never shied away from fan service and giving the people what they want. However, recent years have shown that he's more than willing to experiment. To push himself. The zombie movie Maggie is not a home run, but it features an Arnold performance unlike any other. Sabotage is a mess of a movie, but his rough and ethically dubious character is something completely new for him. Arnold Schwarzenegger is a more interesting actor, with a wider range, than we give him credit for.
So bring on Kung Fury. It shoots this summer. It could be fun. It's definitely going to be weird. I just hope it offers its '80s icons more to do beyond showing up for a quick guffaw.