Amy Schumer's 'I Feel Pretty' Release Date Bumped Up Two Months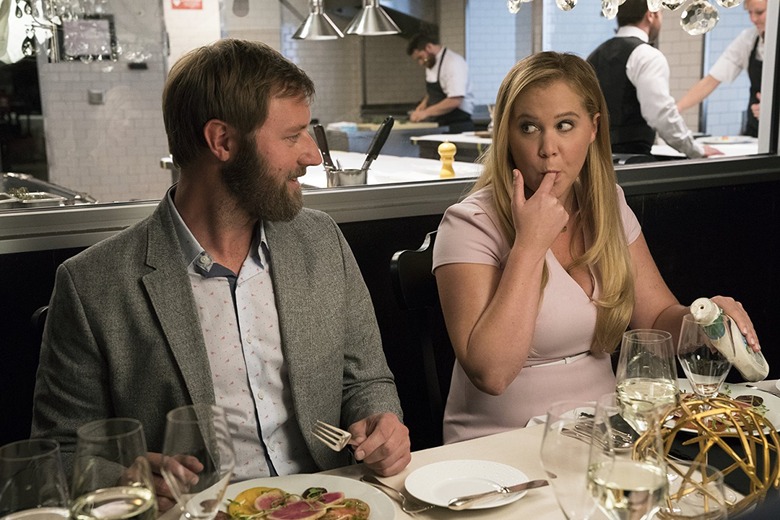 Soon after the first trailer for I Feel Pretty made waves on the internet, STXfilms is moving the Amy Schumer-starring comedy up by two months.
The female empowerment comedy debuted its first trailer just a week ago to buzz both positive and negative, but like its heroine, that seemed to be enough to inspire confidence in STXfilms.
The I Feel Pretty release date has been bumped up from June 29 to April 27. This would put it in competition against Animal Crackers, Traffic, Disobedience, Selfie Dad, Kings and Armed. During its initial June release date, it would have gone up against Uncle Drew, Sicario 2: Soldado and Valley Girl.
While it's true that I Feel Pretty garnered some initial positive buzz for its portrayal of body positivity and female confidence, that has been outweighed by the negative backlash that the trailer has incited on Twitter. Critics pointed out that, despite the film's premise, Amy Schumer is still conventionally attractive by virtue of being "blonde, white, able-bodied, femme and yes, thin." But others have struck up a defense of the movie, which still preaches self-confidence over beauty ideals.
Here is the official synopsis for I Feel Pretty:
Renee Bennett (Amy Schumer) knows what it feels like to be average looking in New York city – a city of the genetically and financially blessed. After falling off her bike and banging her head during a spin class, she stumbles in  the locker room and it is there that she first sees what has happened – her legs are toned, her hair is silky, her chin is defined – she is GORGEOUS. Except that, to everyone else, she looks EXACTLY THE SAME.
Even though her appearance hasn't changed AT ALL – Renee's new belief in herself sees her climbing the ranks at the cosmetics company she works for, getting the respect of her impossibly beautiful boss Avery LeClair (Michelle Williams), bagging a cute boyfriend in Ethan and getting invited to rooftop parties.
With her new confidence comes overconfidence, and even the tendency to treat the 'less genetically fortunate' in the same dismissive way that people used to treat her. Eventually Renee believes the spell has been lifted – and finally realizes that when she thought she was ugly, she may have been the most beautiful, and when she believed she was beautiful, she had started to turn a bit ugly. She learns that true beauty is not skin deep.
I Feel Pretty will hit theaters on April 27, 2018.