'Justice League' Actor Ray Fisher Joins 'True Detective' Season 3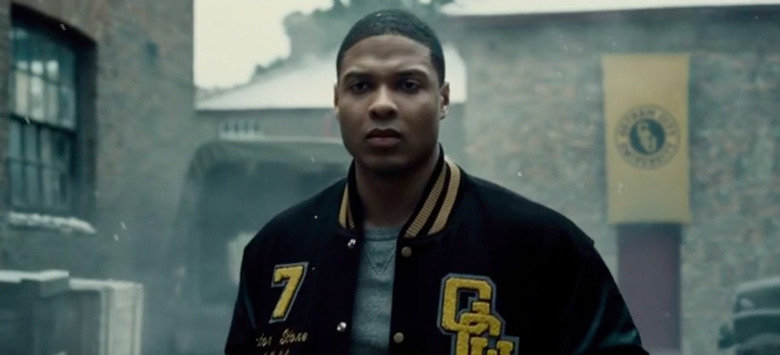 True Detective season 3 is coming together nicely. Blue Ruin and Green Room director Jeremy Saulnier is co-directing, Deadwood creator David Milch is part of the creative team, Oscar winner Mahershala Ali is the lead, and the cast continues to grow. The latest addition to the True Detective season 3 cast is Justice League actor Ray Fisher, who will play the son of Ali's character.
The first season of True Detective was great. Season 2? Not so much (although I'm one of those weirdos who thinks it wasn't as bad as some people say). While season 2 may have left a bad taste in most people's mouths, there's still room for True Detective to grow. Thankfully, news about the new season's development has been promising. Deadline reports that Justice League co-star Ray Fisher has joined the growing True Detective season 3 cast.
Fisher will play Freddy Burns, the son of lead character Wayne Hays, played by Moonlight star Mahershala Ali. Ali's character is a state police detective from Northwest Arkansas. Fisher joins a cast that already includes Carmen Ejogo, playing a schoolteacher with a connection to two missing children; Scoot McNairy, playing a "father who suffers a terrible loss that ties his fate to that of two state police detectives over 10 years"; and Stephen Dorff, playing Arkansas State Investigator Roland West, who partners with Ali's Wayne Hays to solve a decades-long mystery.
True Detective creator Nick Pizzolatto will once again pen almost all of season 3, save for one episode co-written by Deadwood creator David Milch. Pizzolatto is also co-directing the season, alongside Blue Ruin and Green Room filmmaker Jeremy Saulnier. Again, I know season 2 may have turned a lot of people off of True Detective for good, and the fact that Pizzolatto – who was the sole person in charge of season 2 – is once again running the show might give people pause. But the majority of this cast, and the involvement of Milch and Saulnier, are both signs of something promising.
As for Fisher, he's fine. He didn't make much of an impression as Cyborg in Justice League, but that's mostly because the finished film really didn't give him a whole lot to do. Except for that one scene where he said "Boo-ya." Perhaps True Detective season 3 will give him a better opportunity to show off his acting chops. In addition to Fisher, Deadline also confirms Rhys Wakefield (The Purge), Michael Greyeyes (Fear the Walking Dead) and Jon Tenney (The Closer) have joined the cast as well in minor roles.
No date for True Detective season 3 has been set yet, but it will likely arrive on HBO some time in 2019.