'Love' Season 3 Trailer: The Final Season Arrives In March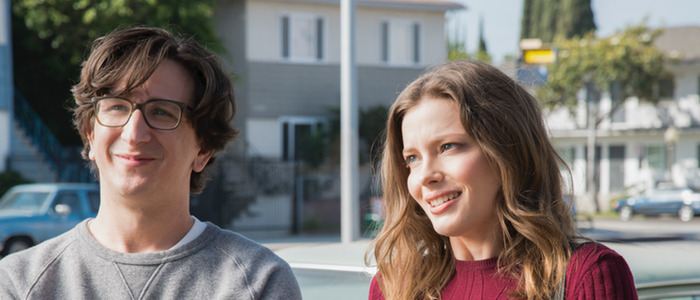 Love will return to Netflix for its third and final season next month, and we've got the trailer to prove it. The series, created by Judd Apatow, Lesley Arfin and Paul Rust, stars Gillian Jacobs and Rust as a couple going through the ups and downs of their relationship. Watch the Love season 3 trailer below.
Do you like Love? I'm not talking about the emotion; no one likes that. I'm talking about the Netflix series starring Gillian Jacobs and Paul Rust. The series is set to return for its third and final season, and there's a new trailer just in time for Valentine's Day. So feel free to eat an entire box of candy hearts as you watch this.
Love Season 3 Trailer
Here's a synopsis for the third and final season of Love.
After a long, complicated, and somewhat messy journey, Gus and Mickey enter Season 3 in a place we've never seen them before: a fully committed relationship... And while to some people, a committed relationship feels like the end, for Gus and Mickey, navigating this new state together is only the beginning showing us that love, for all it's weird ups, downs and hilarious in-betweens, is both incredibly complicated and wonderfully simple. After all, all you need is love.
I haven't seen a single episode of Love. Gillian Jacobs is wonderful, though, so perhaps I'll binge through the series once it's done. Season 3 finds the main characters in a committed relationship for the first time in the series. Shenanigans will no doubt ensue. In addition to Jacobs and Rust, Love stars Claudia O'Doherty, Mike Mitchell, Iris Apatow, and Brett Gelman. Former Saturday Night Live cast member Vanessa Bayer pops up in the trailer as well.
"I am really excited about the third season of Love. I think it is our sweetest, funniest season and ends our story in a beautiful way," said series co-creator and executive producer Judd Apatow. Cindy Holland, Netflix's vice president of original series, added:
"We couldn't have hoped for better companions to go on this journey of Love with than the incomparable Judd Apatow, Gillian Jacobs, Paul Rust, Lesley Arfin, and the rest of the fantastic cast and crew who have brought this special series to life. Over three seasons, viewers around the world have laughed, cringed, and cried with Mickey and Gus, and we are excited to share this concluding journey with their fans."
Love season 3 arrives on Netflix March 9, 2018.