Blue Sky Studios Hires First Female Director For Its First Animated Musical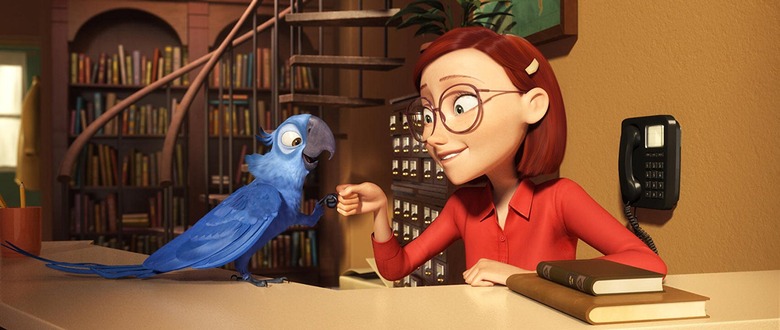 It's no secret that there's a dearth of women in the animation industry. In Disney's nearly 100-year history, only one film has been directed by a woman. With the 19 films that Pixar has released since 1995, only Brave had a female director — who was fired midway through production.
Blue Sky Studios' newest film will do its part to level the playing field. For the animation studio's 15th feature film, Blue Sky Studios has hired its first female director, Karen Disher. And it's not the only first for the studio: Disher will helm Blue Sky's first feature-length musical.
Blue Sky Studios has hired Disher, head of story on the studio's 2011 hit Rio and director of shorts Surviving Side and Ice Age: A Mammoth Christmas, as the co-director of its upcoming musical, tentatively titled Foster. Disher will co-direct alongside Steve Martino (The Peanuts Movie).
Foster is an original film which, according to Variety, follows "a young super fan who isn't satisfied with the ending to a series of fantasy books [and] after he seeks out the author to voice his displeasure, the pair finds themselves transported into a mystical world."
The musical will feature songs by the award-winning La La Land lyricists Benj Pasek and Justin Paul, who recently had another hit on their hands with The Greatest Showman. The film will be written by Tim Federle (Ferdinand) and produced by Marc Platt (La La Land).
Plenty of Firsts for Blue Sky
Blue Sky Studios has mostly remained on the fringes of mainstream animation, never quite wielding the prestige or influence of Disney, Pixar, or Dreamworks — despite its monster hits like Ice Age and Rio. But Blue Sky remains one of the most consistently good animation studios despite its lack of fanfare. I was surprised by how much I liked their most recent feature Ferdinand, a surprisingly heartwarming film that was buried despite its holiday release (it may have been because of John Cena's top billing and a terrible dance sequence). At worst, Blue Sky films have been middling, and at best, they put out affecting films that could rival the works of Pixar.
A musical always seemed like the next move for Blue Sky, whose films like Rio and Ferdinand boasted many a colorful dance sequence. And with Pasek and Paul behind the film, it could be a surefire hit.
Blue Sky is getting points for putting their weight behind a female director in a time when female voices are sorely needed. A report from Cartoon Brew found that for the second year in a row, all major animated features will be directed entirely by men  — a painful statistic in the wake of allegations against Pixar's John Lasseter. More women are co-directing films in recent years, but in the last decade, only Jennifer Yuh Nelson has a solo credit for her work on 2011's Kung Fu Panda 2. While Disher has that dreaded co-directing title, at least it's another foot in the door for women in animation.
Foster is currently slated to arrive in theaters on March 5, 2021.