'The Greatest American Hero' Remake Casts 'New Girl' Star Hannah Simone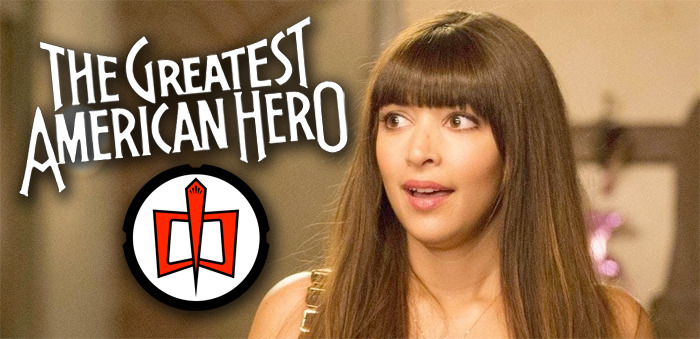 Hannah Simone is best known for her role as CeCe on the FOX comedy series New Girl, but that show is coming to an end with the seventh and final season. Her new gig will be taking on the moniker of a superhero.
In case you didn't hear, The Greatest American Hero is being remade at ABC. The original series ran for three seasons and focused on a teacher who suddenly and reluctantly becomes a superhero when aliens give him a special suit that grants him powers that he has no idea how to use...especially after he loses the instruction manual that he could barely understand to begin with. But the Greatest American Hero remake is putting a new twist on that story by having a woman in the lead role, and it's Hannah Simone suiting up for action.
Deadline has word on The Greatest American Hero remake casting Hannah Simone in the lead role, and they even have details on how her character will be different from the original iteration of the series. Simone will be playing Meera, a 30-year-old Indian-American woman from Cleveland who spends her nights shooting tequila and belting out karaoke. But her lackadaisical life is given a new spin when aliens give her that super suit, even though she's nowhere near qualified to wear it.
Now time for the big question: will The Greatest American Hero get a whole new theme song or will someone be brought in to give "Believe It Or Not" a modern cover? If you don't know what we're talking about, here's the original show's opening:
Funnily enough, the original series concluded with an episode called "The Greatest American Heroine," where our main character had to find a suitable replacement after his secret identity was exposed. He ended up choosing a woman to take over the mantle. However, it's unlikely that the new series will share any narrative tissue with the original show since 25 years have passed since it ended.
Behind the scenes will be Fresh Off the Boat writer and producer Rachna Fruchbom, along with Nahnatchka Khan and Mandy Summers by way of the Fierce Baby production banner. Fruchbom will also write the script and collaborate as a producer with TV director Tawnia McKiernan, the daughter of Steven J. Cannell, the producer of the original series.
The Greatest American Hero remake will likely debut this fall, so stay tuned for updates.