'Overboard' Trailer: A Big Lie Creates A Nice Little Family In The Remake With Anna Faris And Eugenio Derbez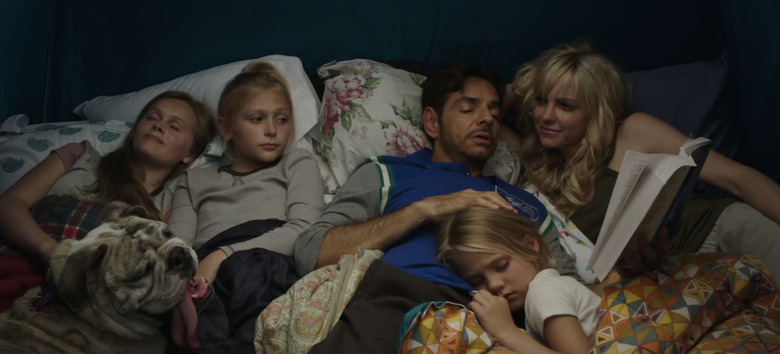 No one was clamoring for a remake of Overboard, but here we are with a new version of the amnesiac romantic comedy.
Anna Faris stars in a new take on the 1987 movie starring Kurt Russell and Goldie Hawn, which does away with some of the more problematic elements of the original story. In this version, Faris plays an overworked single mother trying to provide for her children, but ends up getting fired from one of her jobs by a rich a**hole (Eugenio Derbez). So when this wealthy jerk falls off his expensive yacht and ends up washed up on a beach with amnesia, she has no problem convincing him that they're married and forcing him to head out into the workforce.
Watch the Overboard Trailer
The first half of this trailer is exactly the same as our first glimpse at this remake not too long ago. But even with new footage, this feels like a straight-to-DVD remake rather than a quality romantic comedy. There's just nothing that inspires any real laughter in this trailer. There's a couple of amusing moments, but nothing that makes me want to rush out and see this right away. That's disappointing, since this comes from Wedding Crashers and We're the Millers writers Bob Fisher and Rob Greenberg, making their feature directorial debut.
With Eugenio Derbez (one of Mexico's biggest stars) in the movie, perhaps the producers are hoping the Hispanic audience turnout will give this some drive at the box office. And while Anna Faris may not be a bankable star, she'll likely get an older crowd into theaters since she stars on the CBS comedy series Mom. Still, I can't help but think that they'll be disappointed in the final product.
Leonardo (Eugenio Derbez) is a selfish, spoiled, rich playboy from Mexico's richest family and Kate (Anna Faris) is a working class single mom of three hired to clean Leonardo's luxury yacht. After unjustly firing Kate and refusing to pay her, Leonardo falls overboard when partying too hard and wakes up on the Oregon coast with amnesia. Kate shows up at the hospital and, to get payback, convinces Leonardo he is her husband and puts him to work – for the first time in his life. At first miserable and inept, Leonardo slowly settles in. Eventually he earns the respect of his new "family" and co-workers. But, with Leonardo's billionaire family hot on their trail and the possibility of his memory returning at any moment, will their new family last or will Leonardo finally put the clues together and leave them for good?
Overboard arrives on April 13, 2018.