VOTD: How 'Star Wars: The Last Jedi' Should Have Ended Gives Upset Fans What They Want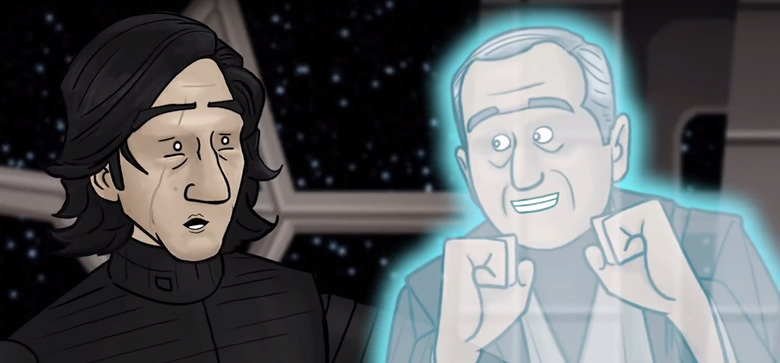 There were plenty of fans who were disappointed in Star Wars: The Last Jedi, many of them with a myriad of criticisms and questions that went unanswered. There was a lot of outcry from not learning about Supreme Leader Snoke's background to the revelation of who Rey's parents were and of course the character of Luke Skywalker. So the folks at How It Should Have Ended are here to ease the pain a bit.
Watch How Star Wars The Last Jedi Should Have Ended below.
Everyone at HISHE clearly had a field day looking at tons of scenes from the movie and taking them in a completely different direction. Some of them are simple but huge detours, such as General Hux simply dispatching with Poe Dameron in the opening scene instead of entertaining his call. Others let characters thrown to the side get a little more screentime, including one brilliant use of Admiral Ackbar.
But the ultimate alternate ending is what really matters, and that involves the return of Luke Skywalker, this time accompanied by Rey in a spectacular standoff with the First Order. What's great about this installment of How It Should Have Ended is how it  takes paths that some fans would have preferred to see while also making fun of them a bit, but it also makes fun of some of the more controversial choices in the movie too. It's the best of both worlds.
Also, if you haven't listened to it yet, be sure to check out the episode of the /Filmcast with director Rian Johnson.