'Unsane' Clip: Claire Foy Calls For Help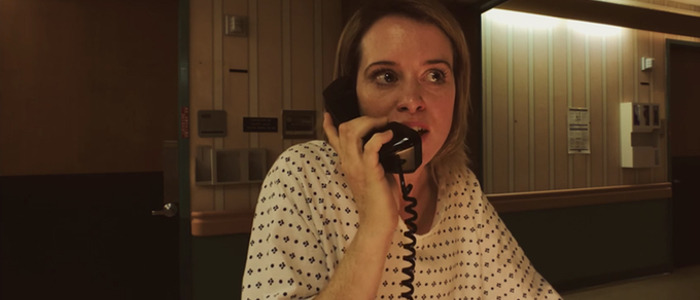 Steven Soderbergh's iPhone-shot thriller Unsane is going to put Claire Foy through hell. The actress stars as a woman committed to an insane asylum, fighting to convince everyone around her she's not insane. In a new Unsane clip, Foy's character attempts to leave the asylum, with miserable results.
After a brief sojourn in semi-retirement, Steven Soderbergh is back. The filmmaker released the heist comedy Logan Lucky last year, and has a new HBO series, Mosaic. Next month, Soderbergh's new film Unsane will hit theaters, and bring with it the filmmaker's latest bit of experimentation. Never one to shy away from unusual methods for his films, Soderbergh shot Unsane entirely on iPhones – a method previously employed to great effect by Sean Baker's Tangerine.
In Unsane, The Crown's Claire Foy stars as a woman who finds herself committed to an insane asylum. Foy's character insists she's perfectly sane, but convincing everyone around her of this is going to be a problem. A new Unsane clip reveals Foy's dilemma.
Unsane Clip
As a Soderbergh fan, I'm all-in on this. That said, I remain slightly skeptical of Foy's American accent. Then again, her character has the absolutely fantastic name "Sawyer Valentini." That alone is enough to sell me. The iPhone cinematography here is interesting: there's an eerie, stripped-down feeling to the clip that makes it extra unnerving.
Unsane also stars The Blair Witch Project's Joshua Leonard, SNL's Jay Pharoah, Killer Joe's Juno Temple, Appropriate Behavior's Aimee Mullins, and Traffic's Amy Irving. The trailer (and the clip above) are selling this as a standard thriller, but I have a sneaking suspicion there's more than meets the eye here. Perhaps something supernatural is lurking. Or perhaps not. In a previous interview about the film, co-star Jay Pharoah described it as "reality-type horror — almost Get Out-ish, but different."Unsane opens on March 23, 2018 after premiering at the Berlin Film Festival this month.
A young woman leaves her hometown to escape a troubled past and begin a new job. But when she is involuntarily committed to a mental institution she is confronted by her greatest fear — but is it real or just her delusion? With seemingly no-one ready to believe her and the authorities unable or unwilling to help, she must confront her fears head on. With twisting perspectives and a shocking narrative, Unsane asks questions about our perception of reality, our survival instinct and the system that is supposed to take care of us.