James Franco Will Return For HBO's 'The Deuce' Season 2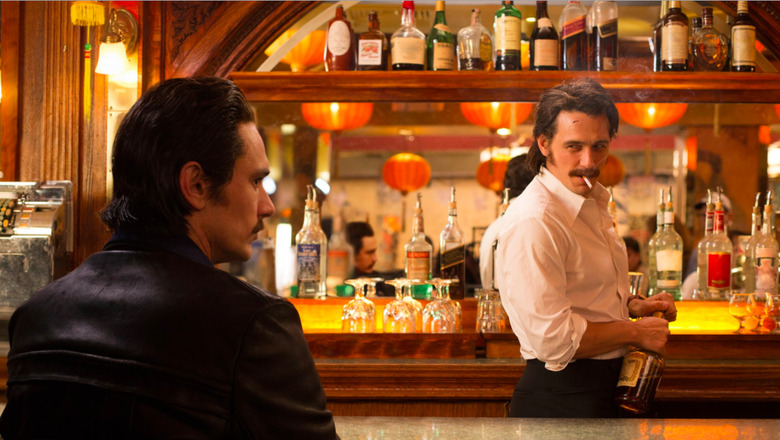 James Franco is coming back for round two of The Deuce. Franco plays the pair of twin brothers at the center of George Pelecanos and David Simon's grimy HBO series exploring the early years of the porn industry in 1970s New York City.
Franco's return for the second season of the drama series had been called into question after allegations of the actor's sexual misconduct surfaced, and House of Cards star Kevin Spacey was replaced for similar allegations. However, HBO has confirmed that Franco will reprise his dual roles.
The Deuce writer Megan Abbott told Entertainment Tonight that Franco would "of course" return for the HBO show's second season.
In The Deuce, Franco plays twin brothers Vincent and Frankie Martino, who become fronts for the mob operating out of Times Square in 1970s New York City. Franco and Maggie Gyllenhaal, who was nominated for a Golden Globe for her performance as the prostitute turned porn businesswoman, are the biggest stars of the critically acclaimed series.
Early this year, Franco was accused of inappropriate or sexually exploitative behavior by five women in a report from the LA Times. The allegations came on the heels of the "Weinstein effect" and Time's Up movements taking over Hollywood, in which powerful actors and executives in Hollywood are being held accountable for histories of sexual misconduct. Franco skipped the Critics Choice Awards shortly after the allegations surfaced, where he won Best Actor for his role in The Disaster Artist. However, Franco later appeared on The Late Show with Stephen Colbert where he denied the accusations.
At the time of the allegations surfacing, Simon told Variety that, "In our experience, he was entirely professional as an actor, director, and producer." He added:
"I'm still reading it the same as everyone else, trying to discern what is or isn't there. Personally I can only speak knowledgeably to The Deuce. I've checked with all my fellow producers and other personnel. We have no complainant or complaint or any awareness of any incident of concern involving Mr. Franco. Nor has HBO been approached with any complaint."
But Franco's return to the series was still in question after Kevin Spacey and Jeffrey Tambor left their respective starring series amid sexual misconduct allegations. Spacey was even famously replaced by Christopher Plummer in Ridley Scott's All the Money in the World, for which Plummer received an Oscar nod.
It's no question that Franco's characters were essential to the series, but with a sprawling cast of colorful characters, could The Deuce have survived Franco leaving? That we'll never know, though I wonder if the series will maintain its critical acclaim, which was decidedly a mixed bag according to /Film's Karen Han's reviews of the first season. "As with any show in which there are so many moving pieces, it's impossible to say that The Deuce did right by every single one of them, but it did its damnedest," she said. "This is generally true of the show — not just when it comes to the characters but when it comes to how much attention is given to each story."