'Five Nights At Freddys' Lands 'Harry Potter' Director Chris Columbus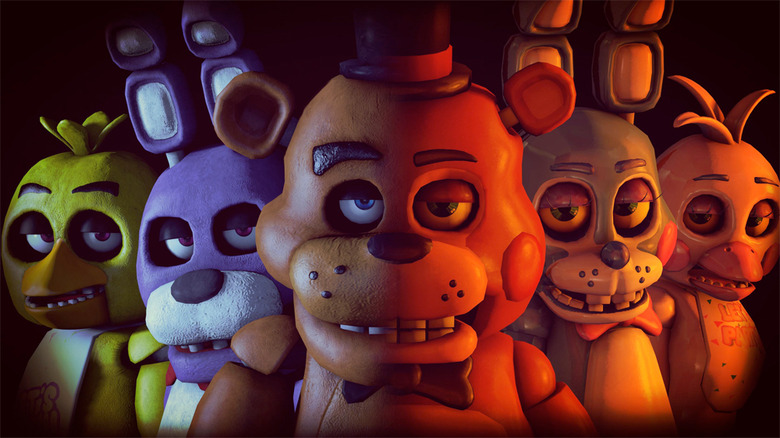 A film adaptation of the hit video game Five Nights at Freddy's has been in the works for a few years now. Originally, the project was set up at New Line Cinema with Monster House director Gil Kenan on board, but now a new director is being brought in as the project finds a new home.
The Five Nights at Freddy's movie is now situated at Blumhouse, which feels like a much better fit for the story of a security guard dealing with animatronic robots who come to life late at night at a place not unlike Chuck E. Cheese. And now Harry Potter and the Sorcerer's Stone director Chris Columbus has been brought in to take the helm.
Deadline has news on the Five Nights at Freddy's movie heading to Blumhouse and bringing in Chris Columbus as the writer, director and producer of the video game adaptation, but it was also officially announced on Twitter:
Mr. Columbus, are you ready for Freddy? #FiveNightsatFreddys pic.twitter.com/4F7QEnw16x

— Blumhouse (@blumhouse) February 12, 2018
The property was highly sought after when New Line sent the project into turnaround, but Blumhouse won out because video game creator Scott Cawthon liked what the horror heavy production banner intended to do with the franchise.
Chris Columbus last directed the sci-fi action comedy Pixels starring Adam Sandler, and it was a real waste of an outstanding premise. Before that, he took a crack at kicking off the Percy Jackson and the Olympians franchise, which felt more like a weak copycat of his work on Harry Potter and the Sorcerer's Stone and Harry Potter and the Chamber of Secrets. Forgive me if that doesn't instill much confidence in the hiring of Columbus, no matter how technically competent of a filmmaker he might be.
Can Chris Columbus Make a Great Five Nights at Freddy's Movie?
With the exception of kicking off the boy wizard franchise in 2001, Columbus has had a hard time delivering movies that stand out like his early films, which include Home Alone and Adventures in Babysitting. He's done well enough with films like Mrs. Doubtfire and Stepmom, but his work in genre films has left something to be desired in recent years. Does Chris Columbus have what it takes to make Five Nights at Freddy's a success?
On the writing side, Columbus is no stranger to horror, having written the original Gremlins. But he's yet to deliver anything like that in his career since then. His work on the Harry Potter movies showcased moments that dipped into suspense and terror, but that's about it. But if Blumhouse is looking to deliver a horror movie that is more accessible to the core audience of youngsters who love the Five Night's at Freddy's franchise, then he might be a good fit.
Five Night's at Freddy's is a horror video game, but it's not full of blood and gore. It relies on suspense and jump scares, and there's a whole line of toys, novels, and other merchandise geared towards younger audiences. This could be Blumhouse's chance to tap into the dry well of horror movies that are appropriate for younger audiences, not unlike Gremlins.
Do you think Chris Columbus can deliver a satisfying Five Nights at Freddy's movie?