'A Series Of Unfortunate Events' Season 2 Trailer: Things Get Worse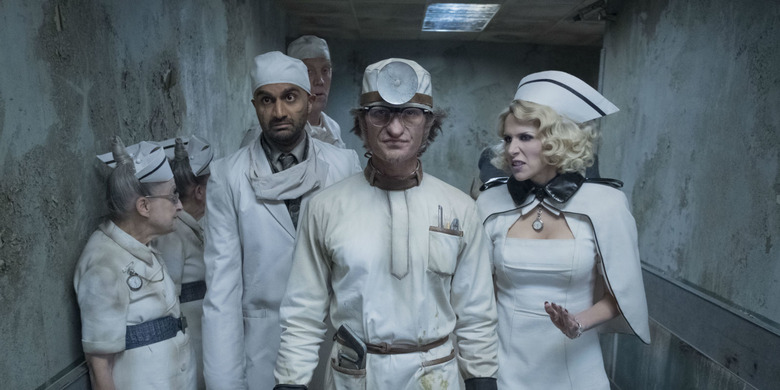 Have you gotten used to Patrick Warburton's dulcet tones soothing you as a fictionalized version of Lemony Snicket? Well too bad, because Neil Patrick Harris' deliciously devious Count Olaf takes the reins in the new A Series of Unfortunate Events season 2 trailer.
A Series of Unfortunate Events Season 2 Trailer
Things get even more unfortunate for the Baudelaire siblings in the Netflix adaptation of the best-selling children's series. The Gothic dark comedy returns in March with "more villainous treachery," "more treacherous villains," "angry villagers," "unwanted elective surgery," "man-eating violence," and altogether "more violence, fire and despair," Olaf gleefully announces in the trailer.
The trailer is fast-paced and fleeting, but offers us a glimpse of the new characters played by Nathan Fillion, Tony Hale, Sara Rue, Lucy Punch and Roger Bart, all sporting delightfully campy Victorian Gothic costumes.
It's an exciting and stylish trailer for the series that perfectly fits the series' tongue-in-cheek humor and tongue-twisting dialogue. However, it does once again push Klaus (Louis Hynes), Violet (Melissa Weissman), and Sunny Baudelaire to the sidelines in favor of Harris' scenery-chewing villain. The first season did a wonderful job of balancing the screen time between our noble child heroes and their greedy relative after their fortune, but the second season is worryingly fixated on Olaf. The preoccupation with Jim Carrey's Olaf is where the film adaptation lost me, and I hope that the Netflix series doesn't fall to that same temptation.
The second season of A Series of Unfortunate Events will adapt books five through nine in the 13-book series, including The Austere Academy, The Ersatz Elevator, The Vile Village, The Hostile Hospital, and The Carnivorous Carnival. The first season adapted the first four books, with each book taking place over roughly two episodes, and the second season looks to follow that format. The third season of A Series of Unfortunate Events will be the last season of the Netflix series. It'll be sad to lose such a whimsical and delightful series so soon, but with the series fast running out of source material, it's only to be expected.
Here is Netflix's synopsis for A Series of Unfortunate Events season 2:
More isn't always better. Sometimes it's much worse. March 30th, get ready for more villains, more schemes, more peril, more orphans and more intentional fires.
It's really going to be quite dreadful. We can't wait.
A Series of Unfortunate Events season 2 premieres on Netflix on March 30, 2018.