'Annihilation' Director Alex Garland Is Interested In Directing A 'Swamp Thing' Movie For DC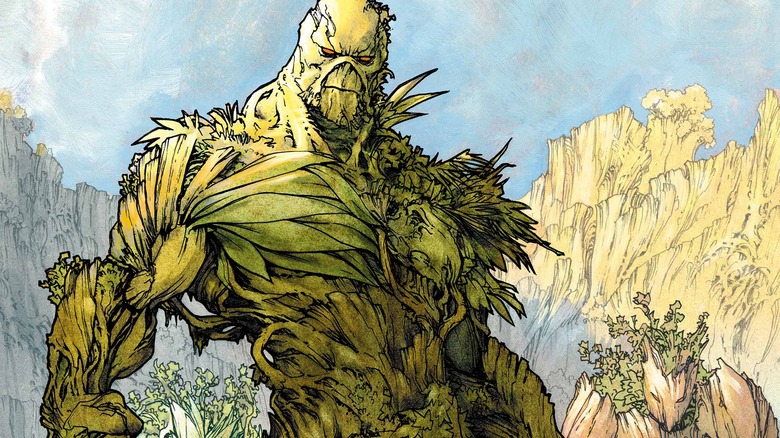 Like so many filmmakers these days, Alex Garland has had his brush with the comic book movie industry. The Ex Machina and Annihilation director was a screenwriter before he made the jump to the director's chair, and one of the films he penned was the 2012 comic book adaptation Dredd.
But now that he's starting to gain renown for his work as a director, comic book fans are inevitably clamoring for Garland to make a return to superhero movies. And he's right there with them.
In a Reddit AMA promoting the upcoming Annihilation, Garland revealed which comic book character he would like to write and direct, if given the chance: Swamp Thing.
DC Comics's Swamp Thing first appeared in 1971 horror anthology series House of Secrets. Created by Lein Wein and Bernie Wrightson, the half-man/half-plant creature rose to fame thanks to writer Alan Moore's reinvention of the character in the 1980s. The Swamp Thing became an elemental creature who absorbed the body and memories of its human alter ego Alec Holland, never able to achieve the humanity it craves.
That has Garland written all over it.
Garland didn't go into detail about what his purely hypothetical Swamp Thing movie would entail, but judging by his talent for approaching pulpy sci-fi elements through a restrained, humanistic lens, he could be a fantastic fit. His work behind the camera with Ex Machina and Annihilation, as well as his work on scripts for Never Let Me Go and Sunshine, prove him to be a challenging, ambitious sci-fi filmmaker who seeks to explore the meaning of human identity.
Swamp Thing has had the feature film treatment before, notably in Wes Craven's low-budget 1982 Swamp Thing and its worse sequel. Several recent attempts to bring him back to the big screen have been less successful. Swamp Thing was initially expected to return to the big screen as part of the Justice League Dark roster, a film that has gone through several directors since 2014. We got a glimpse of what Joseph Kahn's Swamp Thing could have looked like in a piece of eye-popping test footage from the director's Justice League Dark pitch, but news on the movie has gone, well, dark.
It seems like Swamp Thing's recent history is a series of "almosts." Warner Bros. toyed with the idea of making a Swamp Thing solo movie since 2014, even going so far as to register the character's domain name. And on the animated side, the elemental antihero nearly got a solo straight-to-DVD movie which would have folded it into the animated Justice League Dark movie. But maybe with Garland expressing interest in a Swamp Thing movie (albeit through Reddit), maybe this could get the ball rolling again.