How Phoebe Waller-Bridge's 'Solo' Droid Is Unlike Any Robot In 'Star Wars' History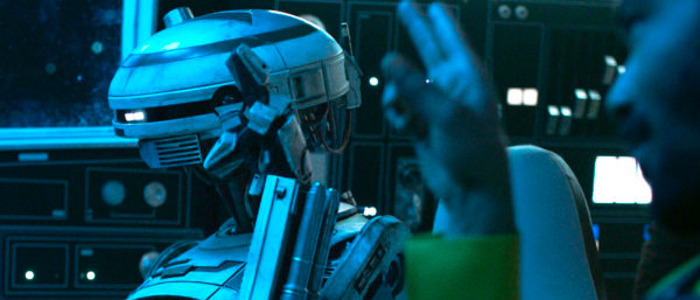 Time for more Solo news! As this week chock-full of Solo details comes to a close, it's time to learn a little about Phoebe Waller-Bridge's droid character, L3-37.
This week was a cornucopia of Solo: A Star Wars Story riches. Let's recap!
Now that we're all caught up, here's something new! Entertainment Weekly has some new details on Phoebe Waller-Bridge's new droid character, L3-37. Unlike most other droids in the Star Wars universe, L3-37 is self-made. She's constructed herself over the years, constantly changing and rearranging her various parts to become the droid she is when we meet her in Solo.
"She's a self-modified droid," says co-writer Jon Kasdan. "The idea is that she's sort of a mutt, if you will, of various parts of different kinds of droids who has improved upon herself."
As the Solo trailer hinted, L3-37 has a "working relationship" with Donald Glover's Lando. "[I]t's very sophisticated and informed by years of working together," says co-writer Lawrence Kasdan. Kasdan goes on to say:
"Phoebe, herself, is hilarious. The effect that she will appear in is amazing, but she comes through very strongly even with this astounding [CGI], both her humor and her physicality. If you meet Phoebe, she's one of these people you just fall in love with immediately."
Director Ron Howard echoes the "hilarious" compliment, saying: "She's capable of some pretty interesting conversations. And Phoebe is hilarious and brilliant and really helped bring that character to life in ways that are funny and surprising."
Not Just Comic Relief
Waller-Bridge has a background in comedy, having appeared in the Amazon series Fleabag. But despite all this talk of hilarity, Jon Kasdan also stresses that the character isn't there just for comic relief:
"She's an absolute engine, not just for comedy, but for point of view, and she's got a very strong personality."
Waller-Bridge, who plays L3-37 via motion-capture, is not interviewed in the EW piece, which is slightly disappointing. The actress hasn't said much about the project yet, likely due to the secrecy involving most Star Wars films. Waller-Bridge did, however, provide some previous insight into the surprising firing of original directors Phil Lord and Chris Miller and the hiring of new director Ron Howard. Speaking with IGN, the actress said:
"The handover there was done with such warmth and generosity from everybody, and Ron's just a master at his craft; he's going to make a beautiful film out of it...You just really trust him and it was just really exciting to work with him. I mean, it would've been exciting to just pass him in a corridor, let alone for him to be parachuted in to the film you're working on."
Waller-Bridge then added:
"We'd done some really, really great stuff with Chris and Phil that everyone was really thrilled with, and I think a lot of that will still be in it."
Solo: A Star Wars Story opens May 25, 2018.