Kendrick Lamar's 'Black Panther' Soundtrack Available To Stream Right Now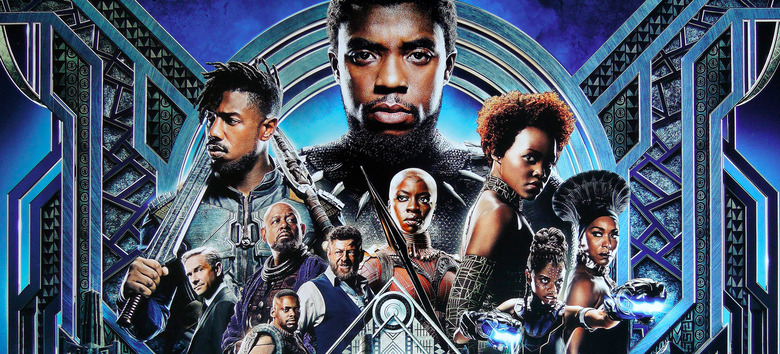 Even though Black Panther is still a week away, fans can get a little taste of the movie today. The Black Panther soundtrack, which was produced and curated by Grammy-winning rapper Kendrick Lamar, is streaming now.
The entire Black Panther soundtrack (not the score) is available on Spotify, Apple Music and other music streaming platforms. Or if you still like spending money to own music, you can buy it today, too. Otherwise, you'll want to keep reading below to start nodding your head to this killer soundtrack.
Listen to the Black Panther Soundtrack by Kendrick Lamar
Keep in mind that this is a full-on rap album that is not intended for all audiences. It's been slapped with a "Parental Advisory" label and there is plenty of vulgar language throughout. So if you're one of those parents who keeps their kids away from things like that, you've been warned.
I've only listened to the first few tracks in their entirety before jumping around to hear what the rest of the soundtrack sounds like. Early favorites for me are "Opps" by Vince Staples featuring Yugen Blakrok, "King's Dead" from Kendrick Lamar, Jay Rock, Future and James Blake, "X" by ScHoolboy, Q, 2 Chainz and Saudi, and "Pray for Me" by Kendrick Lamar. Plus, the first track is a hell of an introduction to the rest of the soundtrack.
Not all of these songs will appear in Black Panther, but some of them will be featured. This soundtrack also doesn't have any of the score that has been composed by Ludwig Göransson, but it'll be interesting to see if there are any crossover influences between the two, as far as African instrumentation and inspiration is concerned.
Kendrick Lamar Was Initially Less Involved
Funnily enough, Kendrick Lamar originally only intended to have a small role in this soundtrack, but director Ryan Coogler told NPR that changed after he saw some of the movie:
"At first, he was just going to do a few songs for the film. Then he came in and watched quite a bit of the movie, and the next thing I know, they were booking a studio and they were going at it."
If you haven't seen it yet, check out the music video for the track "All the Stars" right here:
This is easily one of the best soundtracks with original music curated specifically for a film in a long time. I can't remember the last time I was excited to hear a soundtrack to a movie like this. It's just one more piece of this film that makes it stand out from the rest of the Marvel Cinematic Universe installments. I personally can't wait to see this movie next week, especially with all the positive early buzz.
Black Panther hits theaters on February 16, 2018.