'Thor: Ragnarok' Deleted Scene: A Bizarre Jeff Goldblum Hologram And A 'Dumbo' Joke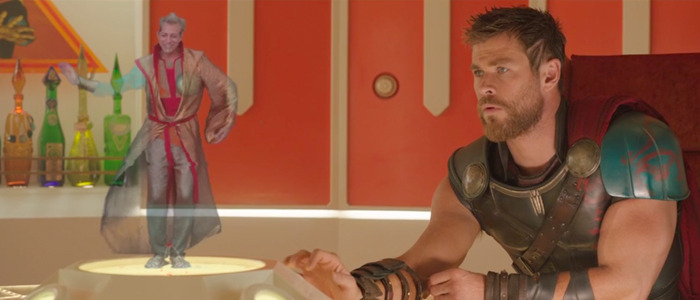 After the bland Thor: The Dark World, Taika Waititi completely turned the Thor franchise around with last year's Thor: Ragnarok by making one of the funniest films in the Marvel Cinematic Universe. It's also one of the strangest, and as a newly-released Thor Ragnarok deleted scene reveals, it was almost even stranger.
Take a look at the new scene below, which features a bizarre hologram of Jeff Goldblum's Grandmaster, and some nice banter between Thor and Bruce Banner.
Allow me to briefly set the stage. This scene takes place after Thor (Chris Hemsworth), Bruce Banner (Mark Ruffalo), and Valkyrie (Tessa Thompson) steal one of the Grandmaster's ships, but before they arrive at Asgard to face off against Hela (Cate Blanchett). We catch up with Thor sitting at a table on the ship as he idly turns on a hologram of the Grandmaster, only to discover he's uncovered something a little kinkier than he was anticipating. Entertainment Weekly has the full video.
Thor Ragnarok Deleted Scene
Exclusive: Get a first look at one of the deleted scenes from the upcoming #ThorRagnarok home release. It's just as weird and delightful as you'd hope: https://t.co/1kuI0zNU7e @ThorOfficial pic.twitter.com/FqrLHxGSuD

— Entertainment Weekly (@EW) February 9, 2018
Goldblum dancing erotically with some sort of tentacle creature? That is 100% pure uncut Thor: Ragnarok, but it seems like the whole scene was probably just cut for time since it doesn't really provide any significant progress for the narrative. Sure, Thor gets a moment to reflect on everything that's happened to him so far, but it's mostly an opportunity for Banner to make a Dumbo joke and for Valkyrie to slurp up some alien noodles. It's fun, but not exactly essential.
This continues the slow drip of bonus features from this movie, following on the heels of this wildly entertaining blooper reel (which actually contains more footage of Goldblum dancing for this deleted scene) and a hilarious intro video from Waititi. The director/actor will also be providing his own commentary track when the movie hits home video, which is reason enough to add this to your "must-buy" list. You can read about the full list of bonus features right here, but this is a taste of what's to come:
Exclusive, never-before-seen bonus features include deleted scenes; hilarious outtakes; an exclusive short: part three of the mockumentary "Team Thor," retitled "Team Darryl" and featuring an eccentric new roommate; the evolution of MCU's heroes culminating in "Avengers: Infinity War;" numerous making-of featurettes which explore the unique vision of director Taika Waititi; the story's unstoppable women; the effortlessly charismatic Korg; the tyrannical leader of Sakaar, the Grandmaster; and the film's comic-book origins;  audio commentary by Waititi; and more.
Thor: Ragnarok will be available digitally in HD, 4K Ultra HD, and Movies Anywhere on February 20, 2018, and 4K Ultra HD and Blu-ray on March 6, 2018.