Marvel Studios Begins Celebrating 10th Anniversary With A Massive Cast Class Photo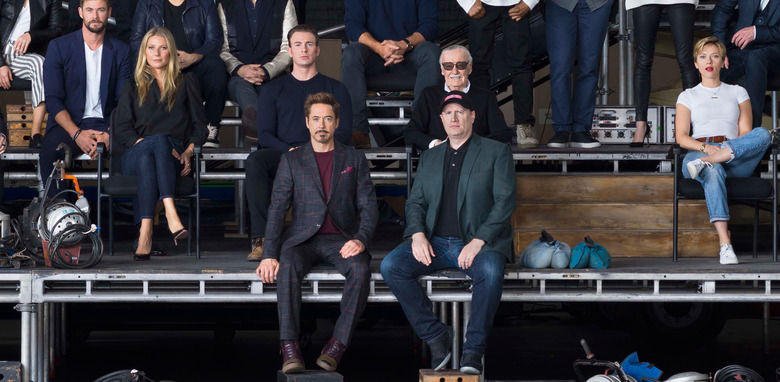 You might remember some of the cast members of various films in the Marvel Cinematic Universe posting to social media last year about a celebratory photo shoot featuring just about everyone who has worked with Marvel Studios. Now, the time has come to find out what that's all about.
This year, Marvel Studios is celebrating their 10th anniversary, and to kick off the festivities, they've revealed a huge Marvel Studios class photo featuring dozens of actors and the filmmakers who turned them into comic book icons. And there's also a video from behind the scenes of the photo shoot as well. It's kind of amazing to see all of these people together in one place.
Watch the Marvel Studios Class Photo 10th Anniversary Video
What's interesting is that Chris Hemsworth talks about getting together with this group and everyone feeling like something was coming to an end. We've heard that Avengers 4 will be a finale for the current era of the Marvel Cinematic Universe, so maybe whatever the next phase of the MCU holds will be even more of a departure from the first 10 years than we previously thought.
Here's the Marvel Studios class photo featuring all the key players in the Marvel Cinematic Universe: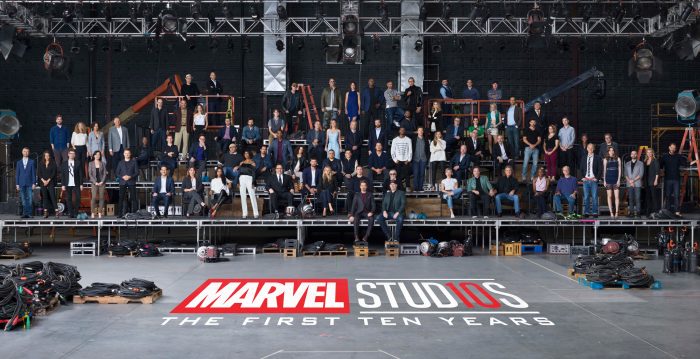 In case you don't feeling like moving through the photo and spotting everyone, here's the list of stars:
Robert Downey Jr., Chris Evans, Chris Hemsworth, Mark Ruffalo, Scarlett Johansson, Paul Rudd, Benedict Cumberbatch, Chris Pratt, Chadwick Boseman, Brie Larson,  Jeremy Renner, Tom Holland,  Sean Gunn, Hannah John-Kamen, Zoe Saldana, Angela Bassett, Jon Favreau, Gwyneth Paltrow, Kurt Russell, Danai Gurira, William Hurt, Karen Gillan, Emily VanCamp, Tessa Thompson, Don Cheadle, Dave Bautista, Michael Peña, Anthony Mackie, Evangeline Lilly, Elizabeth Olsen,  Paul Bettany, Frank Grillo, Letitia Wright, Laurence Fishburne, Linda Cardellini, Sebastian Stan, Ty Simpkins, Michael Douglas, Michelle Pfeiffer, Hayley Atwell, Pom Klementieff, Benedict Wong, Michael Rooker, Vin Diesel, Cobie Smulders, Samuel L. Jackson and Jeff Goldblum.
In addition to the various actors who brought these characters to life, here are the featured filmmakers:
Kevin Feige, Louis D'Esposito, Victoria Alonso, Stan Lee, Scott Derrickson, Trinh Tran, Alan Taylor, Brad Winderbaum, Louis Letterier, Jon Watts, Sarah Finn, James Gunn, Joe Russo, Anthony Russo, Joss Whedon, David Grant, Mitchell Bell, Anna Boden, Ryan Fleck, Jeffrey Ford, Peyton Reed, Jonathan Schwartz, Stephen Broussard, Ryan Coogler, Jeremy Latcham, Nate Moore, Christopher Markus, Stephen McFeely, Taika Waititi, Erik Carroll, Ryan Meinerding and Craig Kyle.
For fans looking to celebrate 10 years of Marvel on their own, you can enter the Marvel 10-Year Sweepstakes. If that doesn't sound like your thing, Marvel says fans can expect exclusive consumer products and collectibles, along with in-theater events and much more in the coming months. So stay tuned for more about the Marvel 10th anniversary celebrations.