'The Joel McHale Show' Trailer: Joel McHale Mocks Pop Culture Again, Promotes Netflix Shows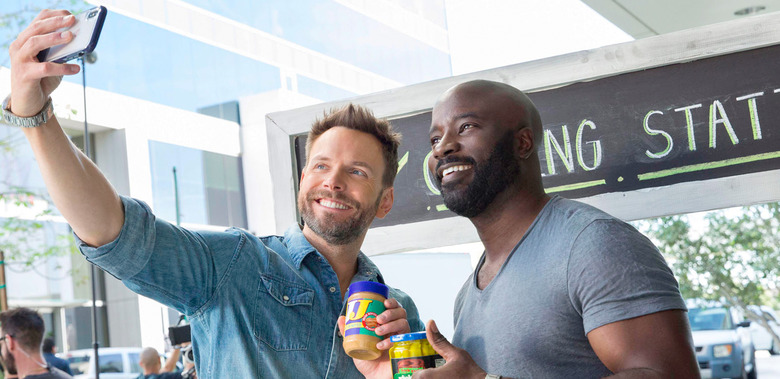 Another comedy series is coming to Netflix, this time with The Soup star Joel McHale returning to green screen comedy.
The Joel McHale Show with Joel McHale brings the Community star to Netflix with a weekly half-hour comedy series that will provide topical humor with a "sharp, absurdist look at pop culture and news from across the globe." Honestly, it sounds like The Soup, but with a little more of a broad perspective. Plus, this series will have celebrity guests. Check out the first Joel McHale Show trailer below announcing the new series
Watch The Joel McHale Show Trailer
The official press release describes the show as "a fast and funny distillation of everything people are talking about that week'" that will provide "destination viewing for comedy lovers, or people who just really, really like green screens." There will be celebrity guests, comedy sketches, and insane video clips from the realms of TV, sports, politics, celebrity culture, and every corner of the internet So like we said, a new iteration of The Soup, with maybe a bit of The Daily Show and Tosh.0 thrown in there.
The first round of guests for the show have already been announced, and it seems like The Joel McHale Show will be used to feature stars who have shows that are available on Netflix. While one of the first guests is stand-up comedian and Jumanji: Welcome to the Jungle star Kevin Hart, the rest of the roster includes Alison Brie (GLOW), Mike Colter (Luke Cage), Paul Reiser (Stranger Things 2), Jodie Sweetin (Fuller House) and McHale's former Community co-star Jim Rash.
Unfortunately, the trailer doesn't give us an idea of what the show will look like, but that's because it will be topical and based on the events of that week. Hopefully, Netflix will give McHale a little more of a budget than The Soup did, though some of that show's charm came from its low budget nature.
This is the second time Netflix has attempted to get a topical comedy program off the ground. The first was Chelsea with Chelsea Handler, coincidentally another comedian who made a name for themselves at the E! Network. But do binge-watching Netflix subscribers want a show like this on the streaming service? Handler's series only lasted two seasons, so we'll have to wait and see how audiences respond to McHale's attempt at a show like this later this month.
The Joel McHale Show will debut all over the world starting on February 18, 2018.