'I Feel Pretty' Trailer: Confidence Goes A Long Way For Amy Schumer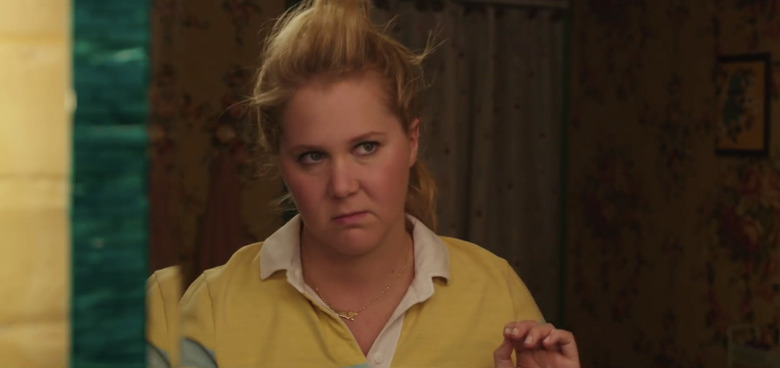 Comedian Amy Schumer made a huge splash on the big screen with Trainwreck back in 2015, and now she's back with another comedy that might make some waves this summer.
I Feel Pretty follows Amy Schumer as an average woman who deals with some low self-esteem and insecurity in her everyday life. Whether it's because of her figure or her hair, she just doesn't have enough confidence in herself and feels inadequate day in and day out. But as we see in the I Feel Pretty trailer, that suddenly changes when a Soul Cycle accident leaves her looking at herself in a new light. Suddenly, she believes she is a knockout supermodel who can do anything, and it's a total gamechanger for her.
Watch the I Feel Pretty Trailer
While it might seem easy to regard this movie as sending a poor message to everyone about how they see themselves, that's almost certainly the point of the movie. Amy Schumer's character suddenly sees herself as beautiful and confident, so that's how she behaves. That's exactly what opens new doors for her and has everyone seeing her in a new light. That's exactly how we should all see ourselves everyday instead of comparing how we look to everyone else, especially celebrities.
There's not anything laugh out loud hilarious in this first trailer, but it does show off the supporting cast surrounding Schumer. Fellow stand-up comedian Rory Scovel is playing her boyfriend while Emily Ratajkowski plays a woman who she looks up to because of her good looks. Meanwhile, Aidy Bryant and Busy Philipps play her best friends. Michelle Williams, Tom Hopper and Laura Hutton also have key roles.
As someone who enjoyed the hell out of Trainwreck, I'm looking forward to seeing what Schumer does with a movie like this. The only downside is that the script comes from Abby Kohn and Marc Silverstein, known for scripting cheesy romantic comedies like Valentine's Day and He's Just Not That Into You. But they did also write Never Been Kissed, which is a solid entry in the genre They're making their directorial debut this time, so they've got something new to prove this time.
Here's the official synopsis for I Feel Pretty:
Renee Bennett (Amy Schumer) knows what it feels like to be average looking in New York city – a city of the genetically and financially blessed. After falling off her bike and banging her head during a spin class, she stumbles in  the locker room and it is there that she first sees what has happened – her legs are toned, her hair is silky, her chin is defined – she is GORGEOUS. Except that, to everyone else, she looks EXACTLY THE SAME.
Even though her appearance hasn't changed AT ALL – Renee's new belief in herself sees her climbing the ranks at the cosmetics company she works for, getting the respect of her impossibly beautiful boss Avery LeClair (Michelle Williams), bagging a cute boyfriend in Ethan and getting invited to rooftop parties.
With her new confidence comes overconfidence, and even the tendency to treat the 'less genetically fortunate' in the same dismissive way that people used to treat her. Eventually Renee believes the spell has been lifted – and finally realizes that when she thought she was ugly, she may have been the most beautiful, and when she believed she was beautiful, she had started to turn a bit ugly. She learns that true beauty is not skin deep.
I Feel Pretty arrives in theaters this summer on June 29, 2018.