Theme Park Bits: Nine Florida Parks In One Day, DisneySky Park Rumored For Tokyo, Snow Falls On Disneyland Paris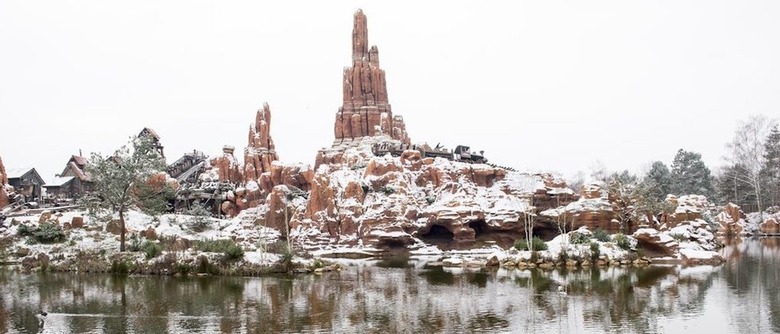 In this edition of Theme Park Bits:
Is it humanly possible to visit nine theme parks in one day? See video proof of a couple doing it.
Can an 87-year-old man survive the ride on Space Mountain? He can if he designed it.
Details on the new Kung Fu Panda attraction coming to Universal Studios Hollywood.
Analysis on the latest rumors about a sky-themed Disney park coming to Tokyo.
See images of a gorgeous winter snowfall at Disneyland Paris.
And more!
Alright, park-hoppers: it's time to get real. What's the most number of parks you've visited in a single day? On Valentine's Day three years ago, a couple named Michael and Diane Greening traveled across time zones in two countries to visit the flagship parks in three different Disney resorts ... all in the same epic calendar day. This stunt made headlines on Yahoo and other big news sites.
Maybe TheTimTracker was inspired by the example of the Greenings, because he and his wife Jenn recently undertook the crazy feat of visiting nine Central Florida theme parks in one day. The award for Most Dedicated Theme Parkgoers of the Week goes to this adventurous couple. Personally, I'll have to settle for having ridden two Towers of Terror in one month.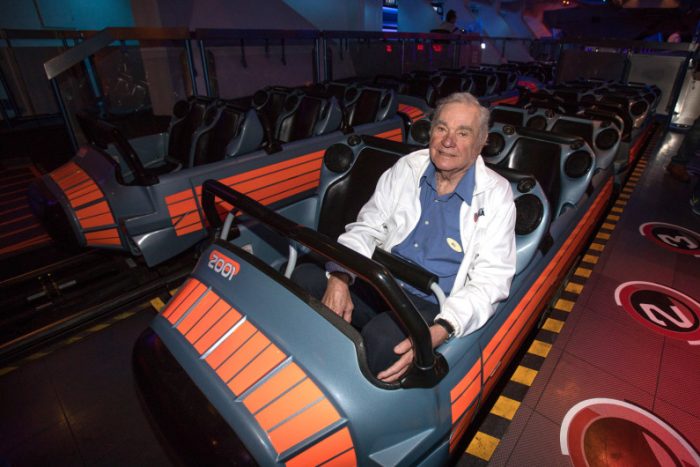 Here's another human interest story for you. An 87-year-old man "walked through Disneyland with a cane and needed a wheelchair to get up the ramp to take the ride he created 40-plus years ago." That man's name is Bill Watkins, and you can read more about his final ride on Space Mountain over at the OC Register (courtesy of The Disney Blog). Seriously, who would have guessed that you're only ever traveling at a maximum speed of 27.27 miles per hour on Space Mountain?
If you missed the videos we shared last week of A Celebration of Harry Potter, SYFY Wire has a new one up taking a look at this year's edition of the annual Universal Orlando event.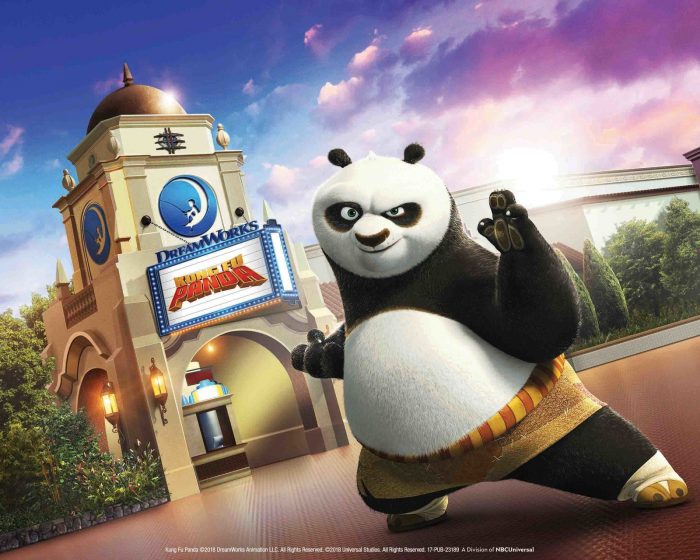 Universal Studios Hollywood has issued a press release with details on its upcoming attraction "Kung Fu Panda: The Emperor's Quest," which is set to open in the new Dreamworks Theatre in Summer 2018. This is billed as a multi-sensory attraction with cutting-edge technology, including "the first-ever integration of interior projection mapping designed to engulf guests in 180 degrees of immersive adventure."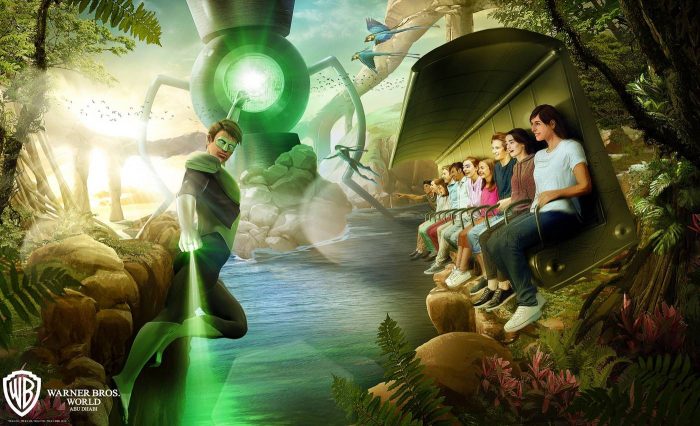 We posted a separate article about it this week, but if that happened to slip your notice, here's a look at a couple of the concepts for the Green Lantern and Justice League rides coming to Warner Bros. World Abu Dhabi in the summer of 2018. More details can be found here.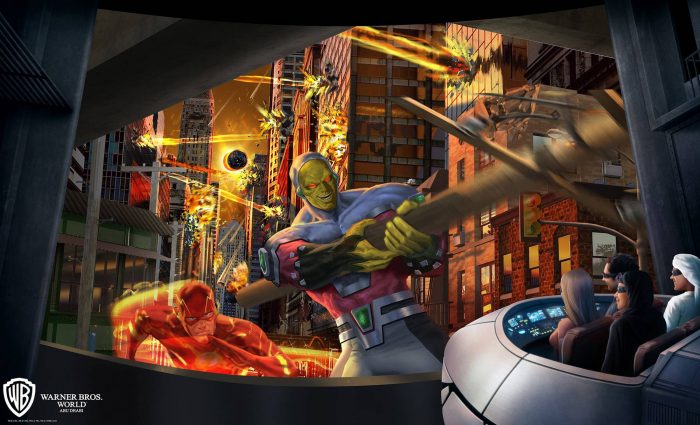 Last week's edition of Theme Park Bits ended with a discussion about the direction of Disney parks: specifically, whether the parks and their attraction themes are headed in the direction of too much Star Wars, Guardians of the Galaxy, Frozen, and Pixar. There must have been something in the ether because those words were actually written before the news broke of Walt Disney World's "Incredible Summer."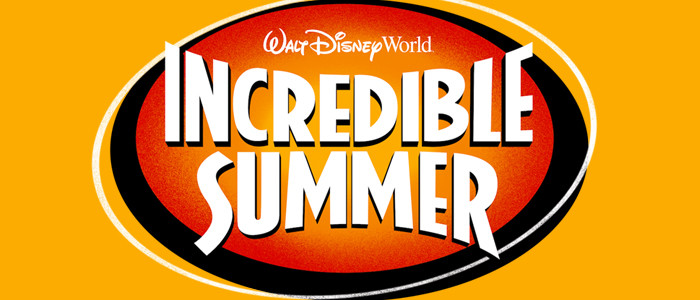 /Film writer Ben Pearson breaks down this event in greater detail here. Suffice it to say, this summer, The Incredibles are returning to their old dance party ways in Tomorrowland, the Guardians of the Galaxy are performing Awesome Mix soundtrack songs at Epcot, Toy Story Land is opening at Hollywood Studios, and Russell and Dug from Up are leading a new bird show at Animal Kingdom.
So very quickly the cosmos have answered last week's discussion question by showing that Disney is only going to be doubling down, in the very near future, on more attractions and entertainment related to these properties. As Inside the Magic reports, Disney Parks and Resorts actually saw its revenue boosted to $5.2 billion in the last fiscal quarter, so if anything, the Walt Disney Company is probably laughing all the way to the bank.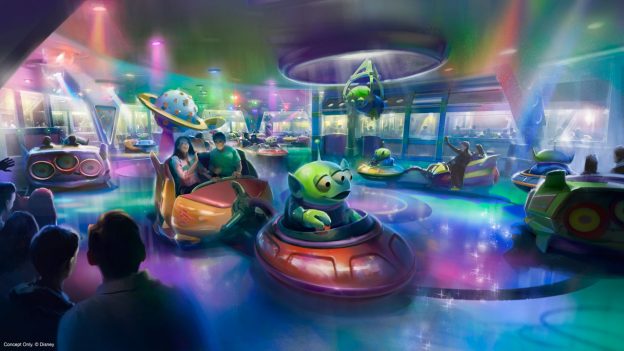 On the macro level of worldwide Disney parks, this is shaping up to be a big year for Pixar in particular. This week, Disney Parks Blog also shared a first look at Toy Story Land's Alien Swirling Saucers. In the same post, they also denied the name-change rumors for Disney's Hollywood Studios, saying the park would keep its name "for the foreseeable future."
The Paradise Pier entrance marquee completely removed. Also notice Ariel's Grotto and Treasures in Paradise building features removed. #PixarPier🎡https://t.co/hhZYNCwGal pic.twitter.com/ofAPnULNJH

— MouseInfo | Disney News and Info (@MouseInfo) February 5, 2018
At Disney California Adventure, the construction march toward Pixar Pier continued this week with the removal of the old Paradise Pier entrance marquee and other building features.
On the other side of the globe, Tokyo DisneySea is currently undergoing its own Pixar invasion with the Pixar Playtime event.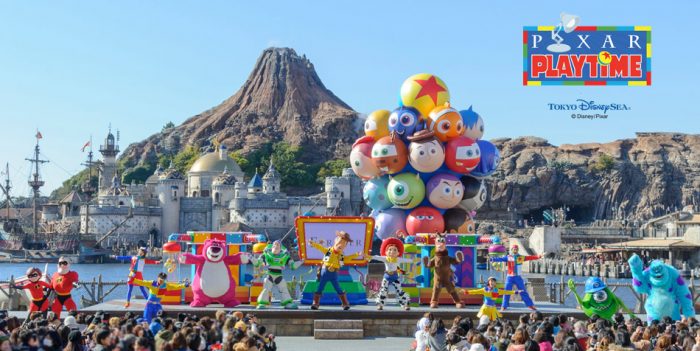 Of course, the bigger news regarding Tokyo Disney Resort this week is that its rumored third park might be called Tokyo DisneySky, thereby completing the trifecta in Japan's capital of Disneyland, DisneySea, and DisneySky. TDR Explorer (which worked up the graphic below) first broke the news in English based on an article that appeared in a major Japanese newspaper.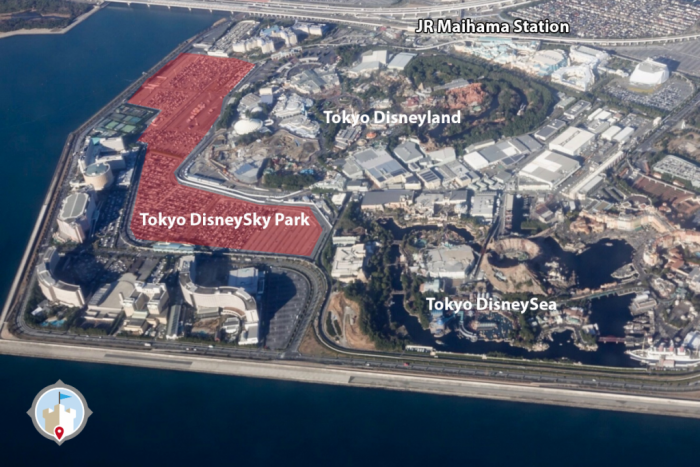 In response to the rumors, the resort's owner, Oriental Land Company (OLC), issued a quick statement saying it had made no such announcement yet about a third park. There is definitely an expansion coming, and previous reports had speculated that the cost of that expansion — over two billion dollars — was about right for a new park.
The earliest rumors had it pegged as a Japanese-themed park. Some of this new information almost sounds conflicting, with reports claiming that OLC officials want the park to be one-of-a-kind yet also simultaneously anchored by Star Wars: Galaxy's Edge and Pandora: The World of Avatar.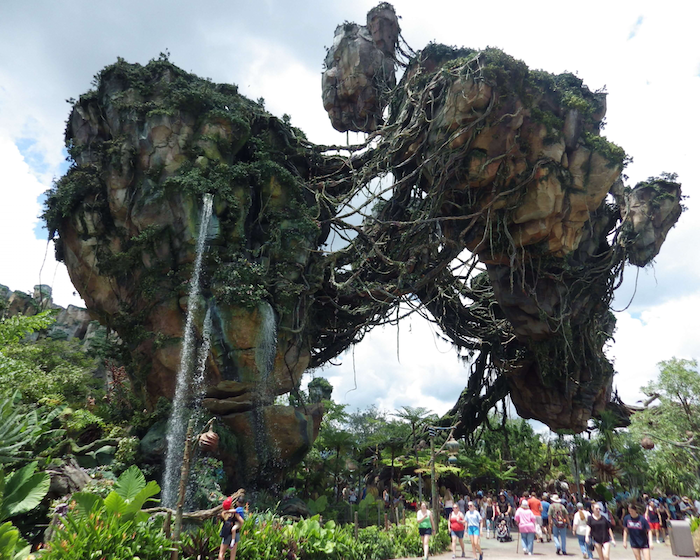 If DisneySea can be looked upon as a model, however, it could mean they want to reuse/remix a few basic attraction concepts while building an entirely new theme around the park and its lands (or sky realms, as the case may be). It's possible that instead of a Japanese-themed park, what there might be is a Japanese-themed area within Tokyo DisneySky.
From the practical standpoint of available ground space, a sky-themed park would certainly seem to make sense. Tokyo is already a dense city where building outward is not as much of an option ... but building upward in multi-storied buildings is.
The area where this new park would supposedly be going is only a sliver of land compared to the ground space taken up by the other two parks. That sliver of land is presently occupied by a big parking lot that often sits half-empty because many of Tokyo's park guests take the train to Disney, with passengers flooding the platform at Maihama Station every morning and night.
We should know more when OLC makes an official announcement in April or May, possibly in conjunction with the resort's 35th-anniversary celebration kick-off. In the meantime, Japan isn't the only place where a Disney resort has been getting snow recently.
#Disney ❄️❄️❄️ pic.twitter.com/8LX96WfIVQ

— Luckyboy (@QueenJay2512) February 7, 2018
Disney Parks Blog has a gallery of photos showing the recent snowfall at Disneyland Paris. Above and below, you can some pics people posted on Twitter.
Even prettier in the snow! pic.twitter.com/4owJZn0sAm

— Lurkyloo (@lurkyloo) February 7, 2018
Well THAT's cool! pic.twitter.com/JRpGXm6q0c

— Lurkyloo (@lurkyloo) February 7, 2018
As WDW News Today reports, Disneyland Paris has also updated its Annual Pass pricing and benefits. To celebrate the 10th anniversary of the Tower of Terror in Paris, the park will be holding an exclusive 1930s Hollywood-themed costume party for Infinity Pass holders on March 30, 2018.
Until next week, stay warm out there, theme-park-lovers ...