New 'Deadpool 2' Trailer Introduces Cable, Throws Shade At The Superman Mustache Debacle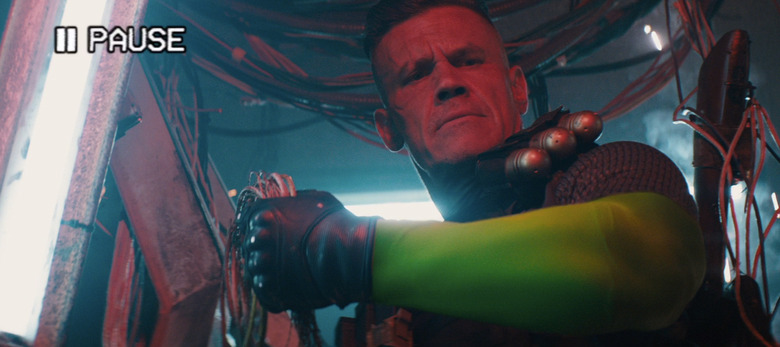 Out of nowhere this morning came what seemed like a featurette for Deadpool 2 introducing us to Josh Brolin as the Marvel Comics character Cable. But as the video proceeded, it became clear that this wasn't just a featurette, but a new trailer done in the fourth wall-breaking style that only the Merc with a Mouth could deliver so perfectly.
The new Deadpool 2 trailer starts off as a gritty introduction to the cybernetically enhanced time traveler, but then Deadpool (Ryan Reynolds) sees the visual effects aren't done and he has to kill some time. The second half of the new Deadpool 2 trailer features a whole bunch of new footage that you're going to want to take a closer look at. If this is how the entire marketing campaign is going to be, then I can't wait to see more.
New Deadpool 2 Trailer
Of course Deadpool playing with action figure versions of himself (dressed up like Woody from Toy Story) and Cable is incrdible, but it's hard to top that joke that throws shade at the now infamous Superman mustache removal on Justice League.
Beyond the obvious humor factor, there's a lot to unpack in the second half of this trailer. We get to see Cable kicking some ass with that metal arm of his, and some kick-ass footage of Zazie Beetz as Domino. Plus, Negasonic Teenage Warhead (Brianna Hildebrand) is back and showing off her mutant powers again.
Also, what's going on with that shot where Deadpool is coming out of the back of a cargo helicopter? Domino is by his side, but who are those other characters? Could those be other members of X-Force? One of them certainly looks like Cannonball, but I'm not entirely sure who the others are. The one on the right looks a lot like Terry Crews. There might be more to unpack here.
Basically, this was the perfect way to follow up yesterday's wonderful Flashdance inspired poster.
Deadpool 2 is directed by John Wick co-director and Atomic Blonde director David Leitch. The rest of the cast includes Morena Baccarin, T.J. Miller, Leslie Uggams, and Brianna Hildebrand reprising their roles from the first movie, while Zazie Beetz and Josh Brolin join the cast as fan-favorite comic characters Domino and Cable.
After surviving a near fatal bovine attack, a disfigured cafeteria chef (Wade Wilson) struggles to fulfill his dream of becoming Mayberry's hottest bartender while also learning to cope with his lost sense of taste. Searching to regain his spice for life, as well as a flux capacitor, Wade must battle ninjas, the yakuza, and a pack of sexually aggressive canines, as he journeys around the world to discover the importance of family, friendship, and flavor – finding a new taste for adventure and earning the coveted coffee mug title of World's Best Lover.
Deadpool 2 hits theaters on May 18, 2018.