'Jumanji: Welcome To The Jungle' Sequel Enlists 'Venom' Screenwriters, Jake Kasdan Returning To Direct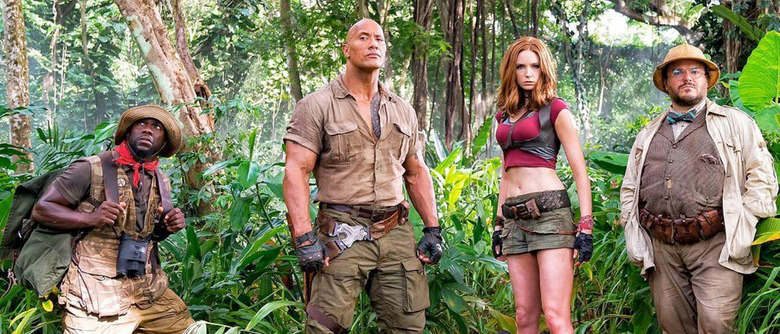 UPDATE: Since this story was published, The Wrap revealed that director Jake Kasdan is also in talks to get behind the camera for the sequel again. Our original story follows.
Jumanji: Welcome to the Jungle became the surprise box office giant of 2017...and 2018. The sequel to the 1995 adaptation of Chris Van Allsburg's children's book has earned over $857.6 million at the global box office, making it Sony's biggest non-Spider-Man movie, and it just took the #1 spot again this past weekend after being in theaters for a month and a half. So of course Sony Pictures is putting a sequel together.
Just last month, we heard that Sony Pictures head honcho Tom Rothman was looking at having a Jumanji Welcome to the Jungle sequel square off with Star Wars: Episode 9 in 2019, just as they did at the end of last year. Now, the studio has officially hired two writers to tackle the sequel: the same duo who wrote Jumanji: Welcome to the Jungle and followed it up with Sony's comic book spin-off Venom.
Deadline reports that Scott Rosenberg and Jeff Pinkner have been hired as the Jumanji Welcome the Jungle sequel writers, though there's no indication that the studio is looking to set their release date for December 2019 just yet. Sony likely wants to wait until they have a script to determine if they can get the sequel together in time to meet that window.
As of now, there are no details on where a Jumanji Welcome to the Jungle sequel might go. Since the box office hit took such a drastically different approach to the original concept of Jumanji, one would think that another sequel could do the same thing. Perhaps we'll see that magical board game that became a video game in the sequel repurposed into yet another distinct object that literally changes the game. But it doesn't sound like that will happen.
The Jumanji Welcome to the Jungle sequel will bring back Dwayne Johnson, Kevin Hart, Jack Black and Karen Gillan as the video game avatars of the four high school kids who were stuck in the jungle by way of Jumanji. So that means the video game element will still be in play. That also likely means Alex Wolff, Ser'Darius Blain, Madison Iseman and Morgan Turner will be back as their high school alter egos, but that has yet to be confirmed.
So what kind of story would bring these four together again and force them to go back into the jungle? Is there a chance we could see the avatars of the video game come into our world, much in the same way various animals and characters from the jungle did in the original 1995 adaptation of Jumanji? Seeing the video game avatars played by Dwayne Johnson, Kevin Hart, Jack Black and Karen Gillan forced to deal with a world outside of the video game could be an interesting concept, almost like the second half of Last Action Hero.
Anyway, I'm sure Scott Rosenberg and Jeff Pinkner already have an idea of where this franchise will go next. If they don't, the cast had their own ideas for where a possible sequel could go.