'Life Of The Party' Trailer: Melissa McCarthy Gets Wild At College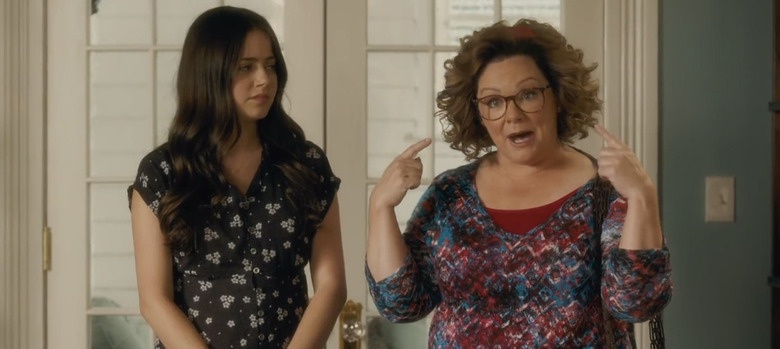 We haven't seen Melissa McCarthy on the big screen since the Ghostbusters reboot arrived in theaters in the summer of 2016. But now she's back with a new summer comedy that will take her back to school.
Life of the Party finds Melissa McCarthy playing a housewife named Deanna who just got dumped by her husband. Realizing that she never followed through on her dreams of completing college, she decides to enroll in the same university as her daughter and live the college life she never got a chance to enjoy in her younger years. But as the first Life of the Party trailer shows, that creates a bit of an embarrassing situation for Deanna's daughter.
Watch the Life of the Party Trailer
The previous times that Melissa McCarthy has worked with her husband, writer/director Ben Falcone, we were given the disappointing comedies The Boss and Tammy. The former was not nearly as egregiously bad as the latter, but they both got far too goofy and slapsticky, not allowing McCarthy much room to be anything more than a caricature. However, I'm pleasantly surprised to see that Life of the Party looks a little more reserved, even if it doesn't all that clearly explain what's happening in the opening moments.
Even though there's a slapstick moment in the beginning with that tiny explosion in the driveway, the rest of the trailer isn't all that silly. If anything, this looks like a movie that you could enjoy with your mom, which is probably why it's coming out on Mother's Day. But since those jokes also include the embarrassment of McCarthy's daughter in the movie (played by Molly Gordon), that should make it a little easier for parents to swallow without giving you disapproving glance in the middle of the movie (you know the one I'm talking about).
In addition to McCarthy, the rest of the cast includes Gillian Jacobs (Community), Maya Rudolph (Bridesmaids), Julie Bowen (Modern Family), Matt Walsh (Veep), Stephen Root (Get Out), Jacki Weaver (Silver Linings Playbook), Jessie Ennis (Better Call Saul) Adria Arjona (True Detective), Debby Ryan (Jessie) and Jimmy O. Yang (Silicon Valley).
Longtime dedicated housewife Deanna (Melissa McCarthy) turning regret into re-set by going back to college after her husband suddenly dumps her. Deanna lands in the same class and school as her daughter, Maddie (Molly Gordon), who's not entirely sold on the idea. Plunging headlong into the campus experience, the increasingly outspoken Deanna–now going by Dee Rock–embraces freedom, fun and frat boys on her own terms, finding her true self in a senior year no one ever expected.
Life of the Party hits theaters early this summer on May 11, 2018.