'Demimonde' Brings J.J. Abrams Back To HBO For A New Sci-Fi Drama Series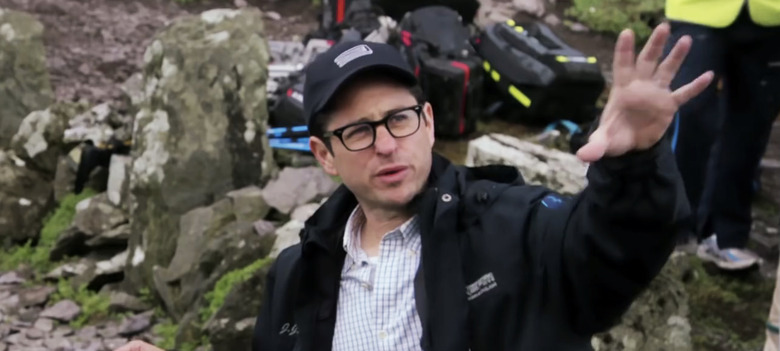 Whenever J.J. Abrams is behind a new sci-fi series, audiences pay attention. That's mostly because of his involvement in the ABC series LOST, but more recently, Abrams also turned heads with the series adaptation of Michael Crichton's 1973 film Westworld, which became a hit for HBO. Now, he's be returning to the cable network with another intriguing new sci-fi series.
HBO beat out Apple in a bidding war for a new series called Demimonde, the first sci-fi project for television that J.J. Abrams has written himself since Fringe debuted on FOX on 2008. HBO has given the show a straight-to-series order, but what's this Demimonde series about?
According to The Hollywood Reporter, the spec script from Abrams is described as an "intimate sci-fi fantasy drama" that focuses on a family who gets into a car crash. The mother, who just so happens to be a scientist, ends up in a coma, leaving her daughter to start digging through some old experiments in the basement. Somehow, she enters a whole other world where she must battle against a mysterious, monstrous, oppressive force, and her father soon follows her there.
That sounds an awful lot like a metaphor for dealing with grief and the unknown with regards to whether or not the matriarch of this family is going to come out of her coma. But knowing Abrams, there will be much more to the story than that, perhaps even linking this world to the mother's health in a more direct way.
As of now, there's no word on how many episodes of this series HBO has ordered, but Abrams was so pleased with what they did with Westworld that he wanted to do business with them again, despite all the money Apple was also willing to throw at the series. Like Westworld, he'll be executive producing the series, along with Ben Stephenson at his Bad Robot Productions banner.
Abrams is no stranger to success on television. Early in his career, Felicity and Alias made his name and catapulted him toward bigger projects. Even Bad Robot's Person of Interest on CBS was worth watching as it evolved from a simple procedural into more of a serial-procedural hybrid. So whenever Abrams is working in the realm of sci-fi, we're inclined to pay attention.
In addition to this new HBO series, Abrams is also behind the upcoming Stephen King universe series Castle Rock (which is coming to Hulu), but he'll be spending most of his time getting Star Wars: Episode 9 ready for audiences to see in 2019. Stay tuned to see how all of Abrams upcoming projects pan out.