'Halloween' Production Underway, Jamie Lee Curtis Posts Set Photo With A Special Memento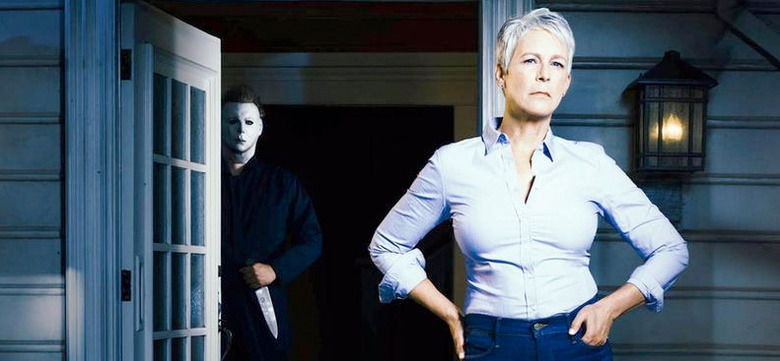 Technically, production on the new Halloween movie has been underway for a couple weeks now, but today is the first official day of shooting on the sequel, which is bringing back Jamie Lee Curtis in her famed role as Laurie Strode, the sister of the seemingly immortal slasher Michael Myers. We know principal photography began today because Curtis took the time to post a set photo to Twitter with director and co-writer David Gordon Green, and it features a certain memento from the original Halloween production back in 1978.
Check out the Halloween set photo below to see what we're talking about.
Here's the image Jamie Lee Curtis posted to Twitter this morning from the set of the new Halloween:
First shot! First day. Same slate. Same Laurie. David Gordon Green directing from his script. Happy Halloween 2018 everyone. See you 10/19/18 @halloweenmovie #HalloweenMovie pic.twitter.com/iSC7NOblEA

— Jamie Lee Curtis (@jamieleecurtis) January 30, 2018
How cool is it that David Gordon Green is holding the original slate from production on the first Halloween? It's clearly seen better days, but you can still make out John Carpenter's name and the name of famed cinematographer Dean Cundey.
Curtis looks very different from the publicity photos used to announce the project in September of last year. In those photos, Curtis was still sporting her usual short haircut along with the threads Laurie Strode wore back in 1978 when Michael Myers chased after her for the first time. Now that it's 40 years (!) later, we're dealing with an entirely different Laurie Strode.
As you can see, her hair is shoulder length, roughly the same as it was in the original Halloween. She's wearing black jeans with a blue denim shirt and a faded gray jacket. She also has glasses, because it's been a couple of decades and those things happen. Honestly, she looks like she could easily be a detective of some kind, and there's a chance that might not be too far off base.
Last week,  before production officially began, Jamie Lee Curtis posted this photo to Twitter:
First shot. 357. ❤️ Feels good to have Laurie back on set for @halloweenmovie #HalloweenMovie pic.twitter.com/4PBGAl1anI

— Jamie Lee Curtis (@jamieleecurtis) January 25, 2018
Jamie Lee Curtis says "first shot" in both of these posts. There's a chance that some shooting was done on this day, but technically principal photography hadn't started yet. It's common practice for films to already have some footage in the can before production officially begins (a spy photo from a set with Michael Myers walking around surfaced just yesterday). But also likely is that she's talking about "first shot" as in from a gun, since she's obviously on a shooting range.
Since Curtis references that it's good to have Laurie back on set, that seems to imply that the character is at a shooting range during this scene. So maybe she's taken protection into her own hands and has a gun of her own (who could blame her after the events of the first movie?). Or maybe she's at the range because she's now a cop. We shall see!
Returning to the Halloween franchise with Jamie Lee Curtis is quite an exciting prospect, especially since this film is ignoring all of the sequels that came after Halloween II. What has Laurie been doing for 40 years? Where has Michael Myers (who is being played by the original actor from the 1978 film) been this whole time? These are questions we can't wait to see answered when the movie arrives this fall.
Jamie Lee Curtis returns to her iconic role as Laurie Strode, who comes to her final confrontation with Michael Myers, the masked figure who has haunted her since she narrowly escaped his killing spree on Halloween night four decades ago.
Master of horror John Carpenter will executive produce and serve as creative consultant on this film, joining forces with cinema's current leading producer of horror, Jason Blum (Get Out, Split, The Purge, Paranormal Activity). Inspired by Carpenter's classic, filmmakers David Gordon Green and Danny McBride crafted a story that carves a new path from the events in the landmark 1978 film, and Green also directs.
Halloween arrives in theaters on October 19, 2018.