'Submergence' Trailer: James McAvoy & Alicia Vikander's Love Knows No Bounds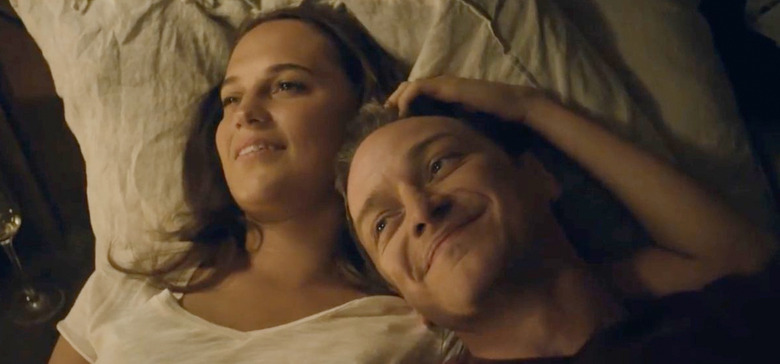 We may receive a commission on purchases made from links.
Alicia Vikander and James McAvoy are both part of blockbuster franchises. While Vikander has Tomb Raider coming up, she also appeared in Jason Bourne not too long ago. Meanwhile, McAvoy will play Professor X for the fourth time in the upcoming X-Men: Dark Phoenix and he's also reprising his role as The Horde in Glass, a sequel to both Split and Unbreakable. But the two took time out of their schedule to make a more quiet, subdued film from director Wim Wenders.Submergence follows Danielle Flinders (Vikander) and James More (McAvoy) as they meet in a Normandy hotel, falling for each other romantically before they go off on two very different missions. The distance between them will be great (there's a literal ocean between them), but their love may be enough to keep them going.
Submergence Trailer
The trailer doesn't make it entirely clear how this story unfolds, but the official synopsis explains it much more clearly:
Danielle Flinders (Alicia Vikander) and James More (James McAvoy) meet by chance in a remote hotel in Normandy where they both prepare for a dangerous mission. They fall in love almost against their will, but soon recognize in each other the love of their lives. When they have to separate, we find out that James works for the British Secret Service. He's involved in a mission in Somalia to track down a source for suicide bombers infiltrating Europe. Danielle 'Danny' Flinders is a bio-mathematician working on a deep sea diving project to support her theory about the origin of life on our planet. Soon, they are worlds apart. James is taken hostage by Jihadist fighters and has no way of contacting Danny, and she has to go down to the bottom of the ocean in her submersible, not even knowing if James is still alive.
So the story appears to be about how much one can endure with only the memory of love to keep them going. Each character finds themselves isolated from the rest of the world in two differently dangerous situations as they recall the moment they met. It looks like an intimate, intense story about the power of love as only director Wim Wenders (Paris, Texas, The Million Dollar Hotel) can deliver. But is it any good?
Submergence already played at the Toronto International Film Festival last year and Kate Erbland at IndieWire was not impressed. She wrote, "The film revels in playing up hinky parallels that rarely coalesce into anything of much substance." But she did admit that there's somewhat of saving grace as "Submergence is only bolstered by a pair of sterling performances from stars Alicia Vikander and James McAvoy, both of whom somehow rise above the lackluster film they're sunk into."
The film is based on J.M. Ledgard's novel of the same name, adapted by Erin Dignam, and the rest of the cast includes Alexander Siddig, Celyn Jones, and Reda Kateb. Sumbergence hits theaters in the United States starting on April 13, 2018.