'Dundee' Trailer Reveals Margot Robbie, Russell Crowe And The Entire Star-Studded Aussie Cast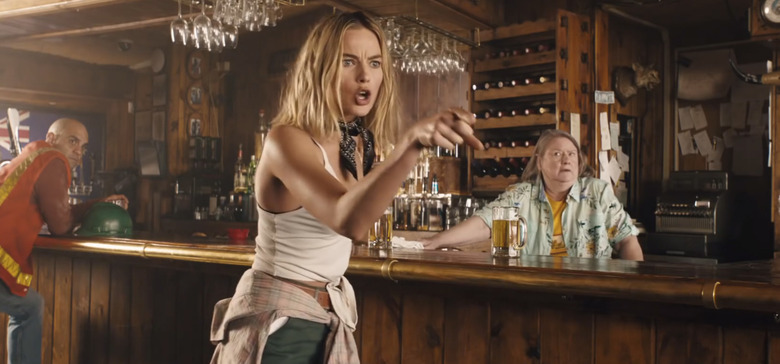 Even though Dundee has been confirmed to be nothing more than a Super Bowl commercial stunt promoting Australian tourism, that doesn't mean we're not interested in seeing every bit of footage shot for this fake movie starring Danny McBride as the estranged American son of the one and only Crocodile Dundee. So far, clips have revealed Chris Hemsworth and Hugh Jackman as being part of the cast, but now a full trailer has unveiled the entire Australian cast line-up, and damn, is it impressive.
Watch the new Dundee trailer to see who else is appearing in this sort-of sequel from Down Under.
In addition to Chris Hemsworth and Hugh Jackman, the rest of the Dundee cast includes Australian natives Margot Robbie, Russell Crowe, Isla Fisher, Ruby Rose, Liam Hemsworth, Jessica Mauboy and Luke Bracey. That's quite an impressive line-up for a totally fake movie, and it only makes us want to see this get turned into a real project even more.
However, now that we have a "full" trailer for the movie, it's clear that there's no real story here. While the overarching plot is about Brian Dundee (McBride) coming to Australia to find his missing father, it's clear that there aren't any specific details weaving the rest of the characters together. Either that or maybe the company behind these ads is just holding back their full advertisement until the day of the Super Bowl and everything will make more sense after that.
At the very least, we see that Margot Robbie is playing a legacy character as Lil' Donk, surely the daughter of Donk (Steve Rackman) from the original Crocodile Dundee. As far as I can tell, none of the other characters have any ties to characters from the original movie, but I'm not necessarily up to snuff on my Crocodile Dundee trivia, so don't quote me on that.
Either way, it's clear the star of this movie is meant to be the gorgeous landscapes of Australia, and they look absolutely stunning in this footage. It'll be interesting to see just how far this goes when the Super Bowl airs this weekend. Presumably there will be a short version airing during the game and then an extended cut online. In the meantime, here's the official synopsis for this totally fake movie:
Crocodile Dundee is back. Well, actually, he's missing in the Outback. And the only person who might be able to find him is the loudmouthed American son no-one knew he had. Introducing Danny McBride as Brian Dundee. This son of a legend is forced to channel his Aussie roots as he embarks on the ultimate adventure in the land down under. It's time to live up to the family name.
There's supposed to be more Dundee revealed during the Super Bowl this weekend on February 4, 2018, so keep your eyes open.