'Black Panther' Early Buzz: What The Critics Are Saying About Marvel's New Movie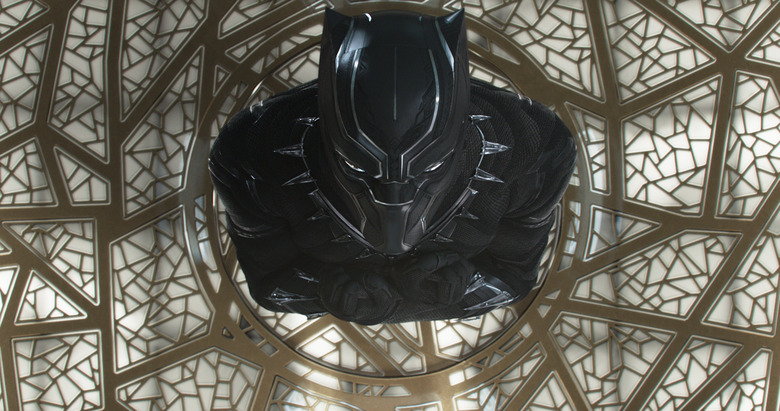 Black Panther is
/Film's second most anticipated movie of 2018
, so you bet we're watching the early critical reactions like a panther stalks its prey. Or like how Black Panther stalks those who threaten the safety and security of Wakanda, the advanced African nation he rules over and protects.
While the review embargo remains in effect, the social media embargo on reactions to Ryan Coogler's superhero adventure has fallen and yes, that means the first wave of Black Panther buzz has arrived.
Introduced to the Marvel Cinematic Universe in Captain America: Civil War, T'Challa is the first black superhero in the MCU to have his own solo film. Black Panther picks up shortly our hero's adventures with the Avengers and finds him back in Wakanda to take his place on his late father's throne. Naturally, things don't go well...because it wouldn't be a superhero movie if there weren't fights to be had and bad guys to defeat. But first, the King must face one of the toughest opponents out there: critics. Here's what they're saying.
Black Panther Early Buzz
Black Panther looks, feels and sounds unlike any Marvel film to date. A visual feast. Wakanda is amazingly realized, the antagonist actually has an arc with emotional motivations. Marvels most political movie. So good. #BlackPanther

— /Film (@slashfilm) January 30, 2018
Ryan Coogler knocked it out of the park, some great sequences presented in a "single take/shot." If this movie isn't nominated for costume, art and production design awards next year, I would be seriously shocked. #blackpanther

— Peter Sciretta (@slashfilm) January 30, 2018
Y'all. Y'ALL. Y'ALL. #BlackPanther is everything I wanted and so much more. Ryan Coogler has changed game for MCU. My God. pic.twitter.com/12dfz0xKkk

— Rebecca Theodore-Vachon 🇭🇹 🇩🇴 🇺🇸 (@FilmFatale_NYC) January 30, 2018
Lupita Nyong'o and Danai Gurai bring the heat in #BlackPanther. Their action scenes had the audience cheering and clapping. I loved every second. pic.twitter.com/tmHcWMTnW6

— Rebecca Theodore-Vachon 🇭🇹 🇩🇴 🇺🇸 (@FilmFatale_NYC) January 30, 2018
#BlackPanther is exceptional – the James Bond of the MCU. You've seen nothing like this in a superhero movie – it's bold, beautiful & intense, but there's a depth & spiritualness that is unlike anything Marvel has ever done. It's 100% African & it is dope af. pic.twitter.com/Z77IjnIjf2

— ErikDavis (@ErikDavis) January 30, 2018
The best part of #BlackPanther is how it unravels this deeply emotional & complex story about family ties & protecting your tribe. While lots will tout Michael B. Jordan as the stand-out, my favs were Danai Gurira & especially BP's lil sis, Letitia Wright pic.twitter.com/VSEwa98BnI

— Erik Davis (@ErikDavis) January 30, 2018
Lastly, #BlackPanther is an audience movie. See it with a crowd cause they will be loud. It is a very proud movie & a female first movie, and I hope it crushes at the box office, paving the way for a future full of much greater representation pic.twitter.com/OBAmAt8eZL

— Erik Davis (@ErikDavis) January 30, 2018
#BlackPanther is riveting on many levels: visually astonishing, but more importantly, so unpredictable. Incredible to watch a major blockbuster celebrate blackness while exploring its relationship to various facets of pop culture. "Stop scaring me," colonizer!" #wakanda4ever

— erickohn (@erickohn) January 30, 2018
#BlackPanther: I never wanted this movie to end, and as soon as it did I wanted to go back. Solid action, smart story, tons of personality. Shuri is my new fave, Nakia is everything, Killmonger is incredible, T'Challa deserves to rule the MCU. Coogler has done it again. 💜🖤💙 pic.twitter.com/t9gG3DLuCL

— Angie J. Han (@ajhan) January 30, 2018
BLACK PANTHER is not screwing around. By far the most political Marvel chapter, to the point I had to remind myself this is a Marvel movie. BLACK PANTHER is a movie with a lot to say.

Also, Michael B. Jordan ... damn

— Mike Ryan (@mikeryan) January 30, 2018
#BlackPanther is simply awesome. Extremely bold and as touching as it is thrilling, it boasts GOT-style intrigue, crazy innovative action and a deep bench of memorable characters. Top 5 all-time Marvel movie, easy. More later. pic.twitter.com/mmz8Nuf1sy

— Brian Truitt (@briantruitt) January 30, 2018
#BlackPanther is a love letter about blackness, to a world that often ghettoizes it without realizing that it is on black backs that this planet revolves.

This world's livelihood is in our blood. pic.twitter.com/FscW1hWbI6

— Tre'vell Anderson (@TrevellAnderson) January 30, 2018
BLACK PANTHER is incredible, kinetic, purposeful. A superhero movie about why representation & identity matters, and how tragic it is when those things are denied to people. The 1st MCU movie about something real; Michael B. Jordan's Killmonger had me weeping and he's the VILLAIN

— jen yamato (@jenyamato) January 30, 2018
A list of further reasons why #BlackPanther is great:

CHADWICK
LUPITA
MBJ
DANAI
LETITIA

Did I mention I cried a bunch

— jen yamato (@jenyamato) January 30, 2018
BLACK PANTHER is the most spiritual Marvel movie yet! Family and heritage is a big part of the story — there are moments in this movie that get real deep. Danai Gurira is a scene-stealer and the movie elevates whenever Michael B. Jordan shows up. #BlackPanther pic.twitter.com/KIxiAItnEY

— Jason Guerrasio (@JasonGuerrasio) January 30, 2018
#marvel does it again with 'Black Panther'. Very impressed with the story and filmmaking. @michaelb4jordan absolutely kills it as the villain and is the best one since Loki. Also @DanaiGurira kicks so much ass and I loved every second of it. Going to make serious $. pic.twitter.com/YBrg2x3Nnz

— Steven Weintraub (@colliderfrosty) January 30, 2018
Marvel has outdone themselves, #BlackPanther is remarkable and the best #Marvel film to date. Finally, a mature superhero film that doesn't feel like a superhero film. Prepare to have your mind blown. Black Panther has officially redefined the superhero genre as we know it. Bravo

— Scott Menzel (@ScottDMenzel) January 30, 2018
#BlackPanther is everything we all wanted it to be. A smart, emotional, well-told story. And just f'ing beautiful. pic.twitter.com/dvNDgEH7k0

— Roth Cornet (@RothCornet) January 30, 2018
Black Panther is the best MCU movie ever. I was blown away from start to finish and I'm not even being biased. This was by far the best marvel movie to date. Thank you, Ryan Coogler! #BlackPanther pic.twitter.com/8Qh0hlOYAb

— Geeks of Color (@GeeksOfColor) January 30, 2018
#BlackPanther is all you want and more. Unlike any Marvel movie to date, great villain in @michaelb4jordan, @chadwickboseman is regal as he is badass and @DanaiGurira is all I want to be in life. Can't wait to see this one again with a new audience. pic.twitter.com/y0MpJLGeBH

— Brian Particelli (@BrianParticelli) January 30, 2018
#BlackPanther is as exhilarating, bold & epic as you hoped. Digs its claws into real-world profundity – both social & political. Adored that the women of Wakanda are valued for their badass physical & intellectual acuity over being a love interest, or succumbing to daddy issues.

— Courtney Howard (@Lulamaybelle) January 30, 2018
Black Panther hits theaters on February 16, 2018. The sprawling cast includes Chadwick Boseman, Michael B. Jordan, Lupita Nyong'o, Danai Gurira, Martin Freeman, Daniel Kaluuya, Letitia Wright, Winston Duke, Angela Bassett, Forest Whitaker, and Andy Serkis. Coogler co-wrote the screenplay with Joe Robert Cole. Here's the official synopsis:
Marvel Studios' Black Panther follows T'Challa who, after the death of his father, the King of Wakanda, returns home to the isolated, technologically advanced African nation to succeed to the throne and take his rightful place as king. But when a powerful old enemy reappears, T'Challa's mettle as king—and Black Panther—is tested when he is drawn into a formidable conflict that puts the fate of Wakanda and the entire world at risk. Faced with treachery and danger, the young king must rally his allies and release the full power of Black Panther to defeat his foes and secure the safety of his people and their way of life.