'When We First Met' Trailer: Adam Devine Gets His Own 'Groundhog Day'-Style Romantic Comedy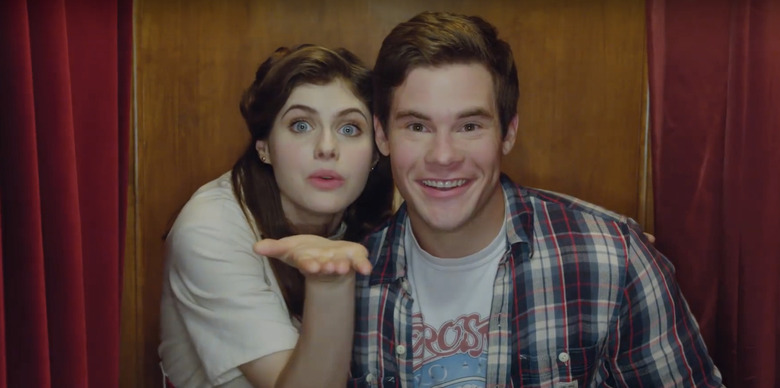 Plenty of movies take a cue from Groundhog Day and feature a character who gets stuck in some kind of inexplicable time loop. Edge of Tomorrow, Source Code, Run Lola Run, and most recently Happy Death Day have all used the time loop formula to tell a story, and now it's time for a new romantic comedy to give it a shot.
Netflix has announced a new movie called When We First Met, which finds Adam Devine (Workaholics, Pitch Perfect) as a guy named Noah who stumbles upon a photo booth time machine that allows him to go back in time in an effort to win over the heart of his best friend Avery (Alexandra Daddario), who is getting married to someone else. Check out the first trailer below.
When We First Met Trailer
Mixing a little bit of Big with Back to the Future and Groundhog Day, this looks like a charming enough romantic comedy. One especially intriguing element of this take on the time loop formula is that whatever Noah does in the past changes his relationship with Avery when he wakes up in the present. So if he seriously screws up his meet cute with Avery in the past by making her think he's a stalker, he's no longer her best friend in the present. That's an interesting twist on a familiar template.
However, this is a rather poorly cut trailer. It lingers to long on sequences that aren't funny, relies too much on slapstick humor, and just might spoil some of the more romantic moments between Devine and Daddario. Then again, maybe the trailer does the best with what's in the movie and it's just not as funny as you'd might hope. We're hoping for the former, but since this is Netflix's second time travel based romantic comedy after Naked, we're not too confident about that.
Beyond the presence of Adam Devine and Alexandra Daddario, there aren't a lot of big names involved, but Shelley Hennig, Andrew Bachelor and Robbie Amell round out the supporting cast. Here's hoping The DUFF director Ari Sandel has given us something worth watching. At the very least it'll be a decent way to spend a Valentine's Day date at home.
Here's the official synopsis:
Noah (Adam Devine) spends the perfect first night with Avery (Alexandra Daddario), the girl of his dreams, but gets relegated to the friend zone. He spends the next three years wondering what went wrong – until he gets the unexpected chance to travel back in time and alter that night – and his fate – over and over again. Will Noah ever get it right? Directed by Ari Sandel (The DUFF) the film also co-stars Shelley Hennig, Andrew Bachelor and Robbie Amell.
When We First Met hits Netflix on February 9, 2018.