Watch The First Episode Of Showtime's 'Our Cartoon President' For Free Right Now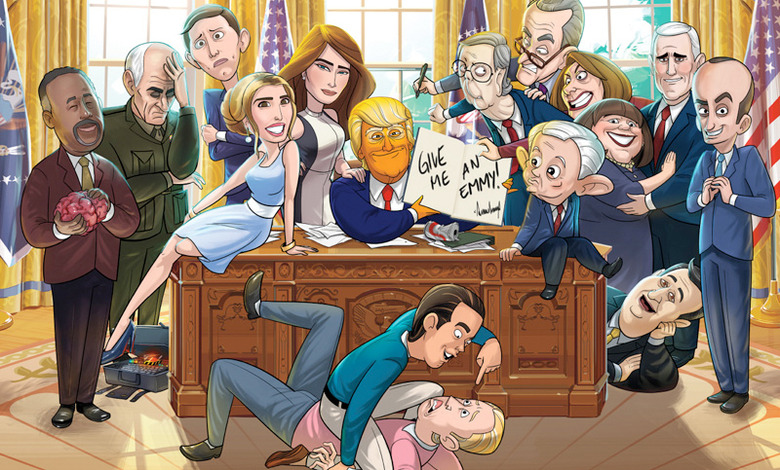 Since every single day is a waking nightmare thanks to the actions of Donald Trump and his bumbling administration, some good old fashioned satire is exactly what we need to help us get through the next three years.
Showtime has teamed with Stephen Colbert to deliver an animated series called Our Cartoon President, providing us with a comedic take on the Donald Trump presidency. Since the administration itself is already laughable, mocking them satirically has proven to be a bit of a challenge (as evidenced by Saturday Night Live's hit or miss sketches on the matter), but this show looks to be wacky enough to bring some levity to the situation in Washington D.C.
And you can watch the pilot episode for free right now, even if you don't subscribe to Showtime. 
Watch Our Cartoon President's First Episode
What I love most about this animated series, aside from the way it mocks Donald Trump and all those surrounding him in Washington D.C. (on both sides of the aisle), are the perfect caricatures of all the politicians we're used to seeing all over cable news. These character designs do a fine job of exaggerating the key facial features of these government officials and turning them into cartoon characters.
But what really makes Our Cartoon President stand out from the rest of the mockery out there is that executive producers Stephen Colbert, Chris Licht and R.J. Fried have turned this into an animated workplace comedy series that just so happens to lampoon real world politics and people. Even though the series is animated and thus won't be as timely as viewers might like, don't forget that there will be some time on the series reserved for topical jokes on whatever has made headlines that week.
Our Cartoon President doesn't debut on Showtime until February 11, 2018 with back-to-back episodes starting at 8:00 P.M. ET/PT, but Showtime wanted to get this episode out there since it's about the State of the Union address, which will happen on Tuesday evening. Here's the office synopsis for the series:
From executive producer Stephen Colbert comes this hilarious look into the Trump presidency, animation style. Starring two-dimensional avatars of Donald Trump and his merry band of insiders and family members, this cutting-edge comedy presents the truish adventures of Trump, his confidants and bon vivants. It's a workplace comedy where the office is oval, a character study in search of character, and a timely political send-up of our always-colorful forty-fifth president and his family. Trust us, it's yuge, and you're going to laugh bigly.