'Black Panther' TV Spot: Don't Mess With The King Of Wakanda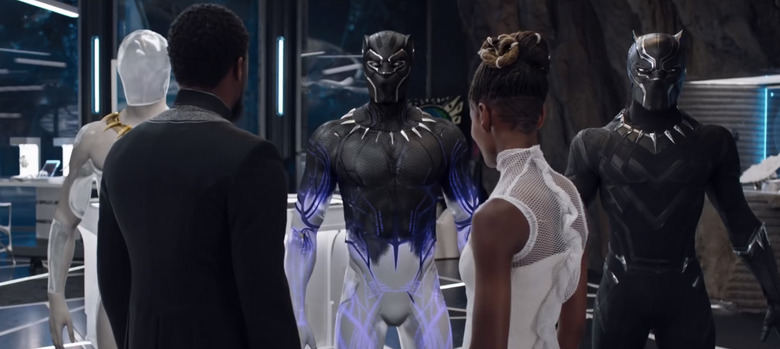 Next month brings Marvel's latest comic book adventure to the big screen in the form of Black Panther. The African superhero was introduced in Captain America: Civil War with Chadwick Boseman as the exciting new character, and now he's going solo.
A new Black Panther TV spot debuted last night during the Grammys, which is all-too-appropriate since rapper Kendrick Lamar produced the film's soundtrack and he was up for some major awards at the ceremony. There's some great new action footage in this spot, so check it out below.
Black Panther TV Spot
Last night at the Grammys, Kendrick Lamar won Best Rap Performance, Best Rap/Sung Collaboration, Best Rap Song and Best Rap Album, and he was also nominated for Record of the Year, Best Music Video and Album of the Year. So if you're not up to snuff on the rap scene, you can now see why it's such a big deal that he's producing the soundtrack for the anticipated Marvel movie.
Honestly, a big part of Black Panther's cool factor, aside from this being the first solo black superhero movie in the Marvel Cinematic Universe, is the consistent use of rap tracks in the marketing, especially from Kendrick Lamar. This one includes his track "All the Stars," which is a collaboration with SZA, and you'll find it on the Black Panther soundtrack, which hits shelves on February 9, 2018.
Like with the rest of the trailers, the footage in this spot is awesome. I think this movie is going to surprise audiences in a variety of ways, from the unique production design and wardrobe to the eye-popping action. Hopefully, Marvel is holding back some surprises though so it's not all spoiled by the time we're sitting in theaters.
Black Panther is directed by Ryan Coogler (Creed), who co-wrote the script with Joe Robert Cole. The cast includes Michael B. Jordan, Lupita Nyong'o, Danai Gurira, Martin Freeman, Daniel Kaluuya, Letitia Wright, Winston Duke, Angela Bassett, Forest Whitaker, and Andy Serkis
Marvel Studios' Black Panther follows T'Challa who, after the death of his father, the King of Wakanda, returns home to the isolated, technologically advanced African nation to succeed to the throne and take his rightful place as king. But when a powerful old enemy reappears, T'Challa's mettle as king—and Black Panther—is tested when he is drawn into a formidable conflict that puts the fate of Wakanda and the entire world at risk. Faced with treachery and danger, the young king must rally his allies and release the full power of Black Panther to defeat his foes and secure the safety of his people and their way of life.
Black Panther opens on February 16, 2018.