This 'Mission: Impossible – Fallout' Stunt Once Again Proves That Tom Cruise Does Not Fear Death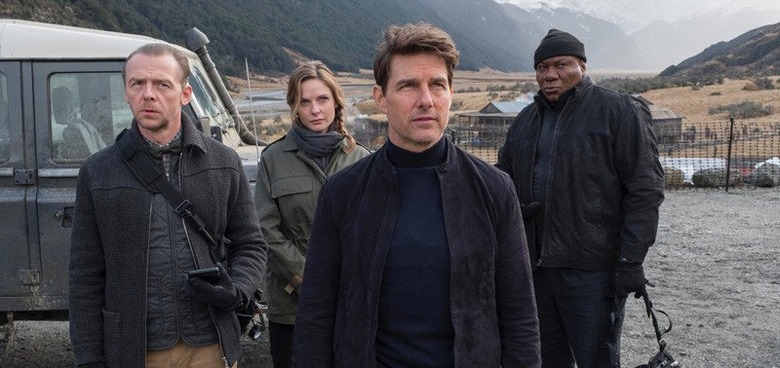 Someday, Tom Cruise will do what all humans eventually get around to doing and shuffle off this mortal coil. But the ongoing existence of the Mission: Impossible movies suggest that he's made a pact with Death itself and will outlive most human beings. How else can you explain him continuing to stare mortality in the face, put his hands on his hips, and laugh in the general direction of God himself?
A new look at a Mission: Impossible – Fallout stunt is the latest reminder that Tom Cruise fears not death nor dismemberment nor bodily harm of any kind. The rest of us can only stare at this image and wince because there's no way we'd survive this s***.
The image below was shared on Cruise's official Twitter account and it features the movie star making a seemingly impossible leap between buildings. No safety harnesses can be seen and while it's certainly possible that they were painted out for this image, I wouldn't be surprised if Cruise only agreed to do this stunt if it was as dangerous as humanly possible. After all, he himself is one of Hollywood's most impressive (and expensive) special effects.
Get ready for the most thrilling mission yet... pic.twitter.com/WPOMFnzpd0

— Tom Cruise (@TomCruise) January 26, 2018
Could this be the stunt that resulted in Cruise injuring himself, temporarily halting production?
This image arrives the day after we learned the sixth film in this long-running series would be called Mission: Impossible – Fallout. It also arrives after Cruise teased another death-defying stunt with an image of the star hanging off the side of a helicopter.
Insane stunts like this have become the chief selling point of the Mission: Impossible movies over the years, with Cruise finding ways to top himself in each new entry. Mission: Impossible – Ghost Protocol saw him scaling the Burj Khalifa in Dubai. Mission: Impossible – Rogue Nation saw him clinging to the side of an airplane as it took off (although I'm more impressed by Cruise's genuinely terrifying motorcycle skills showcased in a later chase scene). It's not clear what Fallout's key "all over the posters" stunt will be, but expect it to be big and dangerous and to hear all about it on the talk show circuit over the next few months.
Mission: Impossible – Fallout hits theaters on July 27, 2018. Rogue Nation director Christopher McQuarrie is back behind the camera and Cruise is backed up by Henry Cavill, Simon Pegg, Rebecca Ferguson, Ving Rhames, Sean Harris, Angela Bassett, Vanessa Kirby, Michelle Monaghan, Alec Baldwin, Wes Bentley, and Frederick Schmidt. The first trailer will arrive during the Super Bowl on February 4.