LOL: Watch Will Ferrell In One Of The Best Unaired 'Saturday Night Live' Sketches Ever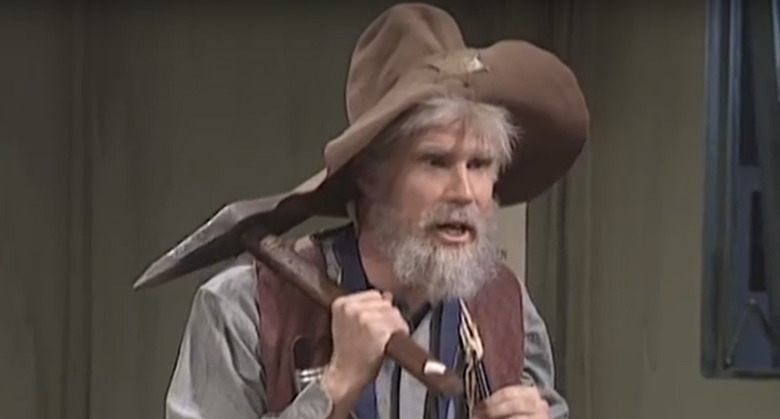 We may receive a commission on purchases made from links.
Will Ferrell is easily one of the most revered and beloved Saturday Night Live cast members of all time. The improv comedian joined the cast of SNL back in 1995 at a time when the series was struggling to fill the void left by departed cast members in the early 1990s. Though he wasn't an instant star, he was one of several new cast members who ushered in another favorite era of SNL, creating several now-classic characters and sketches. But there's one incredible sketch that never made it to air featuring a hilarious Will Ferrell character that you need to watch immediately.
In October of 2001, Will Ferrell starred in a sketch that was cut from the live show as an Old Prospector who was inexplicably part of a modern military unit being deployed to Afghanistan, and it's positively magnificent. You might have seen it on SNL's "Best of Will Ferrell" home video release, but this is the first time it's been made officially available online.
Will Ferrell is Gus Chiggins, created as a cliched prospector from the Gold Rush, and the military unit he's part of is clearly a little confused as to why he's involved in this operation. Ferrell is so perfect as this character that the rest of the cast members surrounding him can't keep a straight face. Sure, you expect Jimmy Fallon and Horatio Sanz to break character, because that was kind of their thing, but Tracy Morgan, Darrell Hammond, Seth Meyers and Chris Kattan can't keep it together either, and they make little effort to hide it.
Seth Meyers even took to Twitter to share his fond memories of when the Saturday Night Live Old Prospector sketch was recorded:
This was my third week at SNL. It was a month after 9/11 and the week someone sent anthrax to NBC. Everyone was scared and losing their minds. But for these six minutes I didn't think of anything but how fucking lucky I was to be in this sketch. https://t.co/wL0SPnqK2p

— Seth Meyers (@sethmeyers) January 26, 2018
The return of SNL after September 11, 2001 was a big deal, because it helped everyone breathe a little sigh of relief that things might actually get back to normal after the terrorist attacks of that fateful day. The episodes that followed in that season stayed away from more controversial comedy and opted to be a little more innocent and delightful, but as you can see, still quite funny.
This kind of sketch resurfacing might have some viewers fondly remembering the years when the late night sketch comedy series "used to be good." Of course, this is all part of the cycle of SNL, and soon enough there will be a time when viewers look back on the current cast as being better than whatever future line-up of comedians Lorne Michaels has assembled in the future, just as there are viewers right now who miss the days when the likes of Andy Samberg, Kristen Wiig, Jason Sudeikis, Maya Rudolph and Will Forte were on the show.
If you're wondering how there's a recording of a sketch that didn't make it to air during a show that's done live, it's because the dress rehearsal before the live show is also taped. That's where Lorne Michaels gets a better idea of how sketches will play in front of an audience and figures out if any sketches need to be cut, either for length or due to a lack of audience response. Nowadays, a dress rehearsal version of a sketch will often make it online in place of the version that aired live, whether it's due to technical difficulties or better audience reaction.
For anyone who misses Will Ferrell on Saturday Night Live, he returns to host the show on January 27 this weekend, and we'll have our full review of all the sketches the morning after.