'Jurassic World' Live Show Is Taking Dinosaurs To Arenas In 2019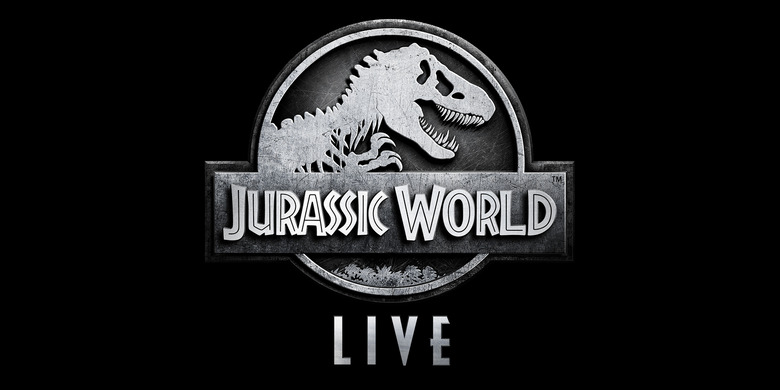 Universal kicked off a Fast and Furious Live show this month in London, and it's just the beginning of a tour taking the adrenaline-fueled action of the blockbuster film franchise to arenas around the world. But if fast cars and stunts aren't your jam, Universal has another live show that might be up your alley.
Feld Entertainment Inc. and Universal Brand Development have announced a Jurassic World Live tour kicking off in the fall of 2019 in the United States before going on a worldwide tour. They'll be bringing dinosaurs up to 40-feet long to life thanks to sophisticated animatronics and performer-operated characters. Find out more about the Jurassic World Live show below.
State of the art projection mapping will transport fans to Isla Nublar in a show that features human and dinosaur interaction. While most shows like this just have the audience watching from a distance, the press release for the Jurassic World Live show says they will be "breaking down the traditional arena barriers that typically exist between the audience and the live action." They don't say how, but I'm betting that means the dinosaurs will roam into the audience so fans can see them up close.
Kenneth Feld, Chairman and CEO of Feld Entertainment, says:
"The Jurassic World Live arena experience will create new ways for fans to engage with one of the world's most popular franchises. Feld Entertainment has the expertise and experience to bring this iconic franchise to life through an innovative format in an immersive arena setting coupled with a unique narrative that includes iconic locations and fan favorite dinosaurs – creating edge-of-your-seat, live entertainment that is a mix between a stunt show and a 3-D thrill attraction."
The show won't begin until fall of 2019, so fans will be waiting awhile before they can see dinosaurs live (sort of) in person. But the good news is that Jurassic World: Fallen Kingdom will be hitting theaters on June 22, 2018. So there's plenty of dinosaur action on the way over the next couple of years.
If you want to stay updated on the Jurassic World Live show, head to the official website. Otherwise, here's the official synopsis for this summer's Jurassic World sequel directed by J.A. Bayona and starring Chris Pratt and Bryce Dallas Howard:
With all of the wonder, adventure and thrills synonymous with one of the most popular and successful franchises in cinema history, this all-new motion-picture event sees the return of favorite characters and dinosaurs—along with new breeds more awe-inspiring and terrifying than ever before. Welcome to Jurassic World: Fallen Kingdom.