Theme Park Bits: A Celebration Of Harry Potter Is Here, New Critters Join The 'Guardians Of The Galaxy' Queue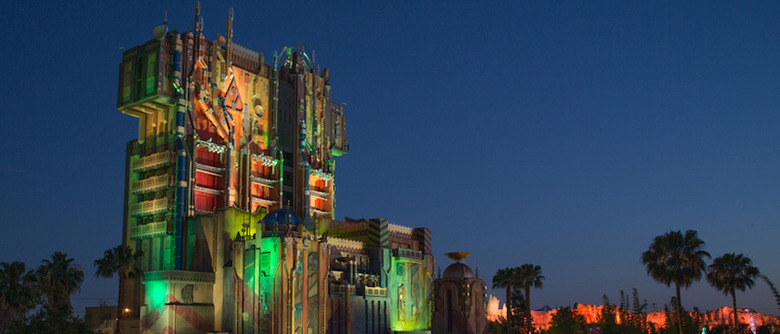 In this edition of Theme Park Bits:
Find out about a new interactive element in the Guardians of the Galaxy – Mission: BREAKOUT! line.
See aerial imagery of Star Wars: Galaxy's Edge and Toy Story Land.
Are you ready to shoot ice out of your hands at Disney parks?
A Celebration of Harry Potter is upon us. Get last-minute details.
Pagan doughnut-eaters have reason to rejoice in the newest shop coming to Universal Orlando.
And more!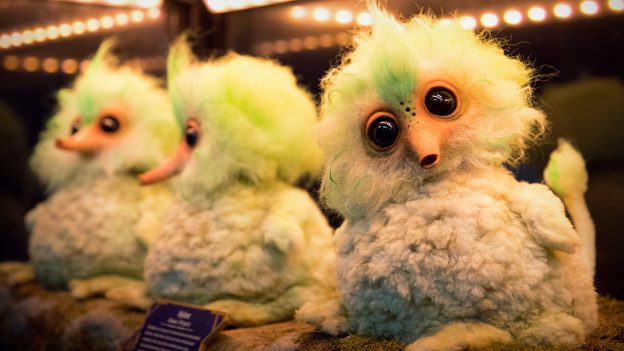 This week, in the queue of Guardians of the Galaxy – Mission: BREAKOUT! at Disney California Adventure, the Collector's collection just got a little more obscure with the addition of three Vyloos. These creatures — which resemble intergalactic Porg cousins and will respond to the movements of guests in line for the ride — appeared briefly in Guardians of the Galaxy Vol. 2. Director James Gunn shared the word about them on Instagram. The only sensible reaction to news of this kind is the utterance, "I am Groot."
Read about the changes coming to "it's a small world" Mall at @Disneyland park: https://t.co/GzC9OL4wzb

— Disney Parks (@DisneyParks) January 19, 2018
The promenade in front of "it's a small world" in Fantasyland at Disneyland will soon be undergoing some changes as the location of the attraction's queue is moved and the parade route in the area is adjusted accordingly.
Over in Adventureland at the same park, TV Overmind reports that the Jungle Cruise "is now a self-sustaining ecosystem and requires very little landscaping."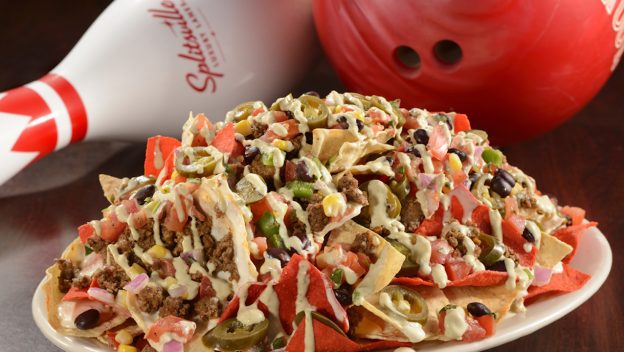 "Are you hungry yet?" asks Disney Parks Blog. If not, feasting your eyes on pictures and reading about some of the exclusive new items on the chef-driven menu at Splitsville Luxury Lanes in the Downtown Disney District might just be the thing to whet your appetite. Tell me those Macho Nachos don't look good ...
Here's a look at the new Disney Store refurbishment, courtesy of Parkhopper Ryan on Twitter:
New Disney Store refurb looks pretty good! Offering a lot of merch we just saw in the parks! pic.twitter.com/L4pvDHExEO

— Spacejumper Ryan (@FlannelJedi) January 21, 2018
We've already shared satellite imagery of the Star Wars: Galaxy's Edge construction site at Disney's Hollywood Studios, but if you'd like to zoom in a little closer, you can check out more of The Disney Blog's aerial imagery. That imagery also gives a glimpse at the development of Toy Story Land, where you can now see details like the dinosaur Rex perched atop a Jenga tower inside the Slinky Dog Coaster loop.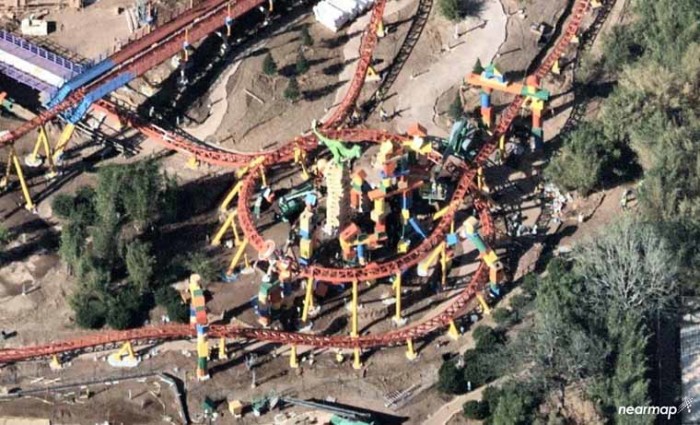 Adding to Disney's growing list of filed patents (which includes one for lightsaber technology) is a new one for a "Location-Based Experience with Interactive Merchandise." A number of images used in said patent are up over on Inside the Magic. Here's the description of one image:
"A game player is wearing a specific pair of gloves that are associated with the 'freezing' magic powers. When the game player makes a predefined gesture (in this example, pointing all their fingers at a target) a stream of ice particles is shown to be directed along the pointing direction of the game player."
In Frozen's "Let It Go" musical sequence, the gloves famously came off before the snow queen Elsa started shooting ice from her hands. But if you've ever dreamed of dancing around and acting out that sequence, it sounds like you may be able to do that in the Disney parks some day, simply by pulling a reverse Elsa and donning gloves (provided these particular magic gloves ever move beyond the patent stage). One has to wonder if there will be a singing aspect involved, or if hearing people belt out in-park karaoke renditions of that song would simply drive too many other visitors mad.
Avatar fans, you might want to rewind the video above a few times so you can check your Na'vi pronunciation against that of the language's creator, before watching some highlights from his recent visit to Pandora – The World of Avatar at Disney's Animal Kingdom.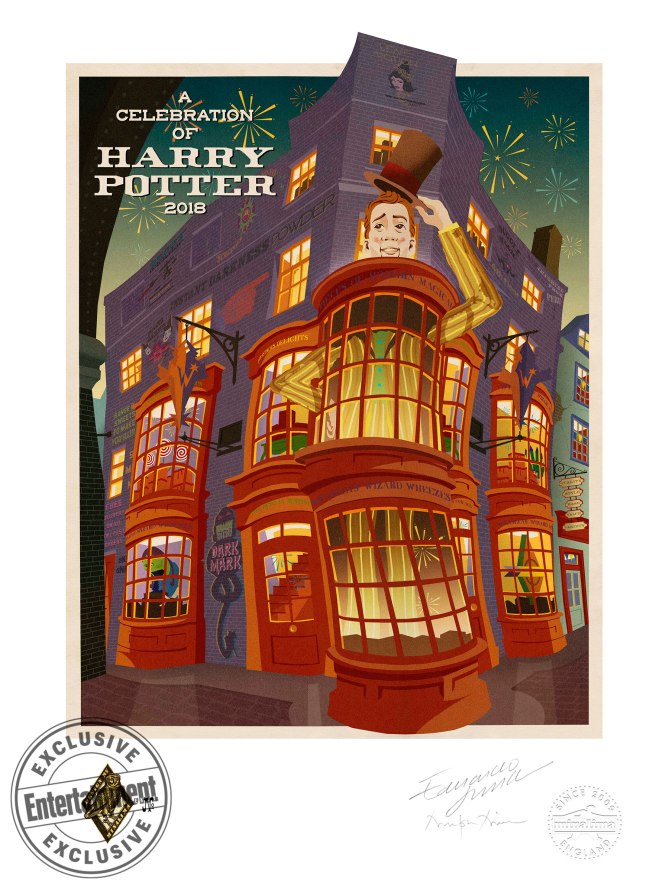 Entertainment Weekly has shared an exclusive first look at the design for the 2018 Celebration of Harry Potter poster, along with a look back at posters for each year since the event started in 2014. In the final days leading up to the event, the Universal Orlando blog has also revealed a few last details about what's on offer this year.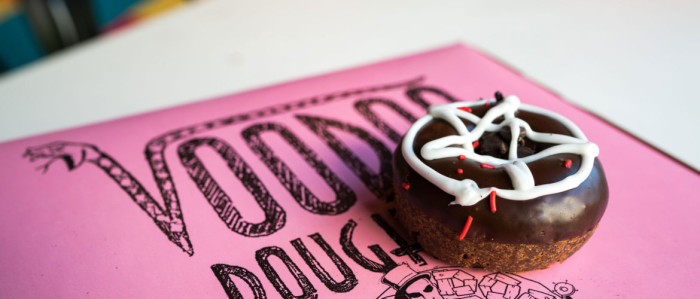 Having already opened a location at Universal Studios Hollywood last spring, the popular Voodoo Doughnut chain, known for its unique doughnut creations, is now coming to Universal CityWalk in Orlando. The only question is whether Diablos Rex is just a cute novelty name, or whether it is, in fact, an incantation that people can utter to conjure a demon after consuming their chocolate cake doughnuts decorated with vanilla frosting pentagrams.
In New Jersey, Six Flags Great Adventure is cutting down 40 acres of trees to make way for a solar electricity farm that will allow it to become the world's first solar-powered theme park.
Above, you can see some video (via Disney and more) of Rex's RC Racer doing a test run at Shanghai Disneyland.
At Walt Disney Studios Park in Paris, this year's Season of the Force event boasts some big fan-made vehicles. On June 2, a special one-night-only event at the park called FanDaze is set to offer visitors the opportunity for some rare character encounters, among other things. Book a flight now if you want to meet Kronk from The Emperor's New Groove.
While the photos are lovely and worth the effort, the weather is unforgiving and cold 🌨 At least I got photos of #TDR in the snow! That's what counts right? 😂https://t.co/8wlQ1EmXZL

— Chris Explorer (@tdrexplorer) January 25, 2018
Finally, if you missed it on the site this week, here's what a Disney theme park looks like in the snow. TDR Explorer also has an additional photo report of Tokyo Disney Resort's recent snow day up now.