'Jumanji 3' Release Date Set For One Week Before 'Star Wars Episode 9' [Update]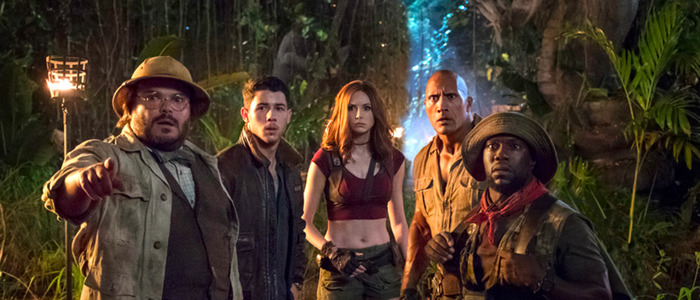 Sony is very happy with the surprise success of their sequel/reboot Jumanji: Welcome to the Jungle. So happy, in fact, that they're willing to put the release of the next Jumanji film up against a fierce competitor: Star Wars: Episode IX. The official Jumanji 3 release date has been set for one week before the next Star Wars.
Update: Sony has officially set a release date for Jumanji 3. Per this annoucement via Dwayne Johnson's Seven Bucks Productions, Jumanji 3 will hit theaters December 13, 2019.
The game is not over! #JUMANJI always finds a way to be played... this time on December 13th, 2019. Mark your calendars for the smoldering sequel of @jumanjimovie . pic.twitter.com/7RA2yPuVfg

— Seven Bucks Prod (@SevenBucksProd) June 27, 2018
This date puts the film directly in the middle of Star Wars season. Episode 9 is set for a December 20, 2019 release. In the past, studios would've gone out of their away to avoid competing with Star Wars. Now, it looks like Sony is ready to put Jumanji to the test.
The original story continues below.
***
In a new piece from The Wall Street Journal, Sony motion-pictures chief Tom Rothman reveals he's pleased-as-punch with the surprise box office success of Jumanji: Welcome to the Jungle. As WSJ reports, "Sony's motion-picture business has outgrossed all competitors so far in 2018 thanks to a smash-hit sequel to a 1995 family film." Obviously, any time a studio has a big hit on their hands, the first thing they want to start talking about is a sequel. Sony is apparently so confident in Jumanji now that not only are they going full-steam-ahead with a sequel, they might also be willing to put that sequel head-to-head with Star Wars: Episode IX. Per WSJ, "Mr. Rothman said he hoped to have a sequel ready around Christmas of 2019, when it will again face off against a new Star Wars."
Star Wars: Episode IX is due out December 20, 2019, and while most competitive studios would look at that release date as a no-go for their big films, Sony might be brave enough to give that date a try. However, there's always a chance they might settle for another December weekend – perhaps the weekend before Episode IX to get a jump on it. Or perhaps after – Jumanji: Welcome to the Jungle opened a week after The Last Jedi hit theaters, a date that most studios didn't want to touch. Rothman claims he was unperturbed, however. "From early on looking at the footage, it was clear this was a Christmas movie families would want to see together," he says. "I thought we could spit in the giant's eye."
Obviously, there are a lot of moving parts here. For one thing, Jumanji: Welcome to the Jungle star Dwayne "The Rock" Johnson is extremely busy and in high-demand. He has a wealth of upcoming features that have yet to begin filming, including San Andreas 2 and Black Adam. And then there's that Fast and the Furious spin-off co-starring Jason Statham, and due out July 26, 2019, not to mention the next Fast and the Furious film, slated to open in 2020. In other words, is the Rock even going to have time to fit Jumanji into his very busy schedule? And then, of course, there's his rumored (and likely not-happening) presidential run to consider...
I suppose Sony can forge ahead with the next Jumanji film without Johnson, and introduce an entirely new set of characters. After all, that's essentially what the new Jumanji film did, and it still ended up being a smash-hit.