'Hearts Beat Loud' Review: Nick Offerman & Kiersey Clemons Form Your New Favorite Band [Sundance]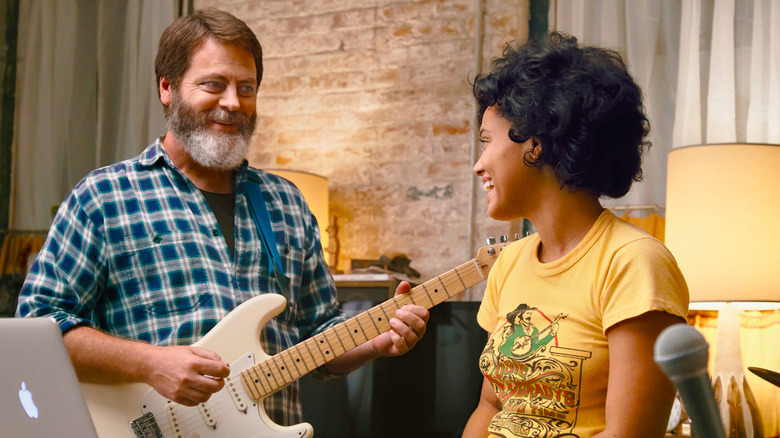 Movies about fractured families are easy to come by at the Sundance Film Festival, so it takes something special to make them stand out. In the case of Hearts Beat Loud from writer/director Brett Haley (The Hero, I'll See You in My Dreams), the special ingredient comes in the form of Nick Offerman and Kiersey Clemons as a father and daughter who have had trouble connecting since the death of his wife and find a connection by forming a band with some real potential. Not only is this movie sweet as hell, but it brings your new favorite band to the table with a soundtrack full of catchy original songs.
Hearts Beat Loud follows Nick Offerman as a single father named Frank who is preparing to send his daughter Sam (Kiersey Clemons of Neighbors 2: Sorority Rising) off to the pre-med program at UCLA. Frank is losing his daughter to a college across the country, his mother (Blythe Danner) is slowly losing her memory, and he's also losing his business, a shop called Red Hook Records, where he's sold vinyl for 17 years. That might sound like the making of a depressing indie, but trust me, this movie is bright, uplifting, charming and full of love.
Frank goes out of his way to hang out with Sam by having a weekly jam session in his makeshift music studio. He was once a thriving musician with a wife who could sing like an angel, but nothing substantial ever came from it. Still, he's never lost his love for music, and he loves rocking out with his daughter. She's become more reluctant to play with him as she's started to focus on her academic career more, but Frank persists, and that's good for us, because it means we get to hear the wonderful tunes they write together.
During this jam session, the two end up co-writing a new song based on some fragments of music and lyrics that Sam has been playing around with. After playing around with some instrumentals and recording all the various parts of the song, they have the titular tune, "Hearts Beat Loud." It's a catchy indie rock song infusing electronic elements with old school instrumentals, and you won't be able to get it out of your head. Frank certainly can't, because he's desperate to form a real band with Sam. She's reluctant at first, telling her father, "We're not a band." And that sounds like a pretty good band name to Frank.
Initially, Hearts Beat Loud seems to be walking a similar path as That Thing You Do! as the track "Hearts Beat Loud" ends up on a popular indie playlist on Spotify after Frank uploades the finished product to the streaming service. Frank wants to keep the band going, so he picks up some new equipment that he can't really afford, and aims to write some new songs with Sam with the hopes of playing The Mercury Lounge and kicking off a hopeful new career. But this isn't a story about finding fame. It's a story about a father and daughter staying connected as they get closer to being farther apart than ever before. The music is just a way to bring them closer together.
This movie is what one might consider a Sundance cliche, but it's executed so earnestly and lovingly thanks to the performances and musical stylings of Nick Offerman and Kiersey Clemons. Not only does Offerman rock on the guitar, but Clemons has some beautiful pipes that I'd like to see her stretch even more in a musical. The duo brings the original songs written by Keegan DeWitt to life effortlessly, and you'll be nodding your head, tapping your foot and smiling ear-to-ear as the duo rocks all throughout the film. Adding to the delight of this movie are Toni Collette as Frank's landlord and possible love interest, and Ted Danson as Dave, Frank's bar-owning, weed-smoking, laid back best friend.
Nick Offerman has never been better on film. As Frank, he brings a gentle gruffness to fatherhood, and there's simply nothing better than Offerman getting gleefully excited about something, like when he hears "Hearts Beat Loud" playing by chance in a local coffee shop. Meanwhile, Clemons proves that she needs to be getting more work across the board as a character whose mixed race and sexuality are never used as a plot device, but merely something that is part of her everyday life.
The only shortcoming of this movie might be shortchanging Blythe Danner's role in the film. There's an attempt at creating an emotional subplot for her character's struggle with Alzheimer's, but there's not nearly enough to connect with for it to make any significant impact. Danner gets one meaningful scene with Sam at a key moment in the movie, but even so, her presence feels contrived and superfluous.
Even so, Hearts Beat Loud is a feel-good, crowd-pleasing spark of life. Nick Offerman and Kiersey Clemons make for a wonderful musical group, but more importantly, they are a delightful father and daughter duo. The movie has endless charm and is the kind of movie every parent will want to see with their older kids.
Hearts Beat Loud was picked up by Gunpowder & Sky at Sundance but doesn't have a release date yet./Film Rating: 8 out of 10