'The Tale' Review: This Brave & Heartrending Story Couldn't Be More Important Or Timely [Sundance]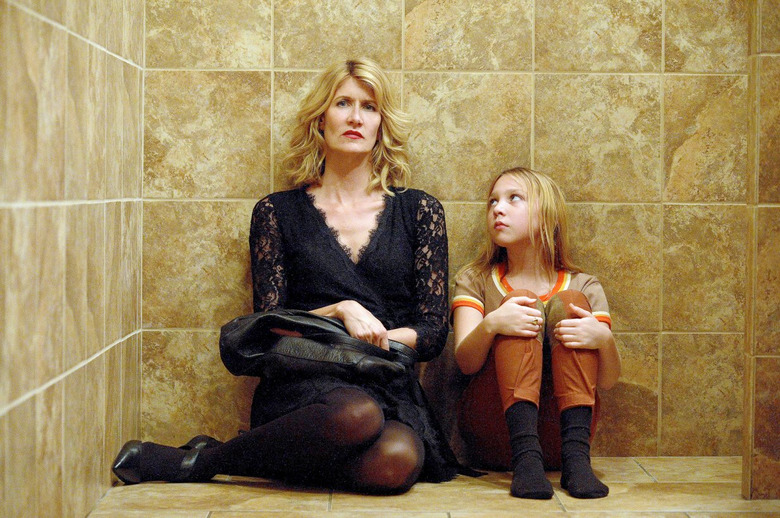 Hollywood is reeling from outing sexual predators who have been hiding in plain sight for years, even decades. These revelations have sparked the imperative #MeToo movement, inspiring countless women to share the stories of sexual abuse and harassment that they've either repressed or suppressed. Director Jennifer Fox is one of those women, and she tells her brave and heartrending true story in The Tale by using memory and documentary influences as narrative elements that play with the medium in ways that bolster this harrowing recollection.
The Tale stars Laura Dern as Jennifer Fox. Yes, the movie is autobiographical. The Fox of this film is a documentary filmmaker just like the real woman. And the Fox of this film was also sexually abused when she was 13 years old, just like the real Jennifer Fox. But as we see The Tale unfold, it's clear that Laura Dern's version of Jennifer Fox has repressed her memories of the trauma from her early teen years. It's only after her mother (played magnificently by Ellen Burstyn) uncovers a story Fox wrote for her English class during this time that she begins to dig into her memories.
At 13 years old, Fox was sent to a little equestrian camp run by a beautiful British woman called Mrs. G (Elizabeth Debicki). With two other teenage girls, Fox was put through a rigorous training regimen to become skilled horseback riders. Joining in with the training was a man who lived across the street from Mrs. G's ranch named Bill (Jason Ritter). A former Olympic athlete, Bill helps with training by helping the girls get into shape by running.
Initially, Fox's memories of the time spent on Mrs. G's ranch are nice. But suddenly she realizes that she wasn't quite as old as she remembers. On screen, the teenage actress playing Fox during flashbacks to this equestrian camp suddenly becomes a younger version (Isabelle Nélisse) that will make the story that's about to unfold that much more unnerving. The memories we're seeing are coming straight from Fox, but at first they're the memories she has subconsciously touched up so she doesn't have to remember what really happened. She only remembers feeling loved and accepted at a time when her family back home made her feel anything but. She felt special. But as The Tale continues, these memories start to unravel the repressed trauma that Fox endured.
The adult Fox explores these memories as she reads through the story she wrote at age 13 and the film seamlessly jumps back and forth between them. Like a detective, she pours over details from her past, suddenly course-correcting when she uncovers something she's hidden deep in the back of her mind where it can't hurt her. Her mother helps along the way, as do her childhood friends, bringing about the realization of the full extent of the sexual abuse Fox endured at the hands of her running coach Bill and even his accomplice Mrs. G. But it's always a struggle as the adult Fox keeps trying to repress certain elements, even going so far as to push away her fiance (Common) from helping her work through this complicated issue.
As Fox digs into her past, there are sequences where she communicates with both her memories and the people in them as if they were right next to her in the car or sitting down for some kind of documentary interview. These are the barricades she has built to keep her from reliving this trauma, opting for the happy memory that doesn't turn her into a helpless victim. It's a compelling and clever narrative device employed to illustrate how much Fox is struggling with unfurling her sexual abuse
The events that unfold on-screen are extremely uncomfortable and even disturbing to watch. Jason Ritter's performance as the seemingly caring mentor who turns out to be a gentle monster (the worst kind) is impeccably unsettling. Elizabeth Debicki also brings a charming chilliness that makes it clear why Fox trusted her so much during the time spent at her ranch, and inevitably by herself at Bill's house. It's a reminder that these kind of sexual predators are everywhere, and there's no telling how many victims out there have repressed memories just like Fox.
However, it's Laura Dern's stirring performance and young Isabelle Nélisse as her younger self who drive the movie. Dern grows increasingly panicked and determined as more of her memories come to light while Nélisse also goes through a transformation of sorts as her younger self comes to terms with what she really endured at 13 years old. Each actress eventually stands strong in the face of such heinous acts, and the film becomes what will undoubtedly be a pivotal piece in strengthening and continuing the #MeToo movement tearing through our culture.
Jennifer Fox's The Tale is courageous and carefully crafted. Though the story may seem a little too timely, this is something Fox has been dealing with for decades, and the movie has been in the works for six years. The fact is there's no perfect time for this story, because these stories shouldn't exist. This isn't just Jennifer's story. It's also the story of far too many victims out there. But it's one that must be told to hopefully prevent any future stories like this from being told ever again.
The movie doesn't yet have distribution, but hopefully you'll be able to see it later this year.
/Film Rating: 10 out of 10