'Won't You Be My Neighbor?' Review: A Touching, Beautiful Tribute To A True TV Icon [Sundance]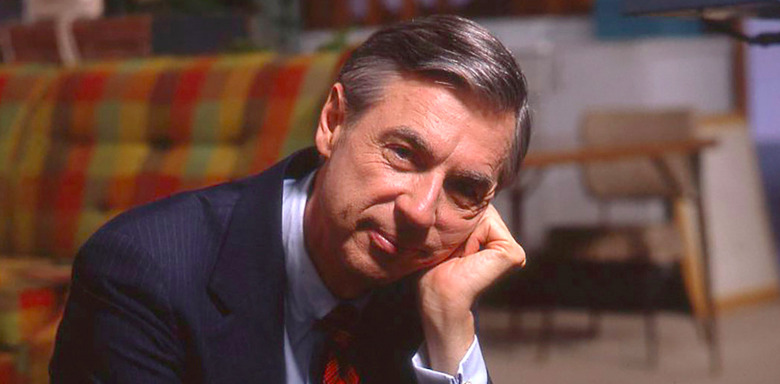 At a time when we're being disappointed by our heroes left and right, it's nice to take a look back at a TV icon who was nothing more than a pure soul who wanted to do some good in the world.
The documentary Won't You Be My Neighbor? takes an in-depth look at Fred Rogers, the man behind the PBS children's program Mister Rogers' Neighborhood who has influenced generations of children by way of his quaint yet insightful loving nature. It's both an eye-opening portrait and a loving tribute to the cardigan-wearing man who liked us just the way we are.
Keep reading for our full Won't You Be My Neighbor review.
Instead of going for the more traditional biographical documentary route, director Morgan Neville (20 Feet from Stardom) focuses mostly on the career of Fred Rogers. While some background information about his early years and family are explored, the documentary wastes no time diving into Rogers foray into television, which began fairly early in his life.
Rogers was originally prepared to head off to seminary school, but became fascinated with the advent of television. However, he saw much more potential in the medium than the slapstick comedy and seemingly mindless programming that millions of Americans were turning into. This is almost all we need to know about Fred Rogers in order to understand that he was an honest and earnest man. He wasn't looking to get into television for the money. He saw a tool that would allow him to reach people in a meaningful way.
The documentary highlights the predecessor to Mr. Rogers' Neighborhood, a show that had to be innovative because it was broadcast live on low budget public access in Pittsburgh where their short film reels would break, forcing some segments to be improvised on the spot. That's where Mr. Rogers' first puppet work was born, but the show still didn't live up to the dreams Rogers had for television. Obviously, that came with Mr. Rogers' Neighborhood, and this documentary provides incredible insight into the early years of the show, including surprising highlights that more modern audiences may have either forgotten or didn't even know existed.
The earliest black and white episodes of Mr. Rogers' Neighborhood dealt with serious topics like the Vietnam War, death and grim topics for kids. But Rogers wanted to make these topics easier to understand for children whose minds were not yet able to grasp complex concepts. He leveled with children without ever really talking down to them. Archival footage from various events with Rogers meeting children live in person shows how sincere his efforts were to bring joy into their lives. The expression on his face and the look in his eyes is one of gentle kindness and love.
Talking heads from the likes of Mr. Rogers' Neighborhood producer Margy Whitmer, cellist and guest star Yo Yo Ma, wife Joanne Rogers and their kids, and various cast and crew members from the show take us through the history of the program, offering commentary about specific episodes, honing on what made Roger's approach to making television for kids resonate so much and for so many years. One particular segment focuses on an episode where Daniel the Tiger wonders if he's a mistake because he's not like anybody else he knows. Lady Aberlin consoles him and the two proceed to sing a song to reassure him that he's most certainly not a mistake. I dare you not to cry during that scene.
Furthermore, I don't know about you, but I've never watched a documentary in theaters where the audience erupted in applause due to the actions of the subject on screen, not even at Sundance where the hype is high. But in Won't You Be My Neighbor?, the tape of Fred Rogers' famous testimonial on front of Congress to fight to keep government funding for public television had the theater clapping in full, joyful support.
Though this documentary is a loving tribute to Fred Rogers through and through, it doesn't shy away from some of his shortcomings. Whether it's second-guessing himself or certain missteps that were merely a product of the times, Rogers is by no means perfect, but there aren't any shocking revelations to be had.
Won't You Be My Neighbor? is easily one of the most touching, tearful documentaries I've ever seen. As the credits rolled here at Sundance, sniffles could be heard as many audience members wiped tears from their eyes and cheeks, yours truly included. This documentary pulled at my heartstrings in all the right ways and makes me long for the days when we had someone like Fred Rogers to make the world a little less scary for children and adults. We may never get a gift like Fred Rogers again.Won't You Be My Neighbor? will be released by Focus Features this summer on June 8, 2018./Film Rating: 9 out of 10