Mondo's New Universal Monsters Gallery Is A Spectacular Tribute To Iconic Characters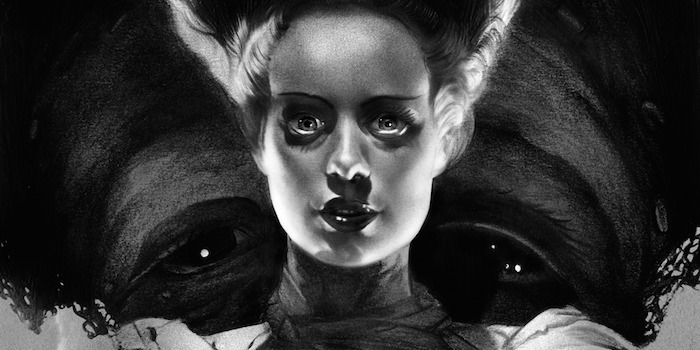 The last time Mondo put together a gallery show celebrating the Universal Studios monsters, it was 2012 and it set a high bar for all of their future events. And now, their second monsters-centric show is here and it resets the bar again.
Mondo's latest gallery, dedicated to Frankenstein, Dracula, the Wolf Man, the Mummy, and the rest of that creepy and unnervingly sympathetic family of things that go bump in the night, opened tonight and it's spectacular. You can check out all of the posters that debuted below.
The line-up of artists who contributed work to the Mondo Universal Monsters show is a who's who of talent, many of them Mondo regulars. The show includes pieces from Jonathan Burton, Sam Wolfe Connelly, Francesco Francavilla, Ken Garduno, Brandon Holt, Matthew Peak, Phantom City Creative, Eric Powell, Gary Pullin, Greg Ruth, Jessica Seamans, Stan & Vince, Ken Taylor, Matt Ryan Tobin, and Bruce White.
And now, here are the posters that make up the show:
From left to right and top to bottom, here are the posters and their creators: Creature From the Black Lagoon by Brandon Holt, The Bride of Frankenstein by Jonathan Burton, Creature From the Black Lagoon by Gary Pullin, The Wolf Man by Eric Powell, Dracula by Francesco Francavilla, Frankenstein by Francesco Francavilla, The Invisible Man by Jonathan Burton, Frankenstein by Jessica Seamans,  The Bride of Frankenstein by Ken Taylor, Frankenstein by Matthew Peak, Dracula by Phantom City Creative, Frankenstein by Phantom City Creative, Bride of Frankenstein by Greg Ruth, The Mummy by Stan and Vince, Dracula by Sam Wolfe Connelly, and The Wolf Man by Matt Ryan Tobin.
What I love most about this gallery is how it highlights the versatility of the Universal monsters. Some of the posters are straight-up horror art, creepy imagery that sends chills down your spine. Others are downright lovely, beautiful even, a reflection of the wounded souls that lurk within each of these characters. The fact that the posters can range from pulpy to artful and still feel like accurate representations of the source movies is incredible. Nearly a century after these characters first appeared on the big screen, they remain untouchably great.
The show is open right now at the Mondo Gallery in Austin, Texas and will be on display from January 19 through January 27. Any posters not sold on location will be made available online at a later date.