Simon Pegg & Nick Frost Developing 'Truth Seekers', A Paranormal Investigation Comedy Series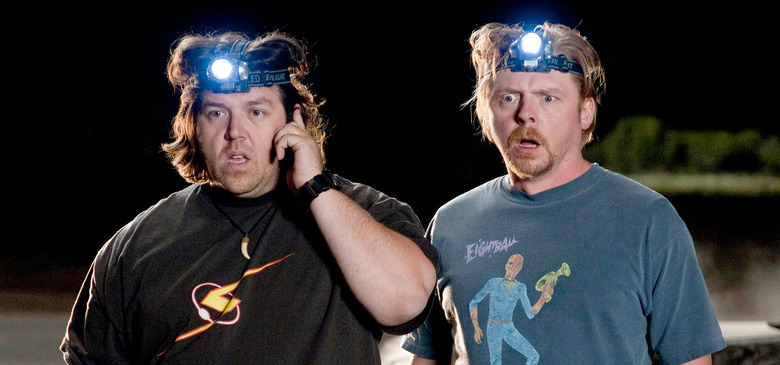 One of the best on-screen duos in recent memory is undoubtedly that of Simon Pegg and Nick Frost. They've starred in all three of Edgar Wright's films in his makeshift Three Flavours Cornetto Trilogy (Shaun of the Dead, Hot Fuzz and The World's End), not to mention the alien road trip comedy Paul with Seth Rogen, but before that, they worked on the British TV comedy series Spaced. Now, Pegg and Frost will be working on a brand new TV series.
Variety has word about the new Simon Pegg and Nick Frost series in a brief profile on the duo's upcoming projects. While they've each been busy with their own work, from Nick Frost's turn in the upcoming Tomb Raider adaptation (watch the new trailer) and AMC's Into the Badlands to Simon Pegg's involvement in the Star Trek and Mission: Impossible franchises, the two have also taken the time to form the independent production label Stolen Picture, and that's where this new TV series hails from.
The show is called Truth Seekers and it will follow a three-person paranormal investigation team looking into a new paranormal incident in every episode, giving it a monster-of-the-week feel. Pegg offered more details to Variety in an interview:
"It'll start as a very parochial idea, a very small business venture for these people, but it will expand as the series goes on to be something far more global. It's a language everyone understands, the mystery of the unknown. 'Shaun of the Dead' was a very parochial story set in North London and somehow it managed to get this global reach because everyone understands the language of zombie movies."
It's not clear it Pegg and Frost will appear in the series or if they will remain strictly behind the scenes, but we hope they'll at least end up appearing. In any case, it certainly sounds like this has the makings of being something akin to a Ghostbusters-style series, and with Pegg and Frost involved, that sounds pretty damn great. And the good news is that we'll probably see it in the United States as soon as it's ready because Stolen Picture is backed by Sony Pictures Television.
Knowing all of the fantastic comedy Pegg and Frost have delivered before, this series sounds like a home run. It might not be as exciting as it would be if Edgar Wright was involved too, but Pegg and Frost's fans will surely have enough faith in the duo to give the new series a shot. We'll be sure to let you know whenever we hear more about it.