'Dear Dictator' Trailer: Michael Caine Teaches A Rebel Teen How To Deal With Mean Girls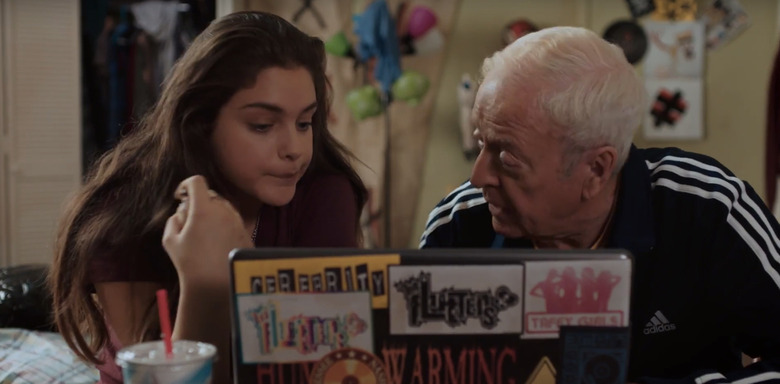 Dealing with high school is worse than ever with the advent of cell phones and social media. But what if you could deal with the worst people in your high school by getting advice from a feared international dictator?
Dear Dictator follows a British-Caribbean dictator played by Michael Caine as he's ousted from power and has only one place to flee: the suburban American home of a rebellious teenage girl (Odeya Rush of Lady Bird) with whom he's been corresponding through letters. As you can see in the first trailer for the comedy below, that's not going to sit well with the rest of suburbia.
Dear Dictator Trailer
Dealing with the mean girls of high school isn't handled much differently than dealing with political traitors. They both require vigilance and authority. And maybe tearing up their thongs.
This concept is quite an absurd one, almost feeling like some kind of strange family film you might have found in the late 1980s or early 1990s. But the trailer definitely made me laugh a few times, particularly the milk boarding line and the nonchalance with which Michael Caine's character deals with his dictatorial duties. Plus, this looks like a fantastic role for Odeya Rush to show off more of her talents outside being a supporting character in movies like Goosebumps and The Giver.
The only downside is that this movie comes from Lisa Addario and Joe Syracuse, the husband and wife team who wrote the abysmal family comedy Parental Guidance and directed the subpar R-rated comedy Amateur Night. That doesn't inspire much confidence, but Dear Dictator already looks much better than both of those movies, so maybe there's hope that it will turn out to be a decent comedy.
The rest of the cast features Katie Holmes as the teenage girl's mother and Jason Biggs as her social studies teacher. Plus, Seth Green has some kind of role as well. That's an interesting assembly of talent for a movie like this, but I'm still not sure they'll all come together to make something memorable.
Here's the official synopsis:
When political turmoil forces a British-Caribbean

dictator

(Michael Caine) to flee his island nation, he seeks refuge with his pen pal, a rebellious teenage girl (Odeya Rush) in suburban America, and teaches her how to start a revolution and overthrow the "mean girls" in her high school.
Dear Dictator hits limited theaters and VOD on March 16, 2018.