Kristen Wiig Joins Apple Comedy Series From Reese Witherspoon – Here Is Apple's Slate Of Original Series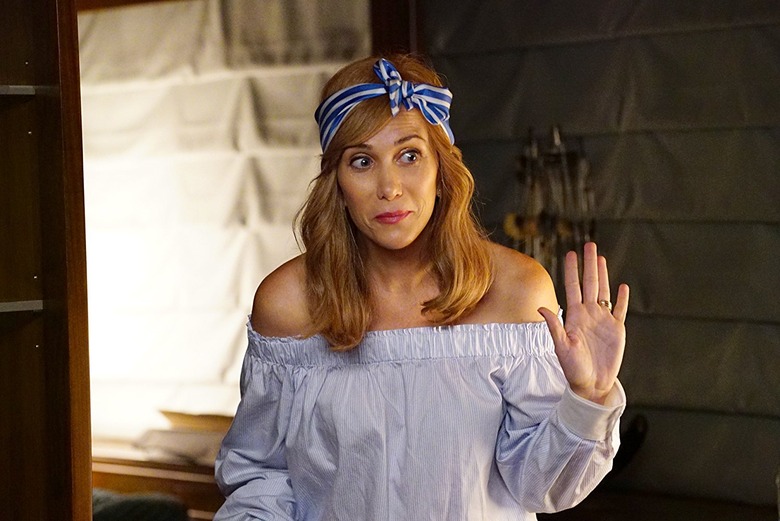 Kristen Wiig has carved out a niche for herself in the movie industry — in quirky comedies, heart-wrenching indies, and unsettling dramatic cameos. But the small screen was where Wiig first made her name, as an acclaimed regular cast member of Saturday Night Live for seven years.
Now Wiig is making a return to TV, in a half-hour comedy series for Apple produced by Reese Witherspoon's Hello Sunshine banner. Yes, you read that right, this is an original series being developed for Apple. It's one of many original series and movies that Apple has picked up as the tech giant strikes out into the streaming service field.
Wiig is starring in and executive producing the 10-episode comedy series, which Apple landed in a bidding war with multiple networks, according to The Hollywood Reporter.
The series is created by Colleen McGuinness (30 Rock), who will serve as showrunner and is inspired by Curtis Sittenfeld's upcoming short-story collection You Think It, I'll Say It. The still-untitled show — which has yet to be attached to a studio — is the tech company's first big scripted comedy series, though it's not Apple's first project with Witherspoon. She has two other series in the works with Apple, an untitled show with Jennifer Aniston and a true crime drama with Octavia Spencer.
These series, along with a slew of others, are part of Apple's new $1 billion-dollar initiative to acquire original TV series and movies as an attempt to get on equal footing with streaming competitors like Netflix, Amazon and HBO. It won't be for a few years until we start seeing Apple's original content, but the company is fast making moves that could soon reap rewards as soon as 2019.
Here is a list of Apple's original series and movies so far:
Planet of the Apps: Like Shark Tank, but for apps! Hosted by celebrity judges Will.i.am, Gwyneth Paltrow, Jessica Alba, and Gary Vaynerchuk, it premiered on June 6, 2017. No second season has been announced.
Carpool Karaoke: The Series: This show-length version of James Corden's Late Late Show viral bits actually premiered on August 9, 2017. No announcement of a series return.
Amazing Stories: A revival of Steven Spielberg's '80s anthology series, helmed by American Gods' Bryan Fuller.
Are You Sleeping: Reese Witherspoon's production company helms the adaptation of a true crime best-selling book by Kathleen Barber. Written by Nichelle D. Tramble (The Good Wife) and starring Octavia Spencer, it will follow a true crime podcaster as she reopens a cold murder case.
Reese Witherspoon and Jennifer Aniston Morning Show Drama: An untitled drama about the making of a morning show that reportedly draws heavily from book Top of the Morning: Inside the Cutthroat World of Morning TV by Brian Stelter.
Ronald D. Moore sci-fi series: Written by Ronald D. Moore (Battlestar Galactica), the series explores what would happen if the global space race had never ended.
Home: A documentary series produced by writer-producer duo Matt Tyrnauer and Corey Reeser, which will "offer viewers a never-before-seen look inside the world's most extraordinary homes, and delves into the minds of the people who built them."
See: A futuristic drama written by Steven Knight (Peaky Blinders) and directed by Francis Lawrence (The Hunger Games: Mockingjay Part 1 & 2.
Vital Signs: One of Apple's first original series ideas, a six-episode semi-autobiographical miniseries produced by Dr. Dre where each episode focuses on a specific emotion (Vengence, Ego, Negativity, Innocence).
This list will only grow, especially with the news that Apple is in a bidding war for J.J. Abrams' newest ambitious sci-fi series. Some of these new series show a lot of promise — especially the ones with Reese Witherspoon, who recently saw huge success behind-the-scenes executive producing HBO's Emmy and Golden Globe-winning series Big Little Lies. Let's see if Apple can follow in the footsteps of its ever-growing streaming competitors.