'Bodied,' One Of 2018's Best Movies, Acquired By YouTube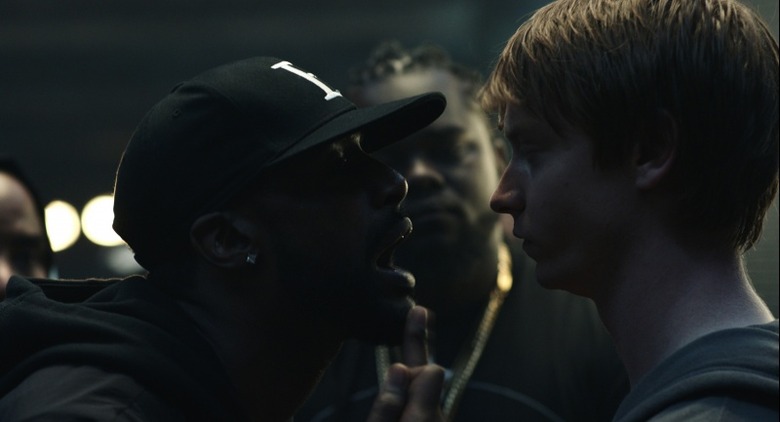 Joseph Kahn's Bodied made the festival rounds in 2017, but it didn't secure a distributor or find theatrical release that year. That's the one and only reason this satirical, take-no-prisoners comedy set in the world of competitive battle rap didn't land in my top 10 of the year. Seriously. It's that good. And it deserves to be seen with a big audience.
Now, on the eve of the Sundance Film Festival, Bodied has found an unlikely distributor: YouTube, who is bringing the film to Sundance ahead of release date later this year. That means Bodied is a 2018 movie, which makes it one of the best movies of 2018.
In their press release, YouTube announced the acquisition of the film, a sneak preview screening at the Sundance Film Festival, a theatrical release, and its eventual arrival on YouTube Red, the site's home for original content. The theatrical release part feels important. While Bodied will be fun at home, it's a movie that thrives on big reactions from an enthusiastic crowd. If it plays near you, do not miss it. And if you do wait for YouTube, gather as many friends in the room as possible. After all, this is a film that won the Audience Awards at the Toronto Film Festival, Fantastic Fest, and AFI Fest.
The plot may make you roll your eyes, but this is a case where it's all about the execution. Calum Worthy stars as Adam, a young, white college student with an appreciation for the world of underground battle rapping. While researching a paper, he finds himself drawn into this complex, racially-charged world and finds that he's, well, pretty damn good at competitive battle rap. What follows is a searing molotov cocktail of a movie that goes far beyond its "white guy can rap" premise. Race, free speech, and censorship all enter the crosshairs and it's impossible to imagine not feeling simultaneously bruised and elated when the credits roll. It's a fun movie that's not afraid to rough you up and Kahn (a music video veteran) keeps the whole thing stylish and fast. It's a movie that stays one step ahead of you, making you gasp with every turn of the plot.
Of course, the battle rap sequences are the highlight. As Eric Vespe wrote in his review from Fantastic Fest:
There's some real Shakespearean pathos on display in what should have just been a silly, frenetic movie about charismatic people insulting each other in artful ways and that's why the audience I saw the film with went absolutely batshit for this movie (it later took home the Fest's Audience Award).  The Battle Rap segments (written by actual Battle Rap Champion Alex Larsen) are like watching a live boxing match. The audience reacted just like the background crowd in these sequences. They laughed, they gasped, they applauded and I was right there with them, wholly invested in the drama on display.
YouTube has yet to announce the release date for Bodied, but we'll keep you posted. You won't want to miss this one.