'Ant-Man And The Wasp', 'Incredibles 2', 'Wreck-It Ralph 2,' And More New Photos From Disney's 2018 Films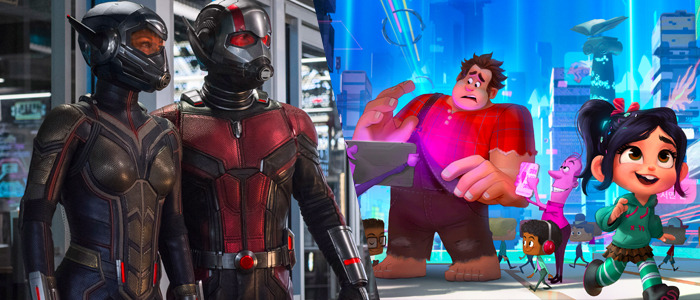 Walt Disney Studios has unveiled a handful of new images from the studio's slate of upcoming films, attaching new photos for films like Ant-Man and the Wasp, Black Panther, Wreck-It Ralph 2, and more in a press release. Take a closer look at all of the new photos below.
Here's the complete batch of Disney movie photos. I'll run through in detail below (click to enlarge):
First up are Mindy Kaling, Oprah Winfrey, and Reese Witherspoon in Ava DuVernay's A Wrinkle in Time, playing Mrs. Who, Mrs. Which, and Mrs. Whatsit, respectively. The image of them standing in that field can be seen in the trailer, so let's move on to something we haven't seen before. A Wrinkle in Time opens on March 9, 2018.
Paul Rudd and Evangeline Lilly are suited up in this new look at Marvel's Ant-Man and the Wasp, which, as far as I can tell, is the first officially sanctioned image of Lilly wearing Wasp's helmet, and the first time we've seen the two heroes standing side by side in full costume. The logo on the glass to their left indicates that they're standing inside a lab that belongs to Hank Pym (Michael Douglas), but what could they be staring at? We may have to wait until July 6, 2018 to find out.
That image from Avengers: Infinity War is one of the coolest moments in the trailer, so we don't need to talk more about that one. (But you should dig into our trailer breakdown if you haven't yet.) Infinity War arrives in theaters on May 4, 2018.
Next up is a new photo from Marvel's Black Panther, which shows King T'Challa (Chadwick Boseman) standing among two of his sisters, warrior princesses Nakia (Lupita Nyong'o) and Shuri (Letitia Wright). There's not much we can glean from this image story-wise other than the characters are almost certainly in Wakanda here, but that doesn't change the fact that we're beyond hyped for this movie to arrive on February 16, 2018.
Then there's a look at Brad Bird's Incredibles 2, which we first saw last month. Seems like Bob and Helen are in full-on protection mode, while the older kids are taken aback by what's confronting them (Jack-Jack, of course, seems blissfully unaware of whatever danger he's in). More than a decade after the original film, will Incredibles 2 live up to tremendous hype and actually have a new and interesting spin on a superhero story? We'll find out on June 15, 2018.
Next, you'll see Keira Knightley and her compatriots are decked out in elaborate costumes fitting for a bombastic production of The Nutcracker and the Four Realms, Disney's adaptation of E.T.A. Hoffmann's 1816 story The Nutcracker and the Mouse King. The first trailer certainly looked to lean in to the wide-eyed sense of awe found in movies like Alice in Wonderland and The Chronicles of Narnia, and this image keeps that whole Wizard of Oz vibe going strong. I'm sure Disney is hoping this will be a nice holiday hit for them when it drops on November 2, 2018.
And finally, there's a new look at Ralph Breaks the Internet: Wreck-It Ralph 2. I loved the first movie, and think there's a good chance this film could be just as great as its predecessor. Interestingly, this image appears to have more of a hand-drawn vibe to it than the fully CG original movie; I'm not sure if that's just for this specific image, or if that's a visual style that gets adopted in the actual movie when Ralph and Vanellope are traveling through different corners of the world wide web. We'll find out when the film arrives on November 21, 2018.