'Lady Bird' Featurette Focuses On The Incredible Direction Of Greta Gerwig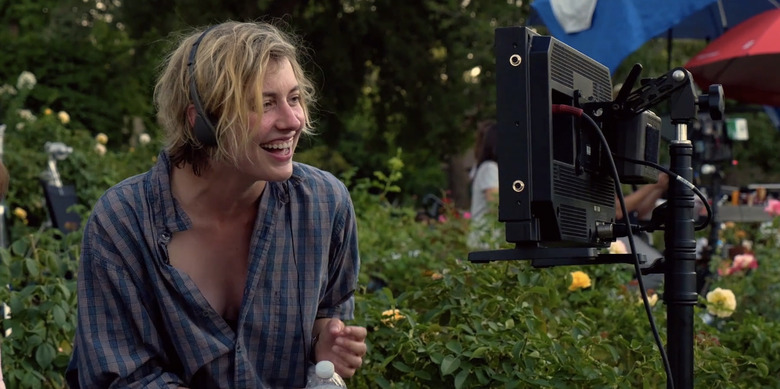 Lady Bird is one of the major awards contenders this season, and it will likely end up with a Best Picture nomination when all is said and done. The real question is whether the Academy of Motion Picture Arts and Sciences will be smart enough to give Greta Gerwig a nomination for Best Director.
So far, plenty of awards programs have left Greta Gerwig out in the wind, with the Directors Guild of America being the only major award outlet to recognize her talent with a nomination. But if there's any doubt that Gerwig should be included among the likes of other probable nominees like Guillermo del Toro and Christopher Nolan, a new Lady Bird featurette that focuses on what she brought to the table as a director should change anyone's mind.
Watch the Lady Bird Featurette
This featurette shows that even though Greta Gerwig wasn't overseeing massive setpieces and hundreds of extras, she was still an integral part of making this movie come to life. Pulling authentic, emotional performances from actors in such a quiet, intimate setting can be just as difficult, if not moreso, than making sure a massive setpiece is coordinated and executed properly. Gerwig undoubtedly deserves a seat at the Best Director table this year.
Vimeo was also lucky enough to sit down with Greta Gerwig for an interview where they asked about the process of making the movie. One thing that will be very encouraging for up and coming filmmakers to hear is that Gerwig was always learning during the production process. A director doesn't necessarily have to know every single nook and cranny about the filmmaking process. It's collaborative. Gerwig explains:
"It's kind of impossible to exactly quantify all the things I feel I learned. A lot of things I knew, but there's just a million little things — and big things — that come into focus when you spend two years making a movie. It's a long process. It requires a lot of relentless focus because every single part of it matters. Every single collaborator matters. My favorite part of filmmaking is really just what a collaborative art form it is. How many different kinds of people and artists come together to tell a story. Every single one of them are storytellers.
But I think so much of directing is continuing your instincts and honing those world building elements. It's hard to break it down to one thing or another. But I would say I have walked away from the whole process mainly feeling like I can't wait to do this again. Right away."
Gerwig was also asked to provide some advice for aspiring filmmakers, and she had this to say:
"Yes. I would say make your own work as much as you possibly can. Make it with your friends. Put it up. Get responses. Make projects with friends of yours who are actors, or other writers, people who can allow your work to get up on its feet. I think that's really important because sometimes it's hard to judge a piece of writing when it's just you in your room. Bring it to people and see how it sounds, what people say, and talk it through. That is really valuable."
It's not out of the realm of possibility that someone reading this post, maybe even you, could end up making a movie like Lady Bird. So soak up everything you can about the filmmaking process. Get all your friends together and make a movie. Tell the stories you want to tell. Maybe one day everyone will be talking about your movie on the internet.
Lady Bird is currently playing in theaters. Go see it!