The Streamer's Guide To Sundance 2018: What Non-Festgoers Can Watch At Home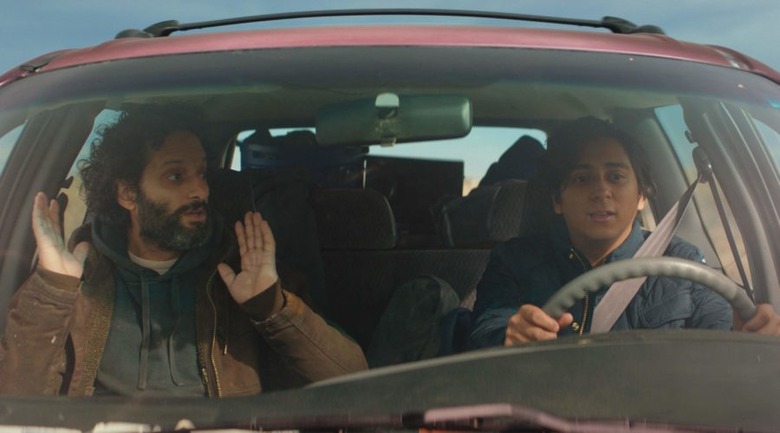 While we're still hashing out the great Three Billboards Twitter war of 2017, audiences in Park City and all across Utah will be boldly forging ahead into the first major releases of 2018 at the Sundance Film Festival. One of few festivals firmly established in the cultural imagination, Robert Redford's mountain citadel of cinema regularly launches major works of cinema from filmmakers flying under the radar. I've attended the last two years, seeing multiple movies that wound up landing on my year-end top 10 lists.
Since I won't be attending 2018's edition of the Sundance Film Festival (/Film has writers on the ground and will have that covered), those of us not heading to snowy Utah can still do some at-home viewing to quell the FOMO. Here are 11 films with major pre-festival heat and some movies you can stream to have a jump on the conversations starting this weekend at Sundance.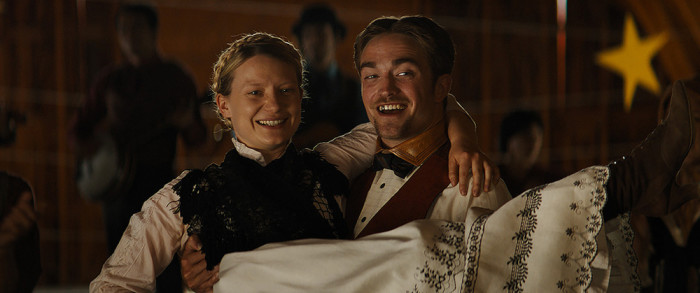 Damsel (Premieres)
Robert Pattinson is on a tear post-Twilight, working with established giants of international cinema (David Cronenberg, Werner Herzog, Claire Denis) and lending his star power to get unconventional projects by indie iconoclasts (the Safdie Brothers, Brady Corbet) financed. His Sundance debut, Damsel, falls in the latter territory as he puts another pair of brothers on the big stage: David and Nathan Zellner. The directing duo from Austin typify the city's off-beat cinema scene, and their latest effort seems to be no different as they bend the western genre to fit their quirky sensibilities.
Can't make it to Sundance? Watch this at home: While the Zellner Brothers achieved some recognition with their last film, 2015's Kumiko, the Treasure Hunter (anyone remember #TeamBunzo?), the real gem of their filmography is 2013's Kid-Thing. It's a simple but mesmerizingly hilarious look at young Annie, a 10-year-old growing up on a Texas farm, and the things she does to pass the time. Her childhood is spent apart from the hyperactive, media-saturated world, and the Zellners pull off the tricky feat of depicting her boredom without inducing it in the viewer. (Available for free to Fandor and Sundance Now subscribers and to rent through Amazon and iTunes)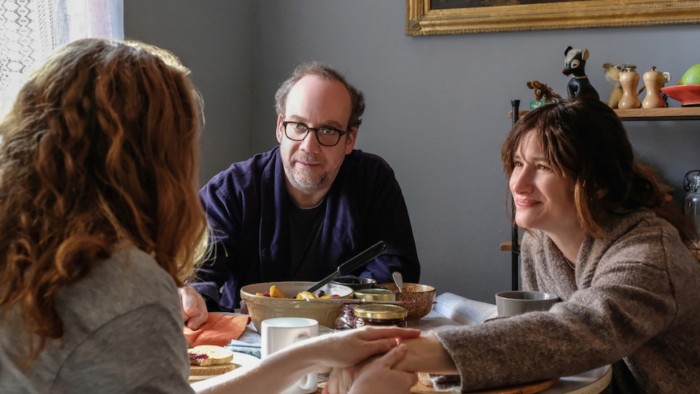 Private Life (Premieres)
It feels profoundly unfair that we only get one Tamara Jenkins film per decade (although the writer/director has every right to go raise her daughter like she did), but she looks to make a triumphant return at Sundance with Private Life. As an astute observer of domestic malaise, Jenkins tackles a topic seldom treated on screen but wreaks havoc on any number of marriages: infertility. There's a hint of sadness behind many of Kathryn Hahn's notorious comedic creations from Step Brothers to Bad Moms, and it's going to be interesting to watch her lean into the drama of her situation alongside her on-screen husband, Paul Giamatti.
Can't make it to Sundance? Watch this at home: Jenkins' last film, The Savages, is of that exceedingly rare bunch of Sundance premieres that makes it all the way to the Oscars. She earned a much-deserved Best Original Screenplay nomination for her exquisite dramedy following two estranged siblings forced to care for the father who set them on their respective emotionally arid life courses. Come for Laura Linney's heartbreaking desperation, stay for Philip Seymour Hoffman's heartwarming humor – and start to miss his talents all over again. (Available to rent on Amazon/iTunes)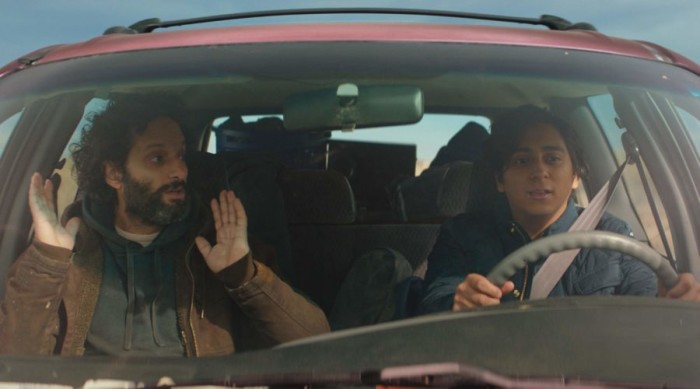 The Long Dumb Road (Premieres)
Road trip movies are a Sundance staple, but if anyone can make the journey entertaining, it's Jason Mantzoukas and Tony Revolori. The former seems to pop up in just about every comedy these days, elevating bit parts into unforgettable scene-stealing parts. His role in Chance the Rapper-approved The House suggested he has the chops to carry a movie in his own right. Mantzoukas knows how to sell any character's flimsy philosophy, and his down-and-out car mechanic will have a likely taker in Revolori, who plays a student in need of a functional vehicle to get to school in California.
Can't make it to Sundance? Watch this at home: The Long Dumb Road's co-writer/director Hannah Fidell has taken a familiar setup before and turned it into riveting cinema. Ignore the Rotten Tomatoes score – her 2013 debut A Teacher is a fresh take on the sordid teacher-student affair. Rather than settling for easy moralizing, Fidell fixates on the socioeconomic class gap between wealthy high schoolers and their instructors who can barely get by on their salaries. In this particular relationship, sex becomes just another tool of domination in the arsenal of a teen boy with impunity. (Available for free to Netflix and Sundance Now subscribers)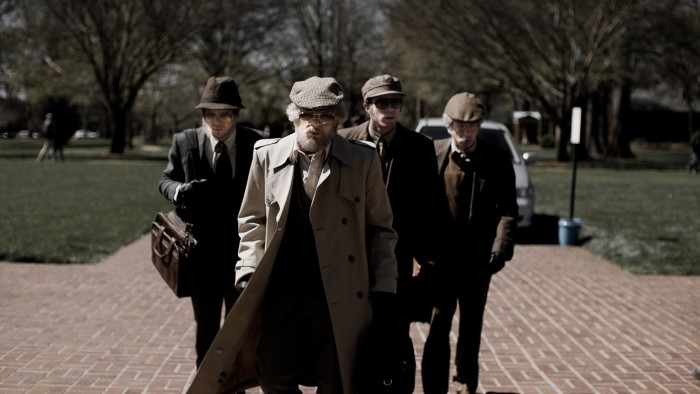 American Animals (U.S. Dramatic Competition)
If you were trying to create a spread of young actors who could also double as a Hollywood Reporter "Next Generation" cover, you might come up with something that looks a lot like the cast of American Animals. Blake Jenner made a successful leap to the big screen in 2016 with Everybody Wants Some! and The Edge of Seventeen, while Barry Keoghan lit up 2017 with killer parts in Dunkirk and The Killing of a Sacred Deer. Throw in X-Men and American Horror Story stalwart Evan Peters and rising star Jared Abrahamson, and you've got one heck of a crew for Bart Layton's art heist film.
Can't make it to Sundance? Watch this at home: American Animals is Layton's first narrative feature, but it's not his first go-round in the true crime arena. Back in 2012, he wowed Sundance with The Imposter, the story of a boy in Texas who goes missing told from the perspective of the boy they find in Spain three years later. No spoilers, but if the prior sentence sounded a little funky...you might be on to the wild ride Layton has in store. (Available for free to Netflix subscribers)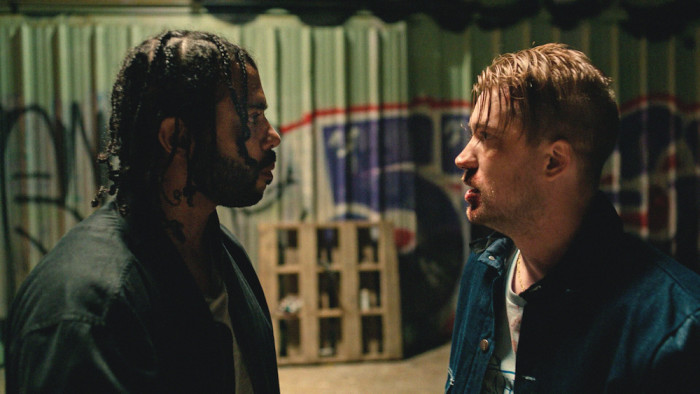 Blindspotting (U.S. Dramatic Competition)
Daveed Diggs is seizing on the Hamilton moment to move from stage to screen. After TV gigs with The Get Down and Black-ish, Diggs made his film debut in 2017's Wonder. Up next for Diggs on the silver screen is Blindspotting, a clear passion project he ushered into being as star, co-writer and producer. Described as "a buddy comedy in a world that won't let it be one," the film follows a cross-racial friendship in Oakland. For all that Diggs has riding on the film, it shows quite the vote of confidence in his long-time music video collaborator Carlos López Estrada, who makes his feature directing debut here.
Can't make it to Sundance? Watch this at home: Since becoming the youngest director to win a Latin Grammy in 2012, Estrada has been doing prolific work in the field of music videos. Thankfully, he's compiled them all on his website – some highlights include Capital Cities' "Kangaroo Court," Passion Pit's "Carried Away (Remix)" and any of the videos for Clipping, Diggs' experimental hip-hop group. (Available for free on Estrada's website)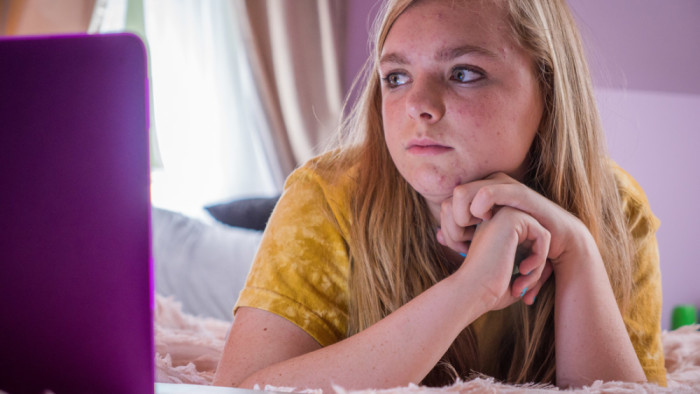 Eighth Grade (U.S. Dramatic Competition)
Comedian Bo Burnham went quiet in 2017, largely without explanation. As it turns out, he was shooting Eighth Grade. As a key comedic voice for the millennial generation who rose to prominence using online tools like YouTube and Vine, it will be interesting to see how he portrays them in his debut feature film. He talks about the corrosive effects of consumer culture frequently in his stand-up and interviews, so at the very least, the story of phone-obsessed eighth-grader Kayla Day will put a human face on the concepts Burnham loves to explore.
Can't make it to Sundance? Watch this at home: There's no shortage of Bo Burnham's comedic material out there on the Internet for a variety of attention spans. Head to his Vine profile for six second doses of hilarity, or search "Bo Burnham podcast" on YouTube to hear him go long and get introspective on his material. But for something that's most likely to show what he'll bring to Eighth Grade, check out his stand-up special Make Happy on Netflix. The level of rigor in his performance is astounding. (Available for free to Netflix subscribers)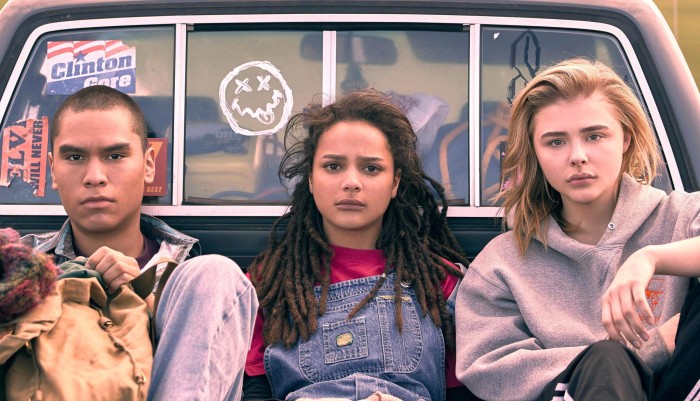 The Miseducation of Cameron Post (U.S. Dramatic Competition)
Conversion therapy is looking to have a big year on screen, and probably not in the way Mike Pence is hoping to see it portrayed. First out of the gate is The Miseducation of Cameron Post, coming from a female perspective as Chloë Grace Moretz's titular character gets shipped off to a center for teenagers "struggling with same-sex attraction." How it will compare to the Fall's Boy Erased, based on a memoir as opposed to a novel, will surely be the subject of many thinkpieces come next awards season.
Can't make it to Sundance? Watch this at home: Co-writer and director Desiree Akhavan has already delved into the knotty complications of revealing one's sexual orientation in her debut feature, Appropriate Behavior. Not unlike My Big Fat Greek Wedding or The Big Sick, Akhavan tells the story of a first-generation American who struggles to tell her family about the person she really loves. It's got a some of the bumps you might associate with a first film, but it's full of humor and heart that points to a promising career ahead. (Available for free to Amazon Prime subscribers)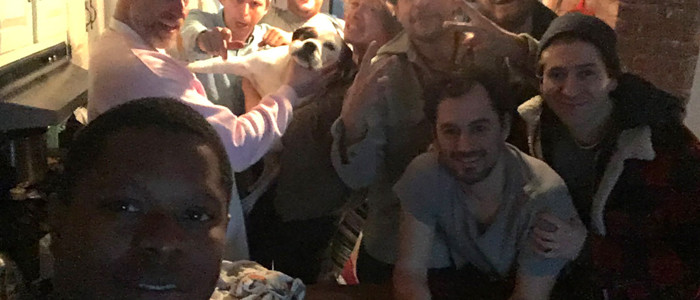 TYREL (U.S. Dramatic Competition)
Sundance 2017 premiered Jordan Peele's Get Out, which we're still talking about today. Will we be able to say the same about Sebastián Silva's TYREL, a Sundance 2018 debut with similar racial themes? Here, Silva will send Jason Mitchell's Tyler into the wealthy enclave of the Catskills for a bachelor party where's clearly the token black guy. If the promise of a savage social critique doesn't have you enticed, just go look at Silva's artist bio on the Sundance website. Also, Ann Dowd and Caleb Landry Jones are in this movie.
Can't make it to Sundance? Watch this at home: Silva is no stranger to incisive, biting comedy. In his native Chile, he made the pitch-black comedy The Maid, featuring Catalina Saavedra as Raquel, the long-time domestic worker for a wealthy family. She's gotten lazy and complacent but has to get vicious to protect her comfortable gig after the family starts trying out some replacements. (Available for free to Sundance Now and Fandor subscribers and to rent through Amazon/iTunes)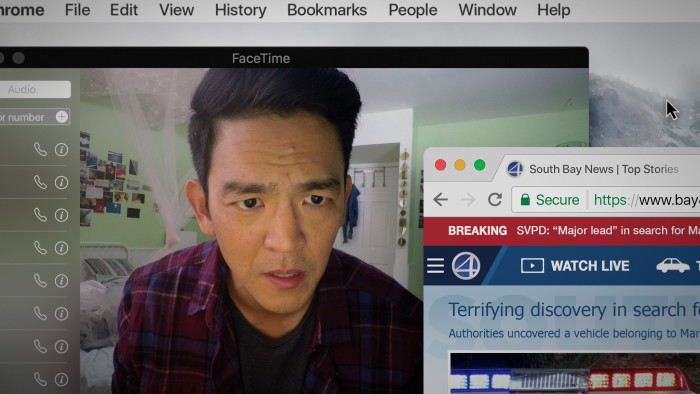 Search (NEXT)
So people my age are making movies that are getting into Sundance, which is making me feel really old. But if any 25-year-old is going to be at the festival, I'm glad it's someone like Aneesh Chaganty and not another privileged post-grad whining about his "problems." As Russian filmmaker Timur Bekmambetov tries to get his "screenmovie" manifesto to catch on, Chaganty arrives at Sundance with what will hopefully set a new standard for the way films capture our lives inside of screens. We spend so much – in my case, too much – time on them, and it's about time films capture that accurately so that future generations can understand what's going on in the digital realm.
Can't make it to Sundance? Watch this at home: Search is Chaganty's feature debut, but as a filmmaker at Google, he's made many commercials you'll likely recognize. In these spots, he's already probing visual representations of the screen experience in ways that are both cheeky and sentimental. His "Free Up Space" ad for Google Photos is probably the most iconic, but to really see how Chaganty uses technology to depict technology, take a look at "Seeds," a spot he shot entirely with Google Glass. (Available for free on YouTube)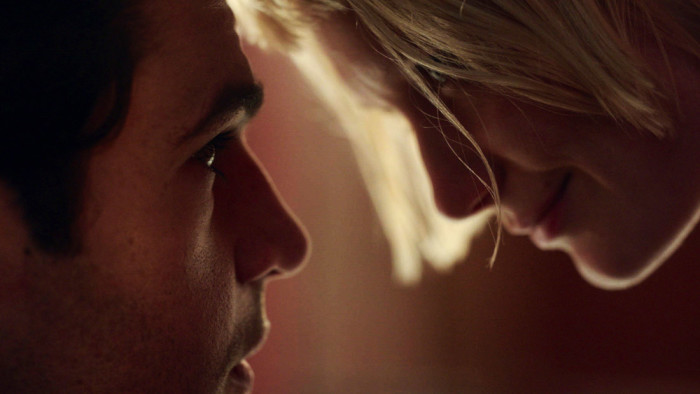 Piercing (Midnight)
The team at Borderline has quietly been making some of this decade's most riveting indie cinema – Martha Marcy May Marlene, James White, Christine – and recently began producing works by filmmakers they find interesting. One such protégé is Nicolas Pesce, who's back at Sundance with his sophomore feature. He's enlisted Borderline favorite Christopher Abbott as his leading man, a contract killer who falls into a twisted evening with a call girl played by Mia Wasikowska. The description promises a blend of horror, comedy and neo-noir – quite the combination.
Can't make it to Sundance? Watch this at home: Pesce seems to be making a big step up in experimenting with his register in Piercing; his debut The Eyes of My Mother, a Sundance 2016 premiere, is a precisely controlled tone poem of a film. The film runs a slender 76 minutes, but Pesce packs in enough chills and squirms for a movie twice its length. This dark tale of a lonely girl on a secluded farm with some grotesque attractions is the stuff of nightmares. (Available for free to Netflix subscribers)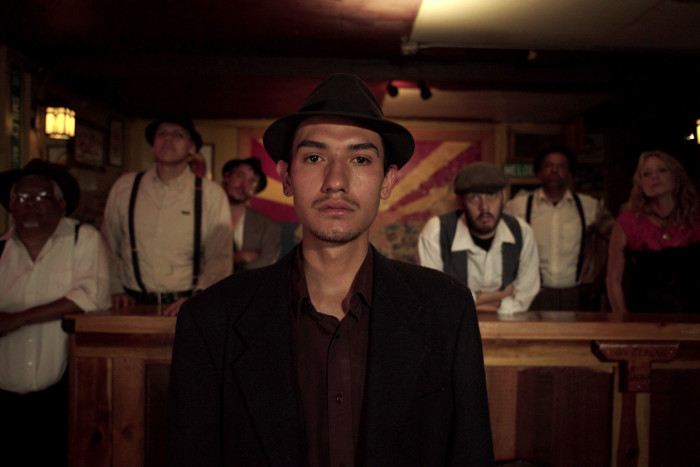 Bisbee '17 (U.S. Documentary Competition)
If you hear "documentary" and just think of Ken Burns, then you need to check out the work Robert Greene is doing to push the boundaries of the form. He blurs the boundaries between fiction and non-fiction as well as recreation and reality, examining the ways two seemingly oppositional forms can exist within the documentary framework. Bisbee '17 zeroes in on a century-old mass deportation in Arizona, an event which Greene allows the townspeople to assist in the restaging from their own subjective stories. The result is sure to be a can't-miss piece of political cinema, most likely by being the antithesis of all the formulaic "movies we need right now" dominating the headlines.
Can't make it to Sundance? Watch this at home: Greene's last directorial effort, Kate Plays Christine, was one of two projects at Sundance 2016 that tried to make sense of the on-air suicide of a local news anchor, Christine Chubbuck. Alongside actress Kate Lyn Sheil, Greene attempts to understand her through the lens of performance – how an actor comes to understand such a baffling figure from the inside out. It's a fascinating process to observe at the level of both performer and character. (Available for free t0 Fandor subscribers and to rent through iTunes)