'Creed 2' Lands Romanian Boxer Florian Munteanu As Ivan Drago's Son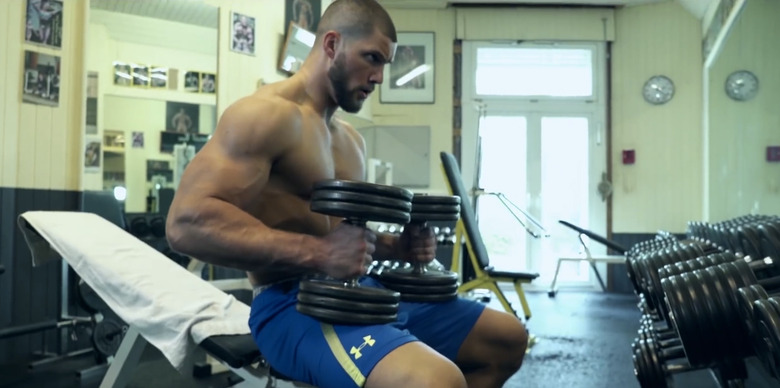 Back in November last year, we heard that Creed 2 might be looking for someone to play the son of Ivan Drago, the legendary boxer responsible for killing Apollo Creed in the ring at the beginning of Rocky IV in 1985. At the time, an MMA fighter named  Sage Northcutt said that he sent in a tape as an audition for the role, but there had been no real confirmation that the spin-off sequel starring Michael B. Jordan would bring in the offspring of another legacy character. Now not only do we have confirmation of the character's involvement in the sequel, but we know who's playing him as well, and it's not the aforementioned MMA fighter.
Get the details on the Creed 2 casting of Ivan Drago's son below.
The Tracking Board first reported (with confirmation followed by Sylvester Stallone on Instagram) that boxer Florian "Big Nasty" Munteanu has been cast as the son of Ivan Drago, who hasn't yet been given a name for us to call him. If the image above wasn't enough to convince you that this guy is going to be quite the formidable opponent, just like Dolph Lundgren was back in 1985, check out this video:
That video might as well be the training montage that we see intercut with Michael B. Jordan preparing to take him on in the ring. The guy is a beast, and even if Adonis (Johnson) Creed brings that taste for revenge with him, this fight still won't be easy.
When it comes to casting opponents for the Creed franchise, I'm glad that producer Sylvester Stallone and director Steven Caple Jr. (The Land) have kept the trend of casting real life fighters. It adds authenticity to the proceedings, but perhaps even more impressive is that Jordan fits right in with their physique and moves in the ring.
Both Sylvester Stallone and Dolph Lundgren will be back for Creed 2, which is being written by Luke Cage showrunner Cheo Hodari Coker, and it'll be interesting to see how those two behave when they see each other again. Stallone will have to hold back a bit if only to be the voice of reason for Adonis, who will undoubtedly have more than a bone to pick with the son of Drago. But hopefully Tessa Thompson as Bianca can help in that department.
The first Creed was a surprisingly great continuance of the legacy of Rocky Balboa, so hopefully the sequel can keep the momentum going and deliver a story worth telling.
Creed 2 is slated to hit theaters on November 21, 2018.